Halifax's newest café and restaurant, Almonak, has a glossy, monochrome, big city feel, matched with a menu with innovative, thoughtfully prepared dishes created by award-winning chef, Luis Clavel.
The lunch menu here is fast and healthy, but Almonak redefines those terms. Elements of the delicious chickpea bowl are pre-prepped, and everything is put together on order: smoked tofu, lightly pickled cucumber, a mild chickpea curry, and an exciting chickpea granola are beautifully arranged in a large, deep oval dish; nothing like the fresh bowls you'd find in a fresh-style food court restaurant. At Almonak, professional table service, solid chinaware, heavy cutlery and a focus on presentation means that healthy is also elegant.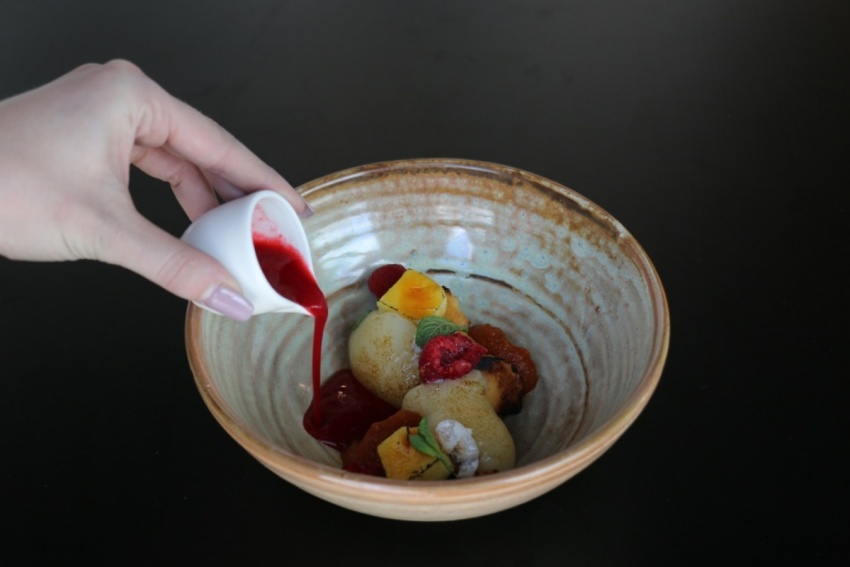 Chef Clavel, who is back in the kitchen after two years in consultancy and private dining, says he's happy to be back behind the line, and that he already enjoys being able to cook in a restaurant that has a healthier, modern approach and allows him "to do all the cool things I want to with food."
"I'm trying to make food that is easy to understand, but at the same time, over-delivering based on the menu," says Clavel. "A lot of times, I find people write these beautiful menus and then you get underwhelming food. My goal is to give you less… and then give you more."
Co-owner Kandace Homer places value on the restaurant experience.
"We're going to give you beautiful food, beautiful plates, a beautiful cup. You deserve it. There is such an appetite in Halifax for what we have here."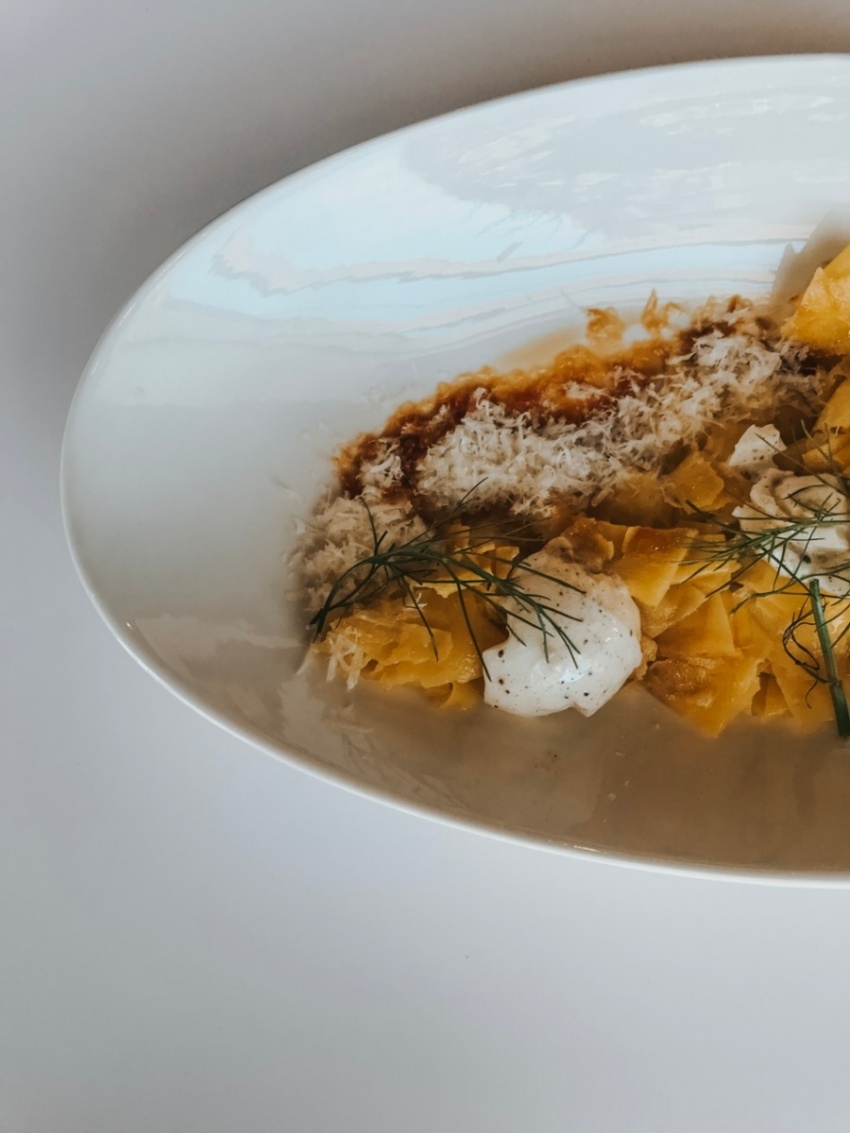 Almonak also offers brunch on Saturdays and Sundays, with six creative Benedicts, and six "Other Funky Foods," including empanadas, tostada, and a masala hash. From Wednesday to Sunday evenings, the menu changes again for family style dining, offering dishes such as sous-vide roast lamb, or cured pork belly and mussels.
Although the menu shouts out to many well-known local suppliers, Clavel is also ignoring provincial boundaries, when it comes to 'local'.
"I'm supporting local Canadian food, rather than local Nova Scotian," he says. "If I can't get the best then I'm going to get something from Quebec, something from Vancouver. Local cuisine means not just the province."
Sprout Therapy
But there's more to Almonak than meets the eye--or at least there will be, in a few weeks. In the same restaurant space, tucked away in a corner, is a small takeout bar with a live moss wall as backdrop. The moss was shipped in from New Zealand. On top of it hangs a logo: a red apple, smiling in the lotus position. A juice press arrives next week. A fridge is coming soon. This is Sprout Therapy, which co-owner Christopher Campbell says will be "the first real cold-pressed juice bar in Halifax."
Campbell says that he and co-owner Kandace Homer felt frustration while building Almonak that there was nowhere healthy to go for lunch compared to the healthy options that they enjoyed when they lived out West.
"When we were in Vancouver, we could go anywhere on our block and get a brown rice and tofu wrap, wrapped in collard rather than a flour tortilla. When we were building Almonak, the only people that could serve us were the pizzas or deep-fried locations. We were going back and forth to Pete's Frootique [a 10-minute drive] to get salads."
The Sprout Therapy approach is based on the simple idea that good juices improve mental health.
"They found that in Europe they are stopping prescribing antidepressants," says Campbell. "Instead, they're prescribing diet changes."
Each juice will be named after a therapist (Freud, Harvey, and Ruth, for Doctor Ruth). The Almon St. location will serve as a commissary, with ambitious plans to open three or four locations across the city, including Spring Garden Road, Fenwick Towers and Bedford. The juice press, says Campbell, is pretty unique. Manufactured by Buffalo-based company Good Nature, it will be one of two models on the East Coast. The other is on Prince Edward Island.
Almonak opened just before Mother's Day at 5659 Almon St. Sprout Therapy's flagship bar, at the same location, is set to open in June.