Singer and songwriter Leah Daniels is making a name for herself in Canada's country music scene. Her work has her travelling constantly and spending time in cities like Nashville and Toronto, but at the end of the day, she loves being from a small town and is always happy to head home to Uxbridge, ON, a charming town northwest of Toronto that has a great sense of community and is the type of place where people naturally say "hi" to you when you walk down the street.
We had the opportunity to chat with Daniels about her latest single and her favourite spots in Uxbridge and Oshawa. (She currently splits her time between the two towns—her fiancé is from Oshawa.)
What inspires you when making music?
Life, for sure, inspires me. It's the people around me, the things I'm experiencing, and relationships. I try to soak in everything that is happening. Things that have happened inspire me or I might hear a phrase that someone has said.
Who are your music idols? Who inspires you?
I grew up listening to a little bit of everything. My grandpa was really into traditional country, and I am too.
I grew up in the late 1990s, early 2000s, so I love pop music. Celine Dion was a huge influence for me as a singer. She just has an incredible voice. I was always trying to imitate her singing those high notes. Sarah McLachlan was the first person who I realized writes her own music and plays piano, through that, I was inspired to write my own music and play piano. I also got really into people like Sheryl Crow and Chantal Kreviazuk. I feel so grateful that there were so many strong females being played at that time. I was definitely inspired by all of them.
What do you love most about what you do?
My favourite part is performing. Being on stage and actually connecting with people through music and feeling the energy. It's like making people feel something right there in the moment. I love writing and l love recording, but there is nothing like being on stage.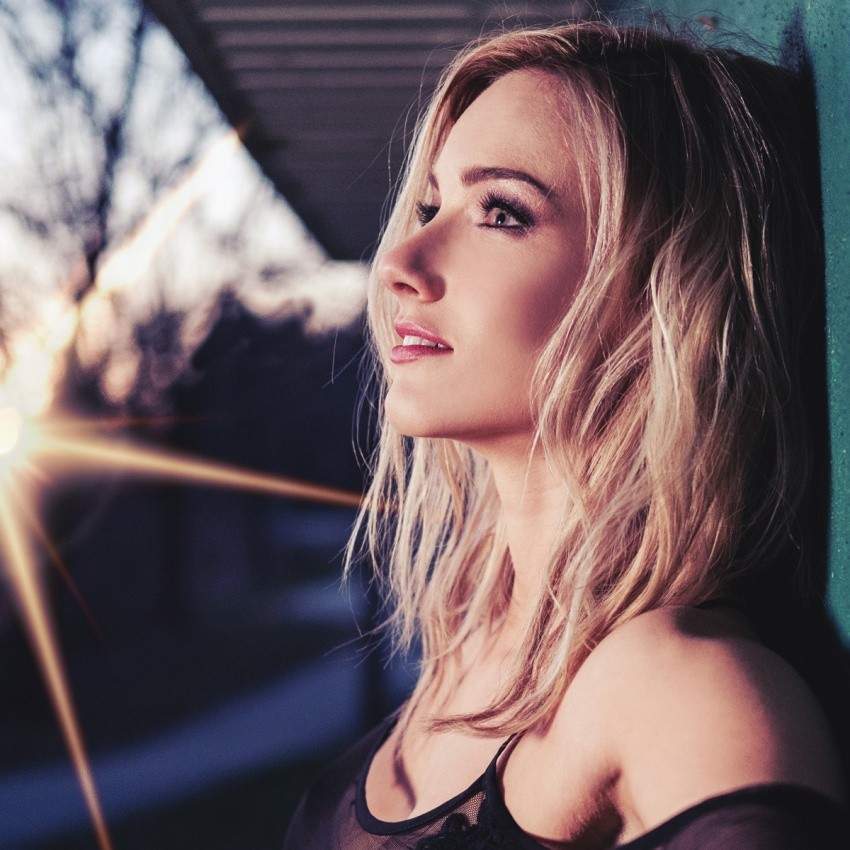 You have a new single "Together". Tell us a bit about it?
"Together" is kind of a how-to song for guys to get a girl. It's quirky and a little bit different from the other music I've released, but it's fun. It's a song I wrote [with Patricia Conroy and Dave Thompson] and I don't think I've ever written a song so quickly. We wrote it in about an hour. I guess maybe I had a lot to say on the topic.
In the music industry, I'm surrounded by a lot of guys: my band is guys, and I have three brothers, so I've seen a lot of stuff. There is no song for guys on how to get a girl. I feel like girls are always trying harder and changing things about themselves to make guys like them; guys need to step it up too! This is a song where it's me being like, "Yo, you've been doing this all wrong. Let me just help you out, listen to me."
It's just a lot of fun, and I am really proud of it. We did the video for it last month and we totally went with the song's theme(s), and I laughed so hard on set.
Breakfast
In Oshawa, there is a brand new place that opened last month. It's tucked into the corner of a plaza and is called Grace Kitchen. We've been there quite a few times and every time, it's been amazing. The dishes are really good, fresh, and plentiful. The scrambled eggs have this amazing seasoning in them. The home fries are crunchy, but their pancakes… I have never had a better pancake in my life. They're crispy on the outside, while the insides are dense and fluffy.
Lunch
Bang Bang Burrito is this burrito spot in Oshawa. The vibe is punk rock, but don't be scared off by that because their burritos are the absolute best. Everything they make, such as their sauces, is homemade, and the meat is marinated for 48 hours. But the best part is that their prices are all-inclusive. So, you can get anything on your burrito and the price doesn't change. I don't know how they fit everything into that burrito, then they grill it until it's crispy on the outside with those char marks. They are so delicious and filling.
Dinner
I travel a lot and am all about finding the hidden gems and different places off the beaten track. There is this tiny, easy to miss, Thai restaurant in Oshawa called Malinee's Thai House. It is owned and operated by Malinee, who is from Thailand, and she is always there talking to guests, sharing her hospitality and culture from Thailand. The inside looks like how a Thai restaurant would look in Thailand.
Malinee makes all the food to order and you can taste that it has been made with love. Her pad thai is the real deal.
Hanging with friends
Second Wedge Brewery is a local brewery in Uxbridge. They always have live music; I even did my latest CD release there! The cool thing about them is because they don't have a kitchen, they allow you to order in from local restaurants. I suggest ordering from The Smokehouse. Get the brisket sandwich with their signature BBQ Sauce; it is the perfect accompaniment with a Second Wedge beer!
Bonus: Farmers' market
I love checking out farmers' markets and there is one called Hy Hope Farm, right between Uxbridge and Oshawa. I cannot drive past it without going in. They have a great selection of produce and an excellent bakery. I love their oat bars and their maple cake. Their housemade preserves are to die for, I highly recommend their salsa and ketchup. During the summer, they also have an outdoor BBQ area where they have live music on weekends.