From the moment we exchanged hellos with Ricardo Larrivée, we knew he was a man of passion: eager to chat, even on the go between owning and launching a wicked project for Canada's 150th. The proud Saskatchewan resident gave us a sneak peek into the We are the Best series, tips for a stress-free Christmas, and what the hell to do with that nasty fruitcake aunt Phyllis brought to the party.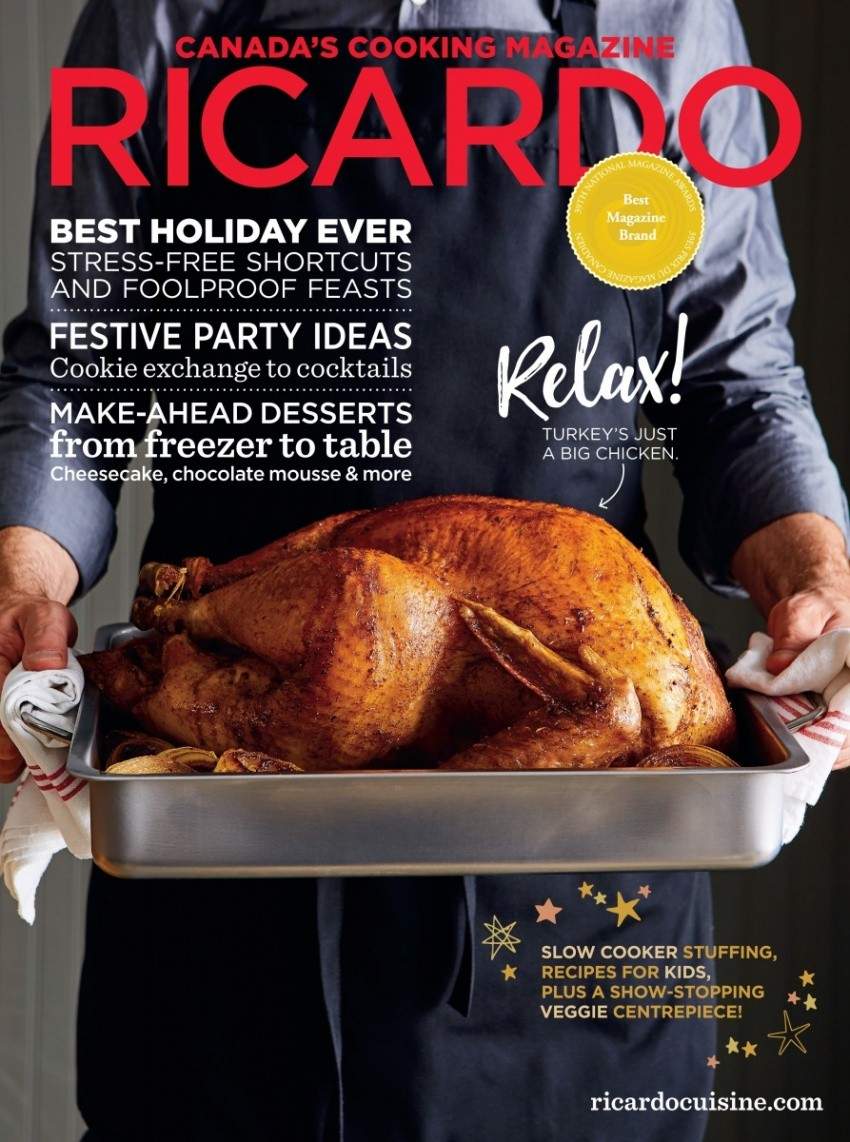 Ricardo and Friends is broadcasted in more than 50 countries; did you ever think that you'd be able to share your passion for cooking with so much of the world?
I have to admit that becoming a brand--with a magazine and a food show that's broadcast around the world--is great, but I've always wanted to take it further. What Celine Dion did for music worldwide, I want to do for food; I don't want to just be some guy from Quebec, I want to make all Canadians proud.
Your upcoming We are the Best project is such an incredible way to showcase and honour Canada's food heritage. Is there one product specifically that you are wildly in love with?
We've only shot 11 or 12 of the episodes, so I can really only talk about those. You know, Canadians are a humble people. With this project, I can do the bragging for us with 52 amazing stories and experiences around our food. Did you know that we are one of the largest ginseng sources in the world? Most people have no idea because we export almost the entire harvest to China. A ginseng farmer I spoke with said to me: "As soon as I put a seed in the soil, it wants to die; it's so fragile. It takes three years to harvest it. My job is to protect it."
He has such a passion for his work, it's inspiring. With this series, I get to share that pride and passion with the whole world.
What is your favourite Christmas season family tradition?
We always throw a backyard party where everyone gathers around a big fire with mulled wine and snacks. We play Dean Martin crooning Christmas carols loudly and the neighbours join us. For 15 years, around 11:30 p.m., Santa would come down the street with a bell, ringing in his arrival. The kids were so excited to get to bed and the adults could tuck into the limoncello. We made magic out of so little.
What does Christmas Day look like in your home?
We have a quiet morning at home with our kids before the whole family comes over to enjoy our traditional favourites: turkey, tourtière, and trifle. And we make my mother-in-law's ragoût de pattes de cochon, a traditional Quebecois Christmas stew of pig's feet and meatballs.
Everyone is dressed up and gathered around, enjoying a lot of food and wine. I love to look across the buffet full of people and know how much love there is in the room.
How early do you start planning your menu?
Well, we started eating Christmas dinner in July for the magazine. Then we eat it again in the fall to take photos, which my family is always part of. And then we base our Christmas menu off of that. So, a menu is like a union negotiation in our family, everyone wants to add in their favourites.
What's your favourite part of the holiday meal?
Desserts! I usually make four or five...OK maybe six, different desserts. I want it to be a world of plenty that people cannot wait to dig into after our turkey dinner.
Share with me your biggest festive flop.
Once, I miscalculated the size of my turkey. And I put it in late on top of that! We ate Christmas dinner at 11 p.m.; everyone was so hungry that we started with dessert and ate the meal backwards.
Can you share two tips with us to make our holiday party one that everyone talks about for years to come?
Never apologize. Your guests don't know if you made a mistake or something didn't turn out the way you hoped; own it! Even a total disaster can be a beautiful memory, so don't stress, just have fun with your loved ones!
And choose your best to leave an impression on your guests; if you like making cocktails, make a signature party drink. If you love to bake, make an incredible dessert table. That oooh and ahhhh will start you out on the right foot.
Favourite Christmas carol?
"Carol of the Bells", the one from Home Alone. We listen to it when we decorate our tree, it kicks off the holiday season for us.
Nog or mulled wine?
Mulled wine! You can drink more of it.
Do you let your kids open one present early?
No. We make them wait for Christmas morning.
What's the best Christmas present your wife has given you?
It's corny, but my children. Nothing beats that.
Least favourite holiday sweet?
Fruitcake. Although I do like it sliced thinly and made into crackers, particularly with blue cheese. It's really the only way you can enjoy fruitcake.