Edna quickly became a bustling, award-winning neighbourhood gem after it opened in Halifax in May 2013; and owner Jenna Mooers credits her mother, Jane Wright (also a restaurateur) for being a great role model who taught her the value of hard work and passion at an early age. She put her blood, sweat, and tears (quite literally) into opening Edna and it's paid off, earning the restaurant accolades for its cool decor, offering of local beers and use of East Coasts' bounty, like local oysters and Nova Scotian lobster and sea trout. We chatted with Mooers about Edna's joie de vivre, East Coast trends, and magical moments at the restaurant.
How did growing up in your mom's restaurant shape your passion and drive?
It's really where I fell in love with hospitality. It was pretty neat to be a part of opening a restaurant at such a young age; I helped my mom right from day one. I can remember staying up late doing the weekly cash-outs on our kitchen table and doing the ordering when I was only 14 years old. Building Jane's on the Common was a labour of love for her, but for our family too. I was super inspired by my mom, being a single parent and taking a risk to do something that she loved.
What did you take away from your time in Montreal?
I was in Montreal for just over seven years. Funny enough, I moved there to go to university and wasn't quite sure what my path would be, but I went to business school and worked in various restaurants and bars. I completely fell in love with that city; there's such a beautiful joie de vivre there, particularly in the restaurant industry. I got a lot of hands-on experience there and had a really great mentor: Clara Barron, who now owns the famous Blackstrap BBQ in Tejano. I learned so much from her; she's the second biggest factor in the path I've chosen for myself.
Did that Montreal joie de vivre influence the concept of Edna and how it operates?
I definitely took away that playfulness. I think it's a natural evolution of restaurants across the country‒moving away from the white tablecloth fine dining, stuffy atmosphere into a more casual, bustling, fun experience. While our price range and the food that we offer at Edna might be considered fine dining, our atmosphere is still very casual. And the food is quite playful too.
Edna does not take reservations. Why did you decide to go that route?
For a couple of reasons; we're a small, casual neighbourhood restaurant and we wanted everybody to have an equal chance to get in. We're a small space with only 60 seats between a high bar and communal table. I didn't feel that the concept of the restaurant quite fit with reservations.
How has the community reacted to what seems to be a fairly uncommon policy?
Funny enough, my mom didn't take reservations at her restaurant either so I don't think Halifax was too surprised that Edna doesn't. But I think that's really OK because there are different restaurants for different occasions and we all offer different experiences.
Do you or head chef Rob Reynolds feel pressured to put Nova Scotia mainstays, like lobster, on the menu?
I wouldn't say that we feel pressured to have fish n' chips or seafood chowder on the menu. What we offer is hugely inspired by what is available locally. Lobster is really only on the menu when it's in season.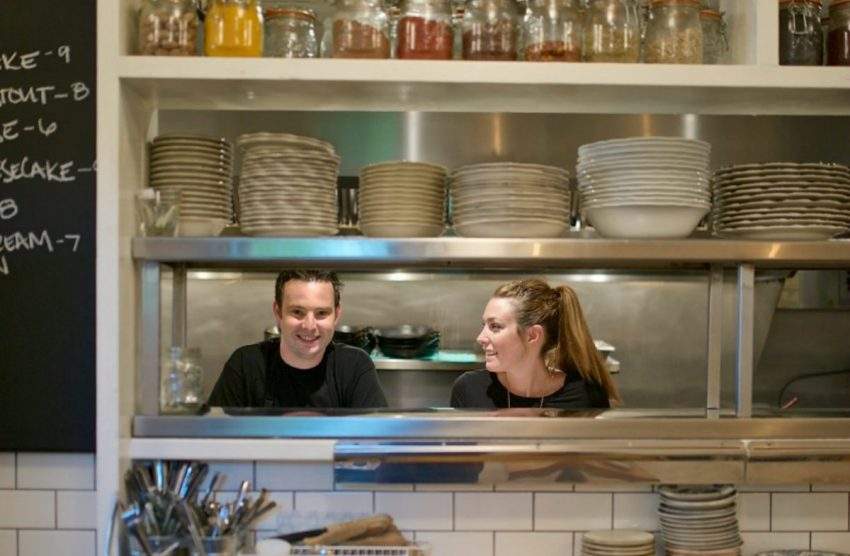 Your menu changes quite frequently, are there some favourites that are always available?
Our menu is constantly changing as things come locally available. It's exciting to have a fresh menu and our team really enjoys the opportunity to be creative. We always have fresh local oysters and generally have a PEI steak. And our brunch menu has a very popular Sweet & Salty that is a mainstay.
What's your fondest Edna memory?
That's a tough one, I'm not sure I could pick just one. There are some really magical moments that happen at Edna, often around our large communal harvest table. People are sometimes nervous about sitting at it, but then we see them offer a bite of their chocolate cake to one another, right off their plate! I find those moments when two parties of complete strangers connect over food quite magical.
One evening, a couple left after their dinner and noticed that they had a flat tire. One of my chefs ran out in the middle of the rush to change their tire for them. I felt so proud about offering the best hospitality we could. We still joke about, "Come to Edna for dinner and a tire change!"
You know, it's a really special industry to be in, you get to be part of everyone's celebration: birthdays and anniversaries and date nights. I feel lucky that I get to spend my day celebrating with our guests.
What's one of your pet peeves?
I would love for everyone to be open to trying new things, not just about food, but be open to sitting at the bar one time or the communal table. I don't really let people ruffle my feathers, but I'd like people to be open.
And cell phones. I totally appreciate that people are having fun with their food and they want to share it, but I just worry about the food getting cold.
What are some East Coast food trends you predict for 2016?
Things happen here a little bit later than they do elsewhere in Canada. We're seeing a lot of small plates now; moving away from the structured main courses and having tapas-style offerings. I'm excited for that, it's fun.
Do you think Edna will adapt to that trend and start offering more sharing plates?
Some of our offerings are already fairly communal, like our oysters, cheese, and charcuteries. Once in awhile, we like to dabble in family-style meals, but we'll keep doing what we love. And enjoy going out to the small plates restaurants!