Whether it's croissants in Paris, fish and chips in London, or pizza in Naples, some cities are associated with iconic dishes. In Ottawa it's shawarma. Apparently, it's the thing to do in the capital.
Shawarma is popular in Iraq, Lebanon, and Syria. The dish is meat roasted on a spit with slabs cut off and served with sauces and vegetables. It's the type of food you crave after being yelled at by your boss, left behind by your co-workers to finish the task alone because they went to a birthday party (your invitation was "conveniently" lost in the mail), and you got splashed by a car with slushy snow on the walk home. Needless to say, I had such a day last Friday and went to Shawarma Palace. The restaurant is on Rideau Street in a part of Sandy Hill that my father would have told me to avoid because of dim street lighting and frequent use of disco balls. But I was in desperate need of something fatty, garlicky, and covered in hummus.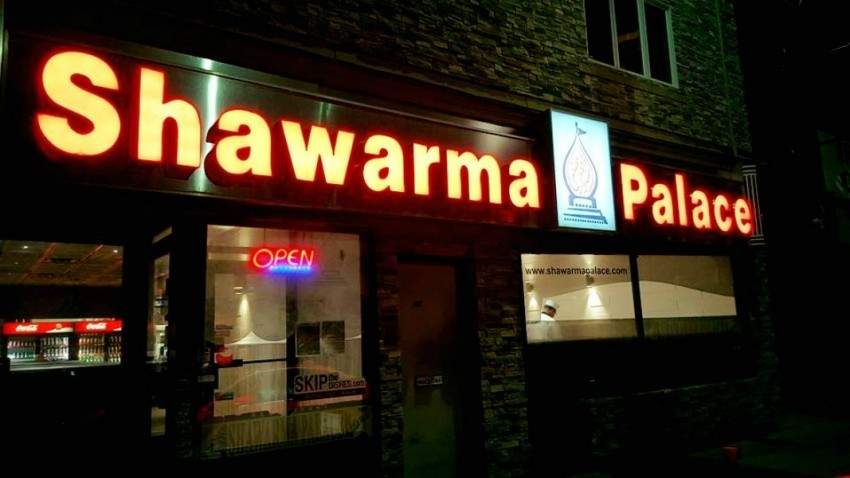 photo
According to Yelp, a website with crowd-sourced reviews, the restaurant serves the best shawarma in the city. Although I haven't tried it anywhere else in Ottawa, I thought I might as well start at the top. While the food, summed up by my dinner companion as "absolutely next level," the atmosphere and service is anything but regal.
We got the mixed shawarma plate and the mixed kebab platter. To say it was large would be an understatement (they used a small shovel for plating). During the meal, my friend's shirt, under strain, popped a button and it went flying into the abyss. Craggy peaks of chicken and beef are served on a creamy bed of garlic and hummus, with encroaching mounds of salad and gigantic islands of pickled radishes. The kebab is the same, with just a skewer through the meat, and blackened from the grill. Even while writing this review, my head grows faint and my stomach growls. If food in Syria is anything like Shawarma Palace, we need to write Trudeau and urge him to open the refugee floodgates.
However, the food and the building didn't match. While the shawarma is dreamy, I wouldn't call the restaurant a "palace". The front windows are covered in stickers, making natural lighting impossible. At first glace, it appears to be clean, but if you look closely (as I did when I picked a piece of chicken off the floor – did I mention the food is-eat-off-the-floor-good?) you'll notice cracked tiles, holes in the ceiling and dark smudges on the walls. Diners sit at long narrow tables with fake marble tops. It's a castle that's fallen on hard times. However, it does have lots of seating.
The line for food was long and the service slow. Yet, people were relaxed, chatting, and didn't appear to mind. First, you choose a bright red tray, like in a high school cafeteria, and point to what you want. It took over 30 minutes to order the pre-cooked meat, fried potatoes, rice, and sauce. The till was manned by an elderly, bitter woman, who glared while I stuttered my order. The cutlery is served in a trough, right-side up, so you know everyone else before you has fingered the forks.
I decided to be adventurous and ordered a fermented salted yogurt drink. Unfortunately, it was like licking someone's elbow after jogging. On retrospect, it isn't surprising that it was at the bottom of the cooler, shoved at the back, probably hoping no one would notice.
Our wheelbarrow of food with two drinks came to just over $40.00. They also serve wings, rainbow trout, and shawarma sandwiches. Unless you just get a side like marinated eggplant wedges, dishes are around $16.00.
The clientele varies. Some are smartly dressed and others could have wandered in from a psychiatric ward. It probably has a large following as two people in front of us were asked if they wanted "their usual". In both cases, it was the chicken platter.
I'm no connoisseur on shawarma. With it's mountainous nature in size and dripping fat, I'd only get it after doing something I thought earned the calorie splurge, like a marathon, starvation protest, or relationship breakup. Nevertheless, out of all the food in Ottawa I've had, this meal was most memorable and the only one where I've risked eating floor scraps. If you try Shawarma Palace, please look out for my friend's button. And be careful that you don't lose one of your own.