Mother's Day 2016 is fast approaching and the last thing you want is to be stuck without a brunch reservation come May 8. Moms are always advocates for planning ahead so take its advice and book now for its special day!
H4C – Montreal, QC
If H4C's regular brunch menu is any indication, its $35 three-course Mother's Day offering is bound to put you in your mom's good book. Whether she's into sweet or savoury, it's got various takes on brioche and French toast, or eggs Benny. Everybody wins!
Salmigondis – Montreal, QC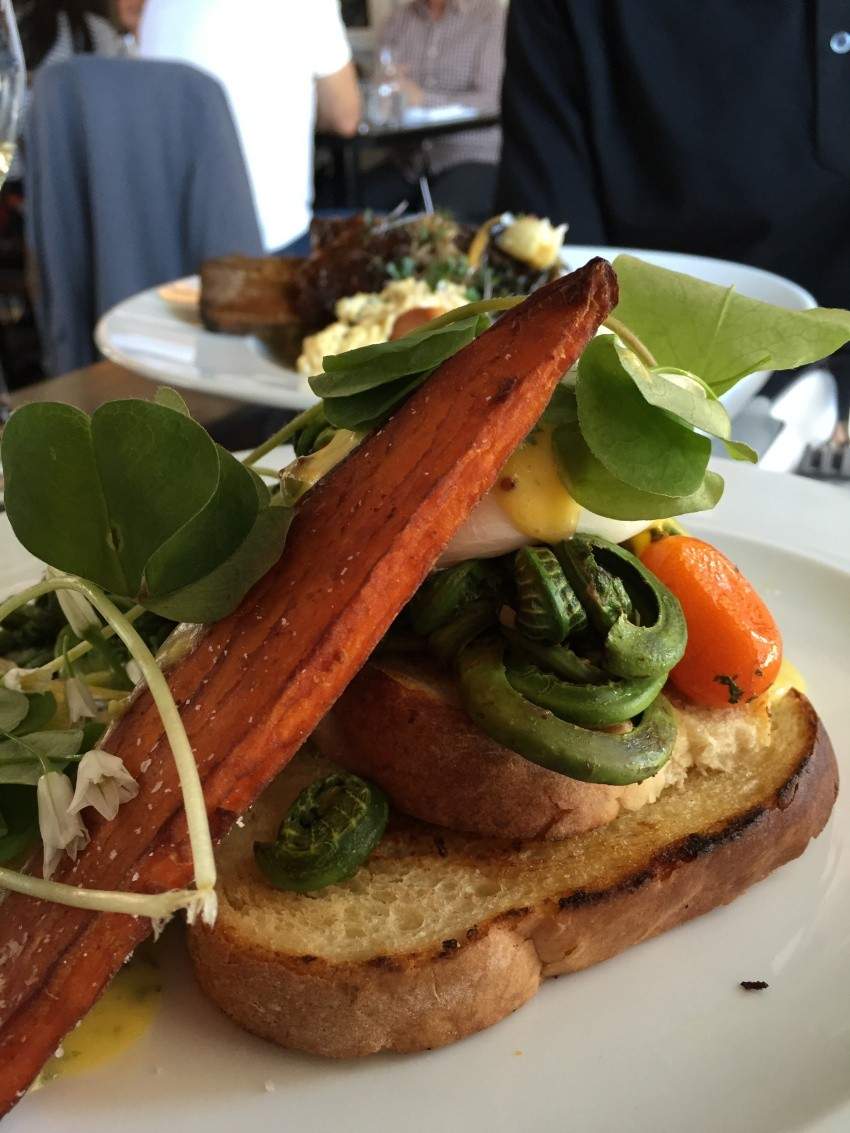 Chef Brian Peter's brunch menu is one of the most inspired in the city. He takes everything a notch above basic bacon and eggs with decadent offerings like braised short rib with gnocchi and dill scrambled eggs. For Mother's Day, Salmi is offering some of its fan favourites, like fiddlehead eggs Benedict, as well as newer items like rabbit pierogi with piccalilli relish. Don't neglect to order the caramel flan, a pudding-like treat with sponge toffee and chocolate ganache, for dessert.
Market – Calgary, AB
This year, Market is hosting its 3rd annual Mother's Day brunch, with a la carte dishes from both its regular brunch menu as well as features for mom's special day. Chef Sean MacDonald's Instagrammable plates are just as pretty to look at as the flowers you need to remember to pick up for mom. It will also be offering $6 mimosas in case you need extra incentive to check it out!
Avec – Calgary, AB
If you're looking to get a little bit rowdy (classy rowdy, that is) with mom, Avec Bistro's punch drunk brunch is sure to fit the bill. The food at Avec is always excellent, but the real stars here are the sharable bunch bowls. They serve four to six people and come in flavours like the Kill-Devil, which is a deadly concoction of rum, sparkling wine, pineapple and lime juices, and raspberry. Stop by between 10 a.m. and 3 p.m. to get your fix.
Yellow Door – Calgary, AB
Yellow Door's weekend brunch buffet is always stellar, but when you top it off with a chilled seafood station and full dessert selection for Mother's Day, it's just that much better. Plus, it's only $35 per person. Keep your eye out for its signature mini pancakes, which come in creative flavours like lemon meringue pie and pineapple upside-down cake.
Langdon Hall – Cambridge, ON
Brunch at Langdon Hall is elegant, composed and everything that mom deserves and needs, considering all of the things she's had to put up. The menu is heavily influenced by Langdon Hall's kitchen garden, as well as local pork, poultry, and dairy producers. If you want to get extra fancy, stay for afternoon tea to celebrate the occasion.
Mission – Vancouver, B.C.
When it comes to your mom, she deserves nothing but the best, right? This Kitsilano restaurant received rave reviews in the Globe and Mail when it opened in 2015. Its brunch changes weekly, and for only $27 a head, it's a steal. You get a starter, main, and dessert, of which there are vegetarian options for each course, like glazed sunchokes with radish and apple salad--much better than trying to pull off breakfast in bed for mom. Plus, you get to enjoy it with her.
Sai Woo – Vancouver, B.C.
Complimentary mimosas. That's all that needs to be said, isn't it? Also, it gives mom a break from the all too familiar eggs Benny. Sai Woo is the perfect option for moms who enjoy a brunch cocktail to pair with Asian-style breakfast dishes, like cashew pancakes with Szechuan peppercorn syrup.
Fairmont Royal York – Toronto, ON
The brunch buffet at Epic in the Fairmont Royal York is just that, epic. You won't have to eat for the rest of the day after loading up on prime rib, carved to order with Yorkshire pudding and herb jus to top it off. Dad is guaranteed to enjoy the feast as much as mom is.
Banff Park Lodge – Banff, AB
Few things are as nostalgic as the Sunday brunch buffet at Banff Park Lodge. Sure it's not the most cutting edge dining experience, but there's something to be said for classics like deviled eggs and smoked salmon platters with capers and red onions. Frankly, it's worth going just to indulge in the dessert buffet. You haven't seen so many tortes, gateaus, and pastries all in one place since 1982, guaranteed. Moms of all ages will love the throwback.