Those familiar with Slavic folklore may know Baba Yaga as a witch-like figure who lives in a log cabin elevated on chicken leg stilts, but now, it's also the name of a new Montreal café in St-Henri. Café Baba Yaga brings co-owner Monika Terlecki's Polish heritage to the table with recipes inspired by her mother and other family members.
"They are all traditional and have been handed down for years and years," co-owner Travis Champion notes.
That doesn't mean that they haven't been tweaked slightly, like the addition of beet-cured gravlax to the potato latke platter, but the menu still stays true to the soul of Eastern European cuisine.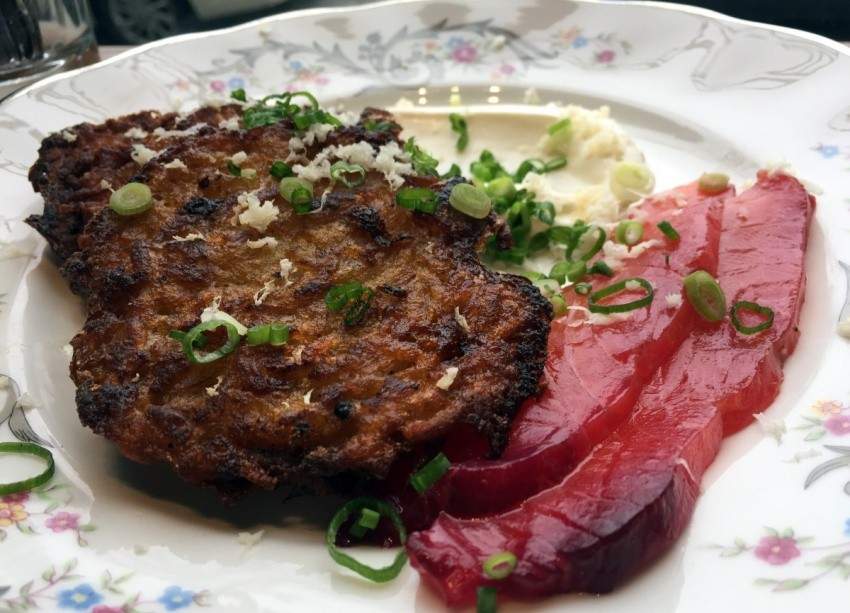 "It's poor man's food. There's nothing fancy about it. To dress it up in a restaurant doesn't make any sense, it actually probably takes away from it. The beauty of it is there's no bread service, appetizer, entrée, dessert, wine list; there's no pretentiousness to it. We rely on our food and our food so far hasn't let us down."
Dishes like Baba Yaga's "Zurek", a soup made from stale rye bread, epitimizes this mentality. Studded with chunks of salty kielbasa, it's the comfort food you didn't know you wanted on a chilly Montreal afternoon.
"All we are trying to do is offer people who haven't necessarily had Polish food or Eastern European food something different, to open it up to the masses."
Whether you grew up eating grandma's pierogies or not, it's hard not to fall for Baba Yaga's interpretation. While traditional variations like sauerkraut and mushroom grace the menu, Baba Yaga also makes a pierogi of the day depending on what's in season. Fall means a filling of creamy butternut squash, topped off with a healthy dollop of sour cream and sprinkling of green onions, of course.
Sticking as close to tradition as possible does come with some difficulties though. As Champion describes, given that different countries and regions have different variations on classic dishes, pleasing everyone is virtually impossible.
"I've never experienced such backlash as I have in this place in particular and it's the fifth restaurant I've opened," Champion jokes, "There's a demographic of 55 and older, of Polish descent, and they are just impossibly hard to please. It's not as good as grandma's or it's not as good as mom's. But the beauty of that is that those people, that particular demographic, their children are the exact opposite. They feel nostalgic when they eat it. They love the food."
And what's not to love, really? Sinking your teeth into the satisfying crunch of their turkey schnitzel sandwich, complete with beet and horseradish sauce, it makes one contemplate why Polish food isn't a go-to when it comes to comfort food cravings. Thanks to Café Baba Yaga, that's bound to change.