Burger lovers unite! September 1st through 7th marks Le Burger Week, taking place in six provinces and 11 cities across Canada, as well as Haiti and participating locations in the United States. Simply eat a burger at a participating restaurant (or restaurants) and vote for your favourite on the Le Burger Week website. Winners will be chosen for categories from "Voted Best" to "Most Outrageous." This year, in Montreal and Winnipeg, you can also buy a burger for a friend to share the love. When asked what makes Le Burger Week such a fun event, co-founder Na'eem Adam says, "Le Burger Week has an interactive component that allows people to vote on our website for their favourite burgers, allowing them to engage with one another through social media." Engaged they are, given that Le Burger Week has grown from 20,000 participants in only Montreal, in 2012, to over 150,000 participants anticipated across multiple cities for 2017. That's a lot of burgers. Thankfully, we've narrowed it down to the most exciting options in each of the 11 participating Canadian cities.
Montréal: Les Enfants Terribles, Rossini Burger
Do the French thing during Le Burger Week, and order your burger topped off with none other than a big slab of foie gras. With pan-seared mushrooms and truffled jus to seal the deal, it's hard to believe it's a down and dirty burger.
Quebec City: Château Frontenac, Le SAM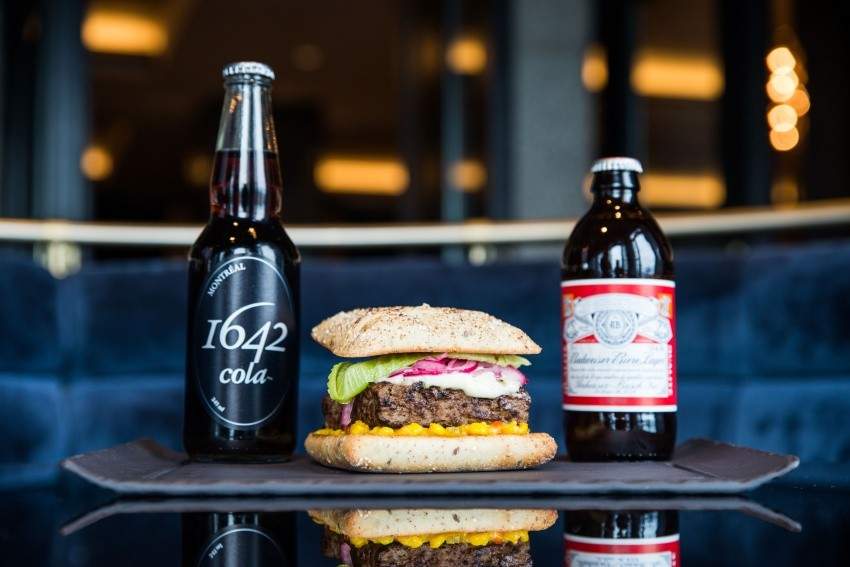 A burger week in Canada wouldn't be complete without some game-centric options, like the venison burger at the Chateau Frontenac. Not only do you get to enjoy one of the country's most historic hotels, you get a burger with all the fixings, from cheese fondue, to homemade corn relish and marinated onions.
Cornwall: Summerheights Golf Links, The Double Bogey Burger
Need to refuel after a day out on the golf course? This simple, yet hefty, burger comes complete with another slider on top (hence the double bogey part) and weighs in at a half pound of beef. Is it a hole in one? You'll have to taste it to find out.
Toronto: Harry's Charbroil, Red Green-Burger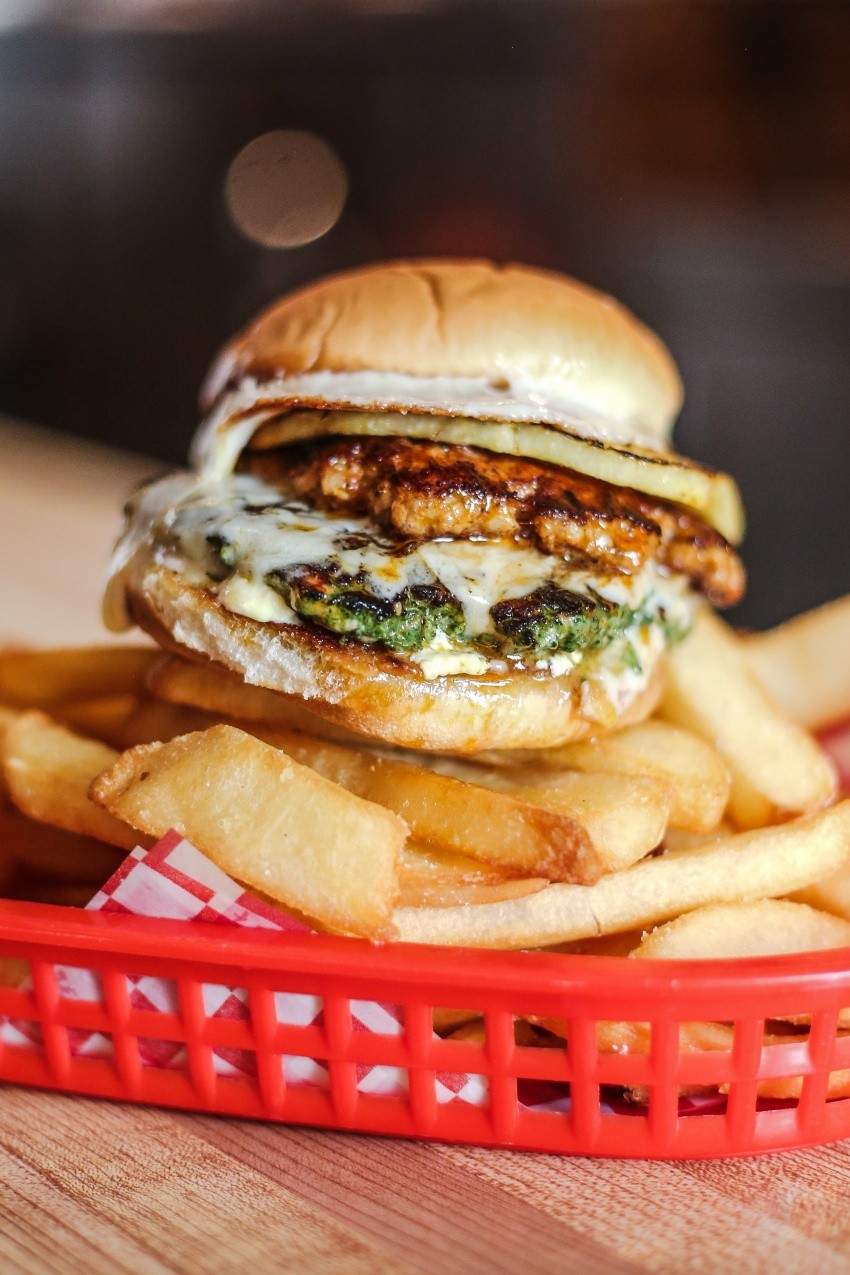 Swapping out beef for an alternative protein, this one starts with chorizo patties, and enhances the Latin theme with crispy Oaxaca cheese and jalapeno mayo. Charred pineapple balances out all of the spice with a touch of something sweet.
Ottawa: Hard Stones Grill, Mediterranean Burger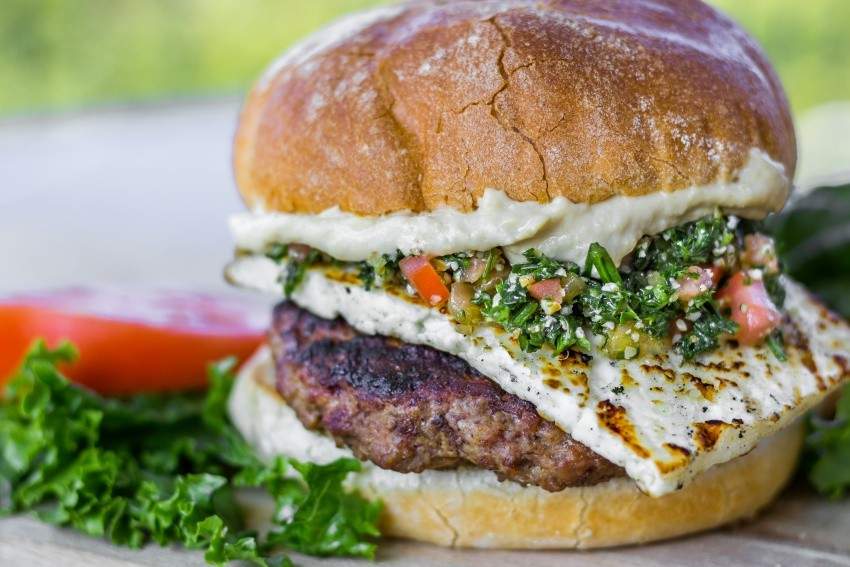 Given the evidence of health benefits of a Mediterranean diet, this burger has to be good for you, right? Stuffed with squeaky halloumi cheese and topped with both tabbouleh and hummus, it's good for the soul at the very least.
Winnipeg: Clementine, Under Construction
Winnipeg's coolest brunch spot is taking Le Burger Week by storm with an offering that combines everyone's two favourite handheld meals: burgers and tacos. The burger part comes in the form of a beef and bacon patty, while the taco part is an aged cheddar taco dip, complete with pickled onions and a burnt onion broth for dipping.
Calgary: Big Rock Grill Restaurant, Turducken Burger with a European Flair
Alberta may be known for its beef, but Big Rock in Calgary is doing something a bit different for their Le Burger Week entry. Taking more of a Thanksgiving dinner approach, the multiple proteins include a corn flakes-crusted turkey schnitzel, Italian sausage patty, smoked duck breast, and grilled chicken. The bird is definitely the word with this one.
Edmonton: 1st RND, Perogy Burger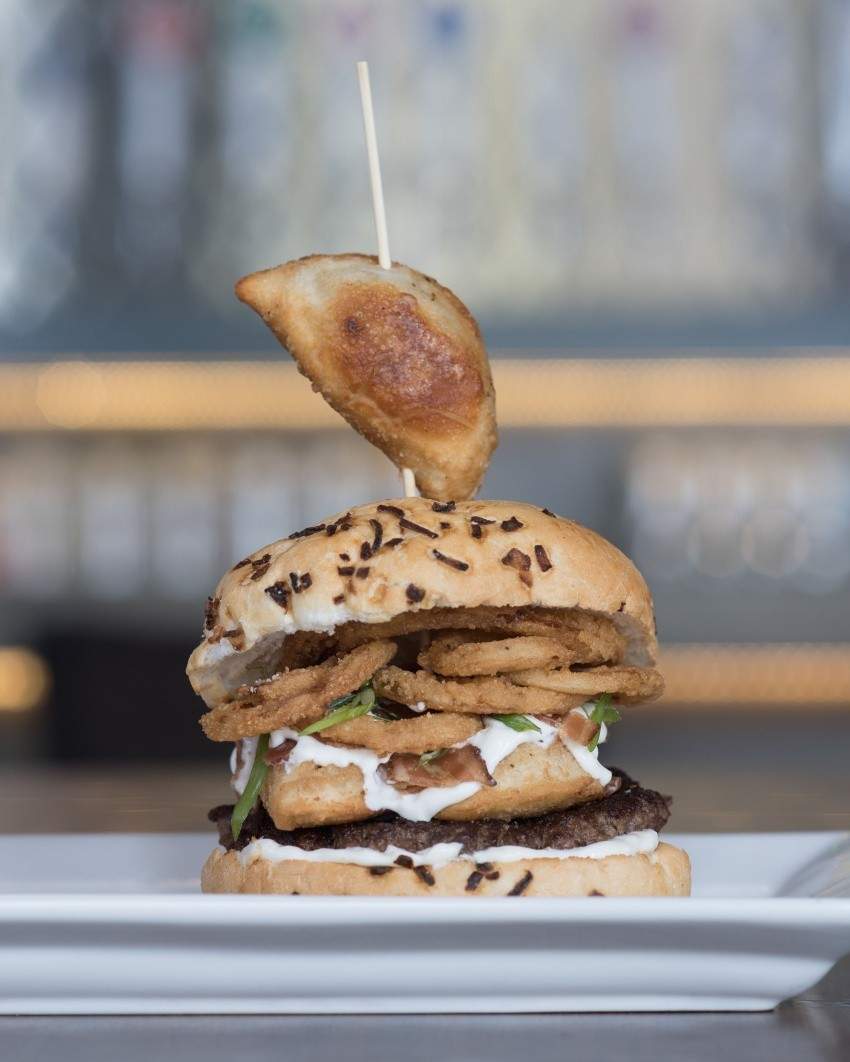 This burger from 1st RND doesn't seem out of the ordinary; with beef, cheddar, bacon, and fried onions, it's pretty standard–until you top of the works with cheesy perogies, that is. Naturally, there's also sour cream and green onions, because no perogy-based meal would be complete without those two additions.
Regina: Burger Baron, Fusion Burger
When it comes to events like Le Burger Week, many restaurants have the tendency to think out of the box and go for the craziest concoctions possible. You have to respect Burger Baron's simplicity in opting for a 1/3 pound patty with cheddar, lettuce, tomatoes, pickles, red onions, and a special tomato sauce, all atop a brioche bun. Sometimes you just don't mess with a classic.
Saskatoon: Sticks and Stones, Kimchi Burger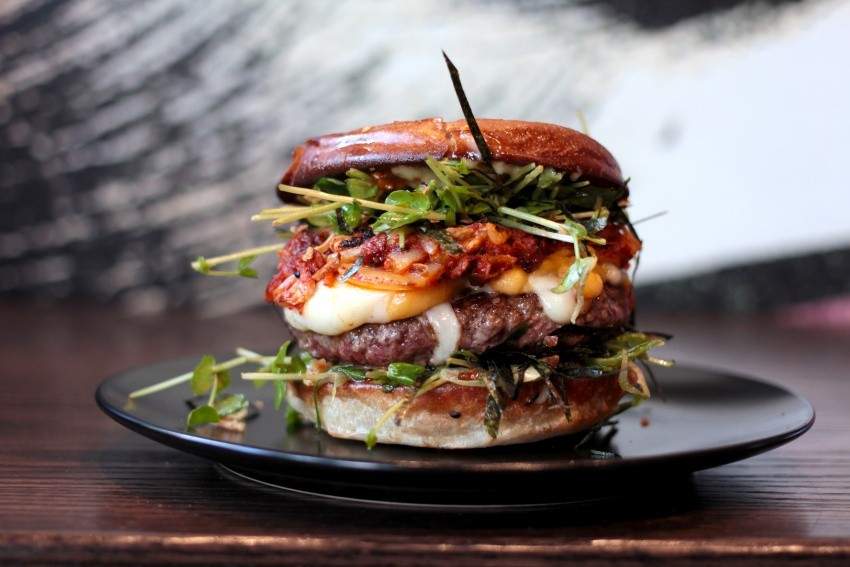 Although unquestionably different from your typical cheeseburger, this one has a lot going for it. For starters, the beef is ground in house and cooked medium, which is a far cry from sad, gray mystery meat. Then, it's topped with housemade kimchi, ssamjang aioli, nori, and cheese curds, checking off all the salty, savoury, spicy boxes.
Vancouver: ShuRaku Sake Bar and Bistro, ShuRaku Rice Burger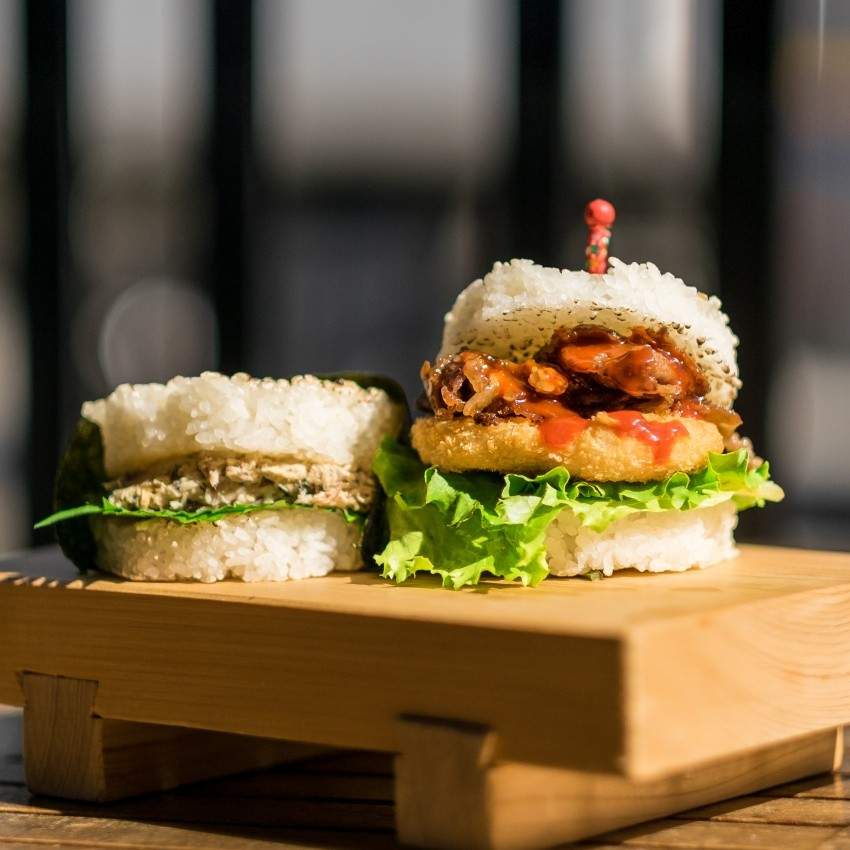 What would a Vancouver-based Le Burger Week offering be without a little bit of Asian influence? This rice burger comes complete with sliced ribeye, panko-crusted fried lotus root, homemade BBQ sauce, and chili miso sauce. You definitely don't get that at your backyard barbecue!