COVID-19 is seeing the closure of restaurants across the country. Subsequently, countless employees in the industry are out of work, indefinitely. While many are quick to jump on the business and financial repercussions of closures, there are also plenty of ways in which mental health is being affected as a result. In an industry where mental health concerns run rampant to begin with, lack of income and isolation may exacerbate these further. Knowing this all too well, industry leaders from coast to coast are coming together to support their own during a time of crisis.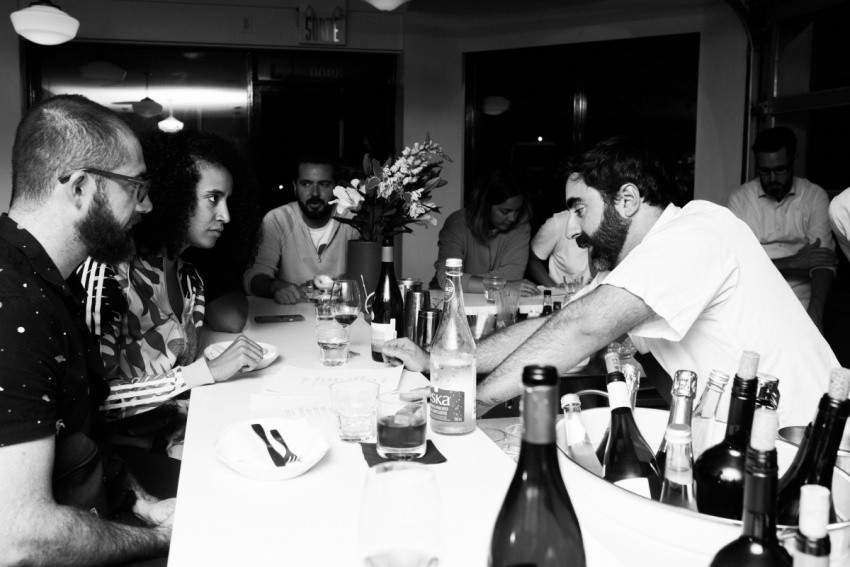 For Ari Schor, the decision to close his Montreal restaurant, Beba, which he co-owns with his brother Pablo, was far from easy, but ultimately a better option than living with the anxiety of staying open. During his team's final service, they took all of the precautions they could, sanitizing tables, chairs, door handles, and other surfaces after every contact. "By the end of the night, everyone was a hypochondriac," he says. "It screws with your head when you're used to being so kind, hospitable, and gracious."
The starting point, for Schor, is communication. "I'm in constant contact with all of them, with emails and updates," he describes. However, there's a limit to what you can communicate when you don't have all of the details yourself.
"It was the eeriest feeling closing the business and not knowing when we're going to open again," he says. "Some mornings are easier than others; some you wake up in true fear."
In an industry that runs on adrenaline and a "get it done at all costs" mentality, it's not just financial concerns that may be difficult for those who are out of work. "You can become so absorbed with work that it becomes your MO," Schor admits. In dealing with the uncertainty surrounding COVID-19, he has observed that setting a to-do list each day is helping him navigate, similar to how a cook's day is guided by their prep list. "We are very task-driven as cooks, so keeping myself occupied with things that are beneficial, that make me feel better and that have a result, helps," he elaborates.
"I'm very fortunate to have a roof over my head and food in my fridge. All we really care about is our staff and trying to find ways for them to have it easier."
Taylor Chobotiuk, Tacofino's manager of people and engagement, echoes many of Schor's sentiments regarding the difficulties of deciding to close, not one, but a chain of businesses in Vancouver, Victoria, and Tofino. While many West Coast restaurants have switched to delivery and takeout options at this time--Breaking Bread has a comprehensive list of restaurants that are open and their offerings--Tacofino ultimately decided that the associated risks of remaining open in any capacity are too great for their team. "Looking at the level of uncertainty and how fast things were changing, we felt uneasy and our people felt uneasy," he describes. He anticipates that the financial repercussions of the decision will be "brutal", but ultimately secondary to their people and community.
"This industry is built around community," Chobotiuk says, "The whole job is zero social distancing." At a time like this, such a sense of community is both a blessing and a curse, because while precautionary measures to prevent the spread of disease can lead to a sense of isolation, it is also what has driven Tacofino's response to this crisis.
Having taken off their hats as managers, and put on those of social workers, their leadership team is coaching staff to do everything from apply for EI, to float their rent and pause hydro bills.
Back in Montreal, a grassroots movement called the Montreal Restaurant Workers Relief Fund has been rapidly put together to help those who are out of work.
The brainchild of Kaitlin Doucette, sommelier for the Olive and Gourmando restaurant group, and Jessica Cytryn, a former server presently working in food law, its GoFundMe campaign has already raised more than $40,000. Doucette describes the fund as a "small scale, one-time, financial aid relief, based on sliding scale, and rooted in ideas of wealth share." Workers can apply to receive $50, $100, or $150, depending on their need, to put towards essentials like food, rent payments, and medications.
For Doucette, mental health played a big role in her motivation to start the initiative.
"On a good day in the industry, there are mental health concerns like substance abuse, depression, and anxiety," she says, "I think that a situation like this, even speaking from my own mental health, only exacerbates underlying conditions."
Hearing concerns from one of her fellow staff members about not being able to afford medication during two weeks of isolation was one of the factors that helped her to realize that she wanted to do something to help out. With many restaurants jumping on the idea of promoting gift cards and merchandise to contribute to revenue, she opted to go straight to the source.