A candid speaker and intelligent to boot, Joe Beef's David McMillan is an interviewer's dream: open about his story, his perspective, letting me into what it's like to be in his shoes. I spoke with him the other day in advance of the upcoming launch of the second Joe Beef cookbook, Joe Beef: Surviving the apocalypse: Another cookbook of sorts. We chatted about the book, which is slated for release on November 27, but more about the state of the world in 2018. PR often manicures people to hide their imperfections, but not with McMillan. His frank introspection is nothing if not refreshing, even if the insight is dark at times.
I could have kept him talking for hours, and as McMillan puts it, we need to put down our phones and spend more time with real people.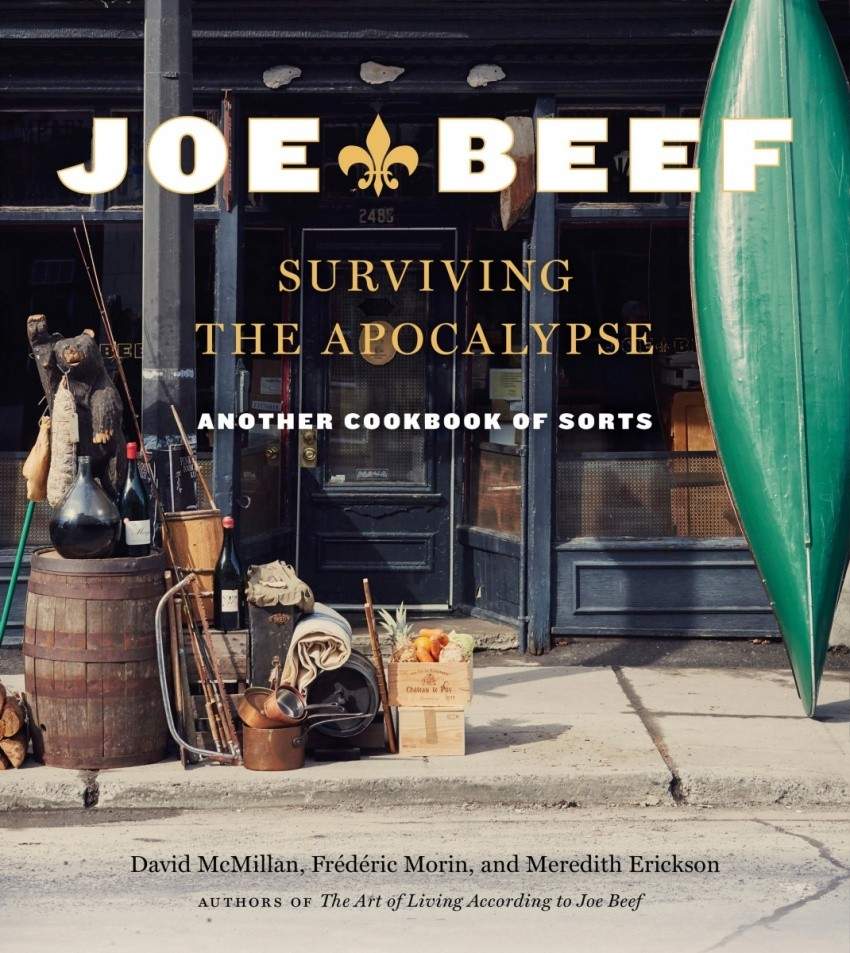 Tell me a bit about the latest Joe Beef book.
The book is about Montreal, about our peers, about the food of this city. It's a celebration of the dining public of this city. I've realized through travel to other cities–we always think grass is greener–that other restaurants don't cook the food that I eat. My dining public is the reason we get to do a good job, not because we have any God-given talent, but because our dining public is excellent.
What is it about Montreal's dining public?
They have an insatiable thirst for natural wine. We get to sell the most wonderful natural wine. We couldn't even give conventional wine away for free. There's so much good juice to drink around the city. The other part is when I'm in Manhattan, it is very difficult to go have rabbit, kidneys in Madeira sauce; to eat offal is a very tall order, raw milk cheese, natural wine. These are a very tall order in the rest of North America. In Montreal, we have a Francophone-Latin population that eats a lot of uncommon proteins. We put brain on the menu because brain sells, not just crispy fried with hot sauce, just sautéed with butter and capers. It's not old men eating this, it's young people, and they're not Instagramming it.
What makes food like this better?
For me, I'm a cook. I enjoy the act of cooking. When relegated to just chicken, halibut, steak, lamp chops, it's boring. When I practice whole animal cooking, I can practice the art of whole cooking. We have kidneys, sweet breads, and we don't have to throw those out. We can sell lamb neck stew on menu. For a chef, it's a wonderful place to practice that.
What do you want people to take away from the book?
I really want people to fuck around, get back into the kitchen, and enjoy cooking. Spend more time cooking with family, go camping; spend less time on the phone, go to the market. Prepare things that are outside of your comfort zone. There's a cottage angle, an apocalyptic angle to book. We want people to get in the kitchen. It's more about cooking as therapy. Restaurants are not the end all of all things. You can preserve, can, grow things, go pick apples… Take a look at what's around you, get more in touch with old ways of cooking, have more candle light dinners, be more romantic…
What does cooking as therapy mean to you?
That's a loaded question when it comes to me; I'm a long time addict. I still love this job, even if our restaurants have grown out of proportion. What I enjoy is getting people their favourite beverage and bringing them food; being a purveyor of food, providing people this old, old act of comfort, service, inn keeping. I believe you had a hard day, I know you had a hard day. You're not going to have an intellectual dinner. You don't have to worry. We're going to cook for you. It's going to be a simple French dinner. We can stop the wolves barking inside your head for a second. We can bring you your favourite aperitif, appetizer, main course, start building a relationship with you. Most of us have been here for a long time against low pay, long hours, and poor working conditions. We know nothing else but to serve people food.
In your opinion, how does the state of the world right now affect food, cooking, and eating?
Just open the newspaper. We pitched this book before Trump was elected. In the pitch, we felt like the apocalypse was coming. Now I just started watching The Handmaid's Tale; this could actually happen. I can't wait for a great reckoning, great equalization of people. We will all get back to survival cooking.
With political issues and trade wars ongoing, how have your restaurants been affected?
We feel constant pressure from the price of food. Canadian milk is being assaulted. One day, it's going to come to a point where we are so taxed that we will no longer be able to do this. When my accountant looks at the numbers, he says "You're providing a public service, a borderline act of philanthropy." We could most likely apply for a Canada Council grant as Joe Beef being an art installation. It's a constant state of stress. We can't use our charcoal grill at Vin Papillon anymore due to regulations. They're going to homogenize the food industry until we're all a no-name brand.
When does it reach a breaking point for you?
Soon. We do the math and the math gets shittier every year. When I opened Joe beef, I could sell a steak for $28. I didn't decide to make it $48, gas prices decided this, feed prices decided this. This piece of meat that used to cost me $5 dollars now costs me $17. There's a threshold we're going to break one day. I'm not charging more and more every year because I want to, it's because I have to. One day, restaurants are only going to feed the elite.
One day restaurants won't exist?
I can't afford to eat at Joe Beef. One table of four, full dinner; that's my salary, and I own the restaurant. That's what I make in a week here. All of these restaurants are for the wealthy. I try my best to keep one appetizer under $10 and one main course under $18. There's always a sausage under $20. I want to make sure you can come eat and get a glass of wine for $30, but I don't sell much of that.
You sound kind of conflicted about what you're offering versus what you want to be offering.
Wouldn't it be great to have a reckoning? I'd open a small restaurant, with just a soup of the day, braised lamb stew, and cheese or cobbler to finish. That's it.
You have to be introspective. I might be disgusted sometimes with the excess of my own restaurants. When I go look at four men eating meat, ugh boy, fuck my life. What does David or Fred eat? I eat nothing: scrap ends of roast beef, lentils, and burning hot mustard. I eat it in the alley behind the restaurant. I'm pretty convinced I'm eating the best thing in the restaurant.
As much as it would be pretty incredible for everyone to be able to go and escape to the woods to eat good food and drink good wine, the reality is, not everyone has the ability to be able to do this. How do you reconcile this?
We don't all have a cottage, but I'll say this: the idea of a picnic is still alive and well. You can go to Atwater market and get three cheeses for $9, a baguette for $2, a $9-bottle of wine, local offerings, inexpensive beers. We can go to Atwater and for $20, get a beautiful feast and go sit on the side of the canal and survive the apocalypse. You can still do it, still spend quality time together.