Nacarat may live inside of a hotel, namely, Montreal's newly-refurbished Fairmont Le Reine Elizabeth, but it is most definitely not your typical hotel bar. Beverage director Nader Chabaane is determined for it to become one of the best bars in the city, regardless of the 900 plus rooms that are housed above it. With experience opening some of the world's most renowned bars in places like Paris, New York, and China, Chabaane came to Canada to start the new cocktail program at Fairmont Le Château Frontenac. Given his resume and drive to do things differently, it's no surprise that he was appointed one of Fairmont's Tastemakers and asked to revitalize the cocktail program at the Queen Elizabeth.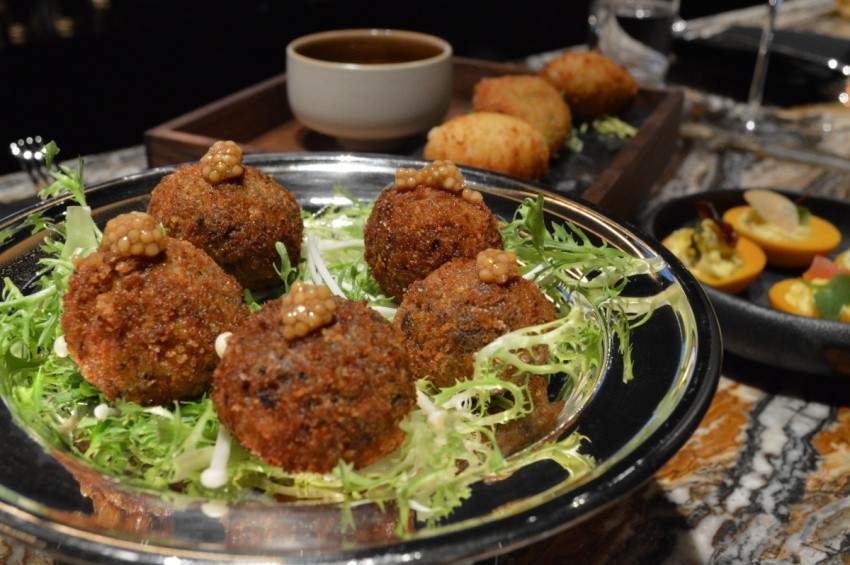 Cocktails range from boozy to non-alcoholic, but you can be sure that each one is unlike anything you've ever tasted. Chabaane is big on creating his menus in collaboration with his team and is relentless in executing his vision. He starts with a master plan--an idea of flavours and the ingredients that are likely to provide them--and puts his mixologists to work figuring out the exact recipes and ratios. "Sometimes they come to me and say it's never going to work," he acknowledges, but with a tweak here and a twist there, the drinks end up coming together.
One such example is the Angus Knows!, a concoction of gin, yogurt liqueur, lime, agave, and lemongrass. Just reading the ingredient list, it doesn't necessarily sound like a melange of flavours that you'd want in the same glass, but in reality, they all balance each other out, making for an eminently sippable beverage that is a bit reminiscent of a grown up piña colada.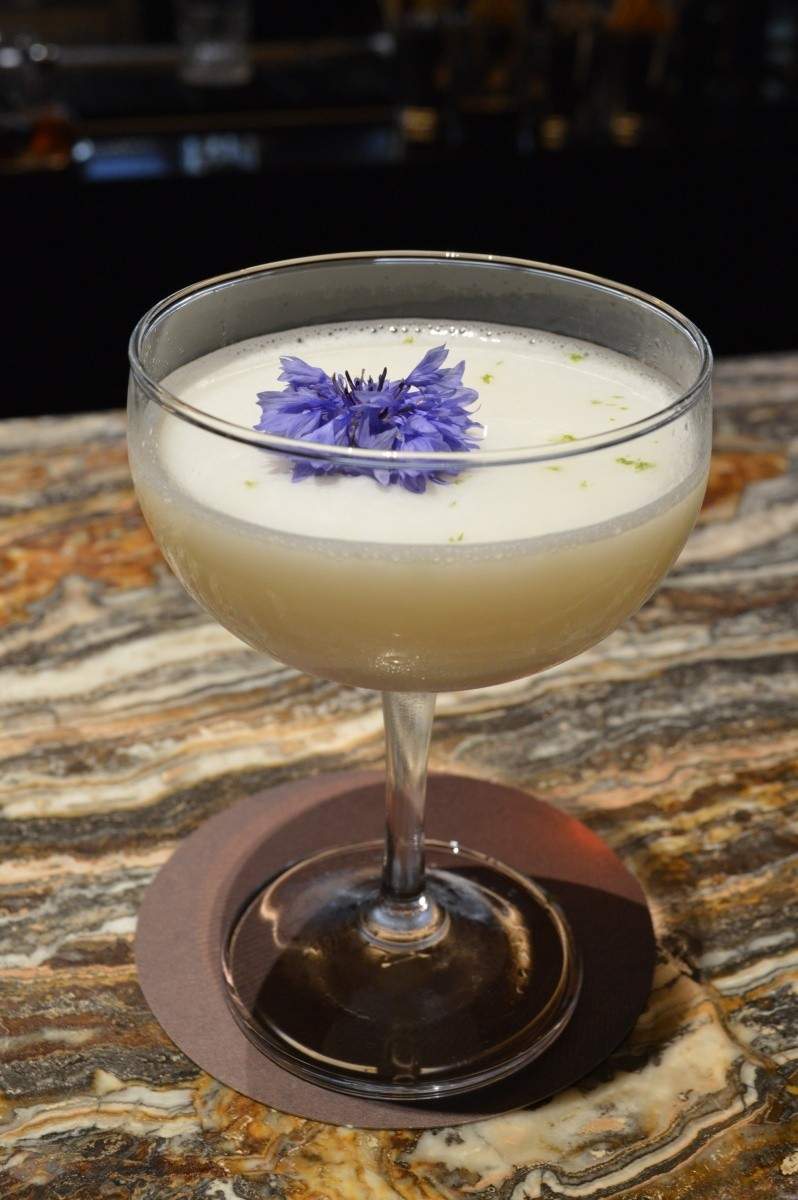 On the "mocktail" side, Chabaane is adamant that he offers viable alternative to those who choose not to consume alcohol. "I don't want to just give them a smoothie, I want it to be a drink crafted with the same thought and complexity as everything else," he says. Using fun ingredients like Seedlip Spice, a non-alcoholic distilled spirit similar to gin, he plays on classics cocktails without adding even a hint of booze. His Mind the Door drink is a spin on the Bramble, starting with Seedlip for depth, and adding sugar, citrus, and raspberries for a fruity kick.
Whether you opt for cocktails or mocktails, or both, the level of service and showmanship present makes for an incredibly well-rounded experience. It's not flashy per se, but when you notice the small details, like ice cubes being carved by hand, you realize the care and attention going into each and every drink. The Negronen, derived from the Negroni, is smoked inside a glass chamber and presented to you as such, so you have to reach inside to retrieve your drink.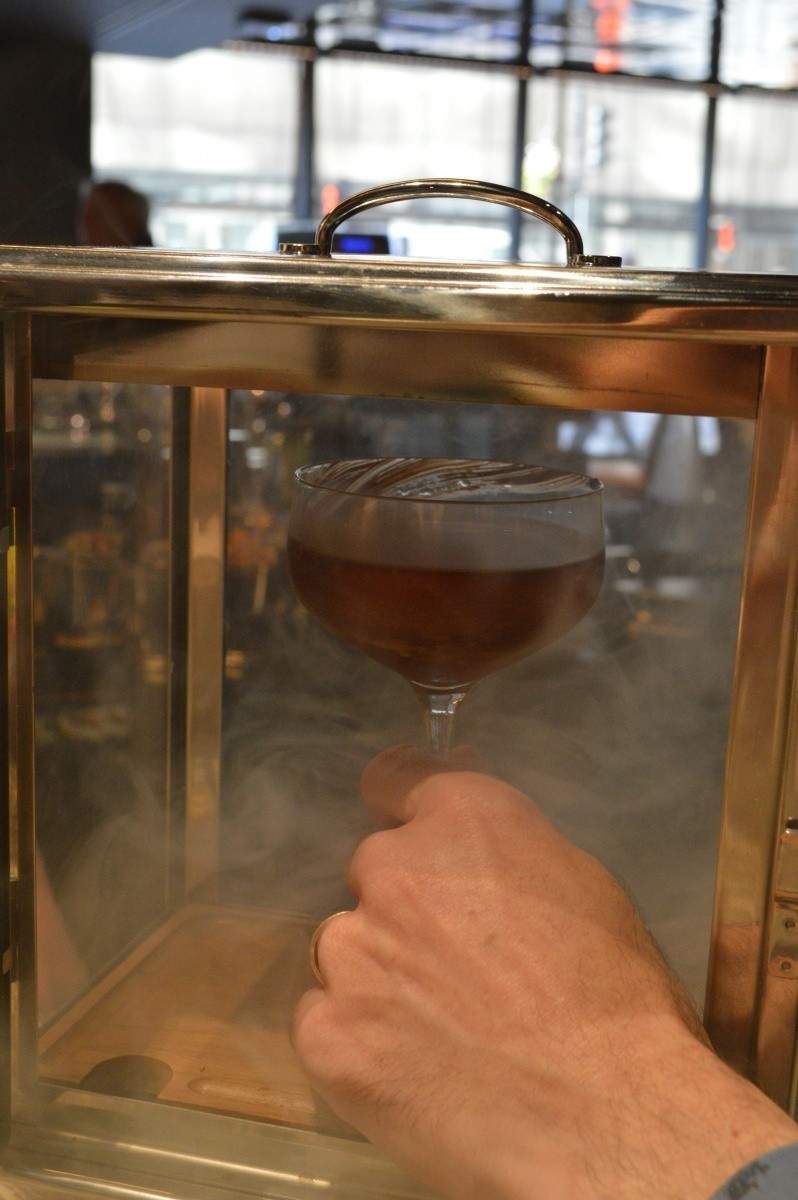 Even the way that Chabaane designed the bar comes down to the finest minutia. Taking inspiration from high end kitchens, the bar is divided into three stations based on the base alcohol in various drinks: one for tequila, mescal, and tiki drinks, one for gin and other white spirits, and one for whisky and other brown liquors. As drink orders come in, they are sent to their respective station, mixed, and arrive in front of you in as little as two minutes. "We are doing something very different here in successfully combining quality and efficiency," Chabaane says. And it's true; you can get a bespoke cocktail without waiting for it, truly making every person who walks in the door feel like a VIP.
If that isn't incentive enough to go grab a drink, there are also plenty of exciting plans in the works for Nacarat coming in the near future. "I can't speak to the details right now, but we will be doing things with cocktails that no one else in Montreal is doing," Chabaane hints. What that will look like is anyone's guess, but if the current state of affairs at Nacarat is any indication, it will exceed expectations and then some.