A disgruntled group of campers and off-road enthusiasts as well as some small business owners in Alberta are crying foul over lobbying efforts by conservation group Yellowstone to Yukon (Y2Y) to restrict access to Crown land in the Bighorn region.
Since announcing in mid-October that Edmonton breweries Alley Kat and Bent Stick would be supporting their efforts, Y2Y—in collaboration with the Love Your Headwaters campaign—recently promoted an event scheduled for January 27th, which would feature both breweries' beers.
Now, some Albertans are saying they don't plan to drink either of their beers ever again. Multiple Facebook users have begun leaving posts and one-star reviews on these breweries' pages repeatedly, asserting that they won't be buying, supporting, and even selling their beers as long as they are supporting Y2Y.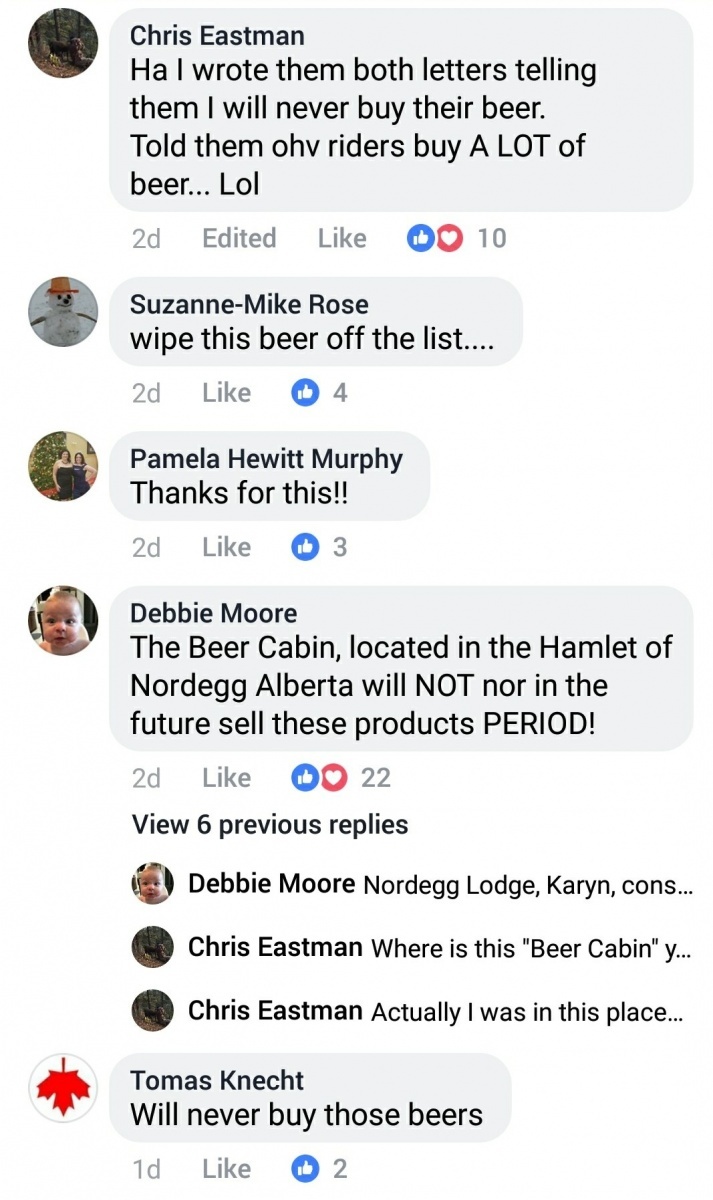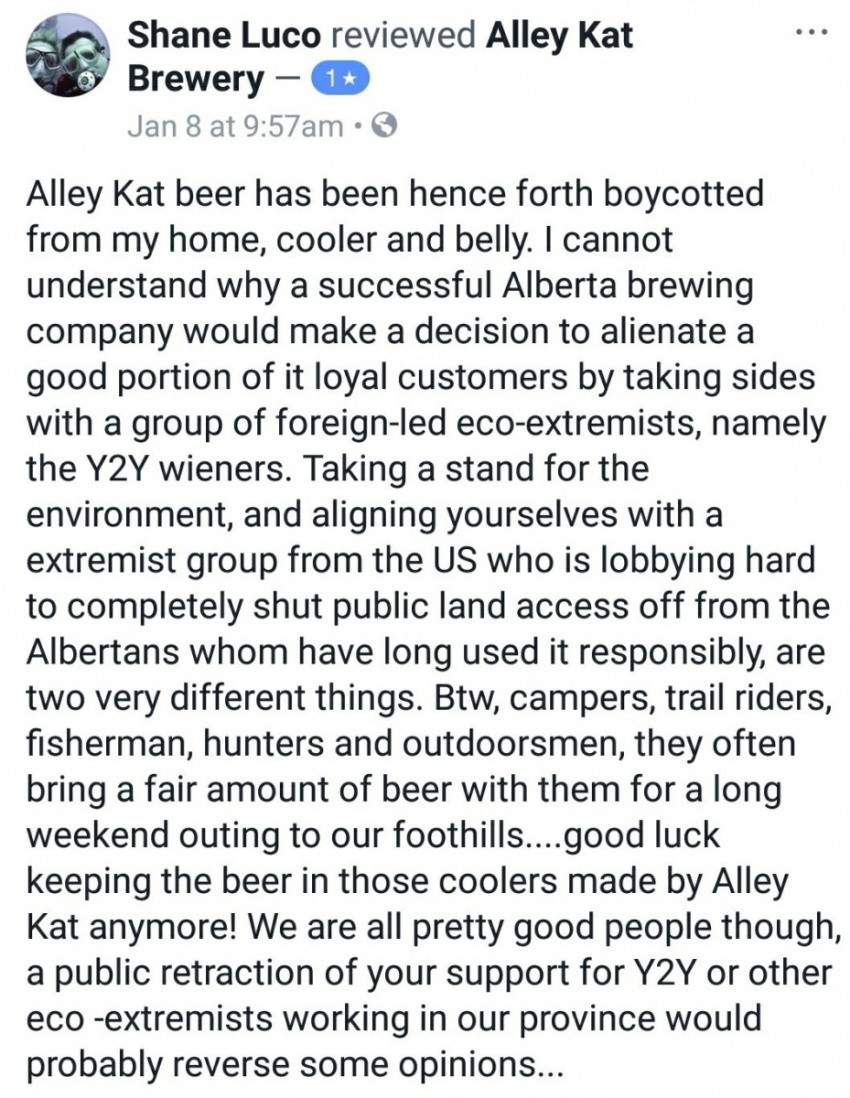 As it stands now, the Bighorn backcountry is divided into six public land use zones, and Y2Y is hoping to limit access to users by having the provincial government rezone the area as a wildland provincial park.
Frequent users and other concerned citizens are saying that this will effectively kill small business in the Bighorn region that relies on these off-highway vehicle (OHV) enthusiasts and campers.
The Love Your Headwaters initiative is insistent that protecting the Bighorn region as a wildland provincial park is vital to ensuring that this water source remains intact for Edmontonians, and stresses that the Bighorn headwaters comprise nearly 90 per cent of Edmonton's water supply.
Even though this agreement between Alley Kat, Bent Stick, and Love Your Headwaters was announced months ago, not a lot of fuss was made until recently.
Uproar on social media seems to have begun just a few days ago when a Facebook posted on a Facebook group page called This is My Nordegg - Advocating for the continued Public Land Zone Use, which describes itself as a "page for communication and information sharing regarding the Nordegg area and the Bighorn Backcountry."
Members are concerned that restricting the use of the land to OHV enthusiasts and campers will also hurt their businesses and accuse these breweries of putting their businesses ahead of those in the Bighorn region who rely on the thousands who visit every year.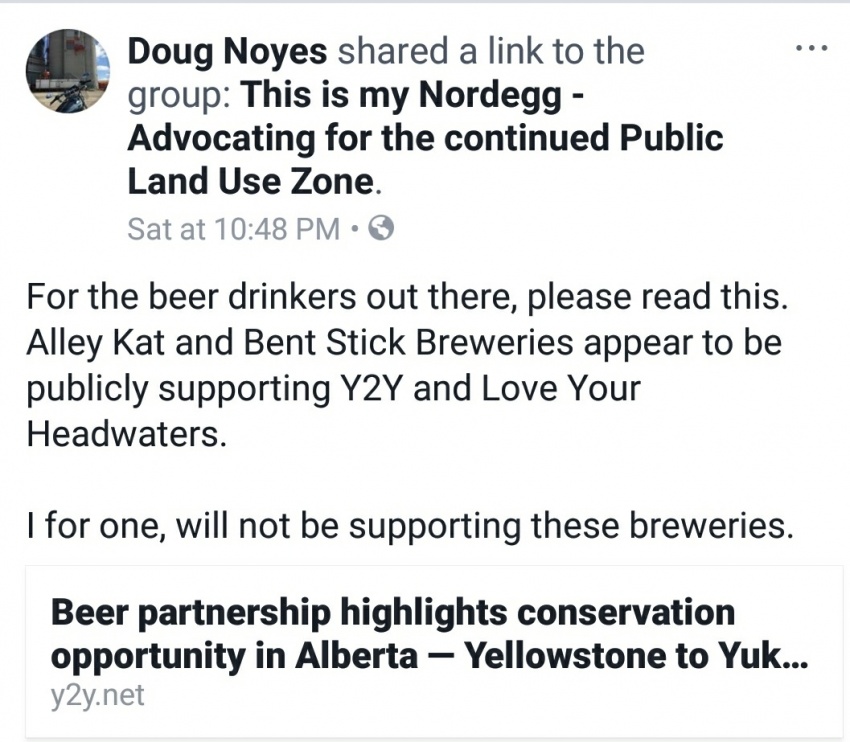 I reached out to Doug Noyes for comment, but he has declined to comment at this time.
This, in turn, has sparked a retaliatory call to arms of sorts, as beer lovers across Alberta have been leaving supportive reviews of both breweries to counteract this sudden spike in negative posts and reviews.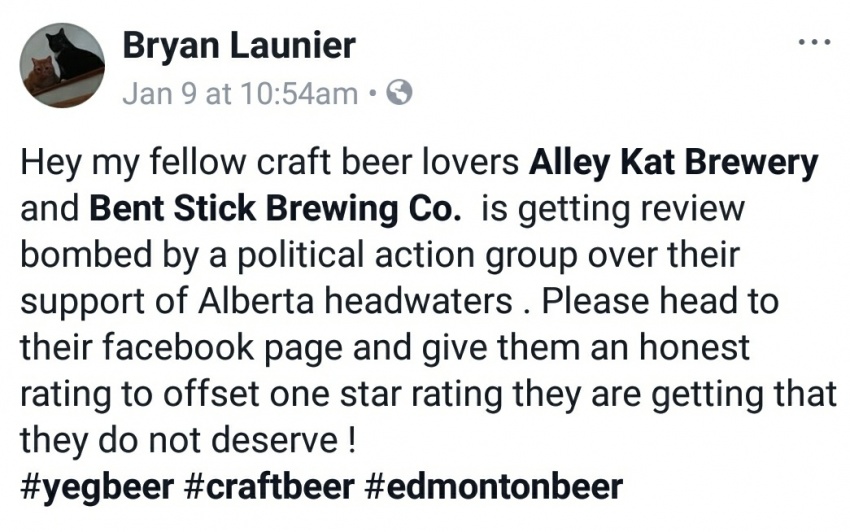 Bent Stick has been putting the Love Your Headwaters official logo on their bottles for months prior to the press release by Y2Y in October. In November, they started distributing coasters to bars and pubs around Edmonton which they co-produced with Love Your Headwaters with the tagline: "Great beer needs great water". Co-founder Scott Kendall said, "Sure, beer is great. But great beer doesn't happen without great water.
The headwaters of the Rocky Mountains are the single most important natural resource in our province because they sustain our lives, and the agricultural and economic activities Albertans participate in every day."
This recent customer blowback wasn't a total surprise to the folks at Bent Stick, however, who told me that they "did anticipate that there would be a few disgruntled customers."
While outdoor enthusiasts who are opposed to seeing their OHV use limited in crown lands denounces Bent Stick and Alley Kat, Bent Stick assures that "[they] aren't opposed to OHV use in the entire province; just in this very fragile and important area," but that they also "probably didn't realize that people would take it as an outright attack on their 'freedom'."
They go on to say that they've, "learned something about the passion of the OHV community through their outrage on our Facebook page."
Finally, they say that they'll stay the course in regards to their involvement with Love Your Headwaters and Y2Y, and will still be participating in the Hops and Headwaters event on Jan. 27th.
Alley Kat has been attaching the Love Your Headwaters logo to their six-pack boxes since October. Regarding Alley Kat's involvement with Love Your Headwaters and Y2Y, general manager Kent Kirkland had this to say: "We actually aren't affiliated with Y2Y at all and not sure how we got associated with them. Our involvement is with Love Your Headwaters and I guess they have an affiliation with Y2Y. Love Your Headwaters approached us about promoting their organization with stickers on some of our six-packs this summer, and given that water is a vital ingredient in our beer, we were happy to support initiatives that aim to maintain or improve the quality of water in our province," adding that Alley Kat is "continuing [their] involvement with the Hops and Headwaters event.