Recently, a friend of mine from the Prairies asked me what lobster fishers do in the winter? They fish!
While the rest of Canada is covered in snow, with farmers and producers waiting patiently for the ground to thaw, the cold weather has little impact on the bounty of the sea on the East Coast, especially on the South Shore of Nova Scotia, the most profitable region for lobster fishing in Canada.
What is winter lobster?
Many East Coasters argue that winter lobster is better. With a harder shell and meatier insides, a winter lobster, it's said, offers a much tastier bang for your buck as the juicy, soft-shelled summer catch.
The science behind it is simple. Lobsters molt their shell in order to grow. In warmer waters, lobsters molt more frequently, and therefore have a soft shell. In colder waters, lobsters develop a darker, hard shell.
Better for export
Winter lobster is better for export because a hardy winter shell means that live export will survive better in transit. This is especially significant in light of the current U.S. trade tensions, with Chinese tariffs on American lobster translating into a boom in lobster exports from Halifax airport, where, incidentally, even regular tourists and travellers can buy a box of live lobster to take to the folks back home.
Lobster fishing: a family affair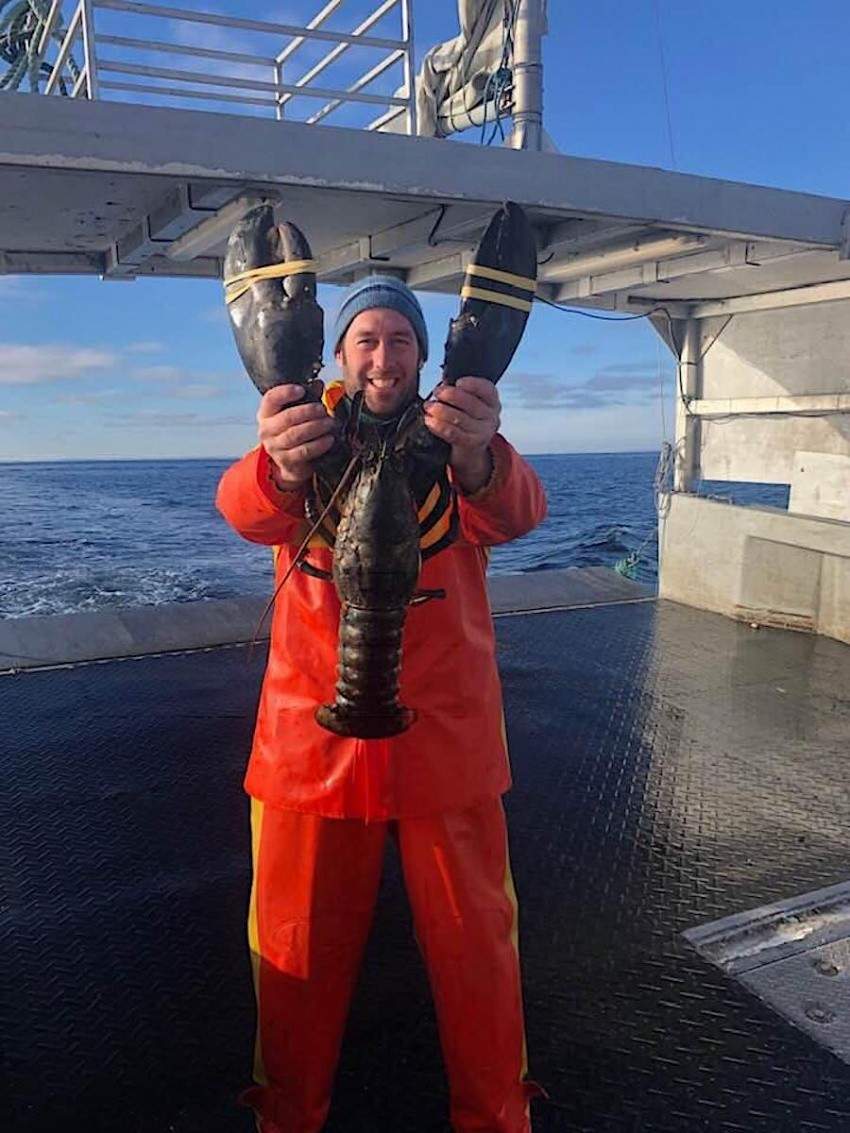 Bonnie Wilczynski, whose husband Craig Hartlen left professional snowboarding to pursue his dream of becoming a commercial fisherman, says that it's a matter of personal taste.
"Winter lobster are caught offshore close to the edge. They're big, juicy and sweet. Summer lobsters are caught in a different area: PEI, The Bay of Fundy and Cape Breton. Those catches are great, but the lobsters are sometimes in red mud so they taste different."
Similar to farming, fishing is a family affair for Wilczynski and Hartlen and their two young children, who live in the picturesque community of Eastern Passage, just outside Halifax. "It's a certain type of person who enjoys the challenge of fishing--the never ending tasks, and crazy conditions," claims Wilczynski.
Despite the hardship, Wilczynski claims that fishing is a great life for kids: "Every day, we get up and look at the ocean, to see what's going on, read the waves, the wind, the currents."
As we chat, Wilczynski shares family photos: her children grinning as they hold large, live lobsters in their bare hands aboard Hartlen's boat, Fish 'em Not Wish 'em.
"As a family, we fish together spring summer and fall," says Wilczynski. "Winter is not safe for the babes."
It's always lobster season somewhere in the Maritimes
But although East Coasters fish in the winter, it's not a case of fish anywhere, anytime.
In order to protect the valuable species (Homarus americanus), the waters around the Maritimes have been divided into 12 designated Lobster Fishing Areas (LFAs), stretching from the northern tip of Cape Breton to the border of the United States at the Bay of Fundy.
The fishing seasons are staggered around the year so there's always someone fishing somewhere, but never during the same period.
The coldest time of year is reserved for Canada's most profitable fishing grounds: areas 33 and 34, on Nova Scotia's South Shore, where lobster is caught from the last Monday in November until May 31, each year. According to local newspaper, the South Shore Breaker, these combined regions brought in just under 32 thousand tonnes of lobster last year, with a value of $502 million, in the 2017 to 2018 season.
Dumping Day
The season begins with Dumping Day, when boats set off at dawn to dump their traps in their desired area of water. Each trap is tagged numerically with a plastic tag, according the fishing licence holders limit.
Safety is a major concern in the commercial fishing industry, with last year being a particularly dangerous, as well as profitable, period. According to CBC news, 17 fatalities were reported on board commercial fishing vessels in 2018.
Because the boats race out to sea, heavy with a full load of traps, Dumping Day is considered the most dangerous day of the year. This year, the government postponed Dumping Day due to poor weather to ensure a safe start to the season.
The best way to buy seafood, according to the locals
So, what about those of us on the East Coast who don't own a boat, and simply love to eat that soft, sweet lobster meat?
Locals know that the freshest way to buy lobster in the Halifax region is out of the back of a truck on a Saturday morning, and the well-known Gary's Fresh Seafoods is one of many suppliers to do business in this way.
On any given winter morning, it's not unusual to see a few cars waiting for Gary to pull up in the parking lot outside Kent Building Supply in Bayer's Lake Industrial Park, with his catch having been advertised on Facebook a day earlier.
The South Shore Lobster Crawl: Nova Scotia's winter lobster party
Another way to celebrate Lobster is with the South Shore Lobster Crawl, a winter festival that happens for three weeks each February, between the regions of Peggy's Cove, and Barrington, Nova Scotia.
Now in its second year, the series of over 100 wacky lobster-themed menus, events, contests and hotel packages is designed to get folks out and about during an otherwise slow season for tourism.
Donna Hatt is the chair of the South Shore Tourism Cooperative and a tireless advocate for all things lobster.
"We're pretty passionate about our lobster fishing heritage and culture here on the South Shore," she says, "and we love eating lobster. We love eating it steamed, in rolls, in our beer and linguini. We love it paired with wine and we'll even run, cycle and throw stones for it."
White Point Beach Lodge has declared 2019 the "Year of the Lobster", offering products such as lobster-shaped salted s'mores in the evenings at their resort.
Lucy the prognosticating lobster
One fishy gimmick that kicks off the Lobster Crawl is to see if Lucy the Lobster sees her shadow on Groundhog Day.
The event happens at the crack of dawn in Barrington (which battles with Shediac, New Brunswick, for the title of Lobster Capital of Canada), when Hatt, wearing a bright yellow Sou'Wester (a fisherman's hat) pulls Lucy the lobster from the sea; and everyone crowds around to see her prediction.
After the big reveal, onlookers are encouraged to stick around for Lobster Day in Barrington, to visit a lobster plant, check out the lobster sculptures, and--sorry Lucy--dine on lobster at the local restaurant, Capt. Kat's Lobster Shack.
Boil your own lobster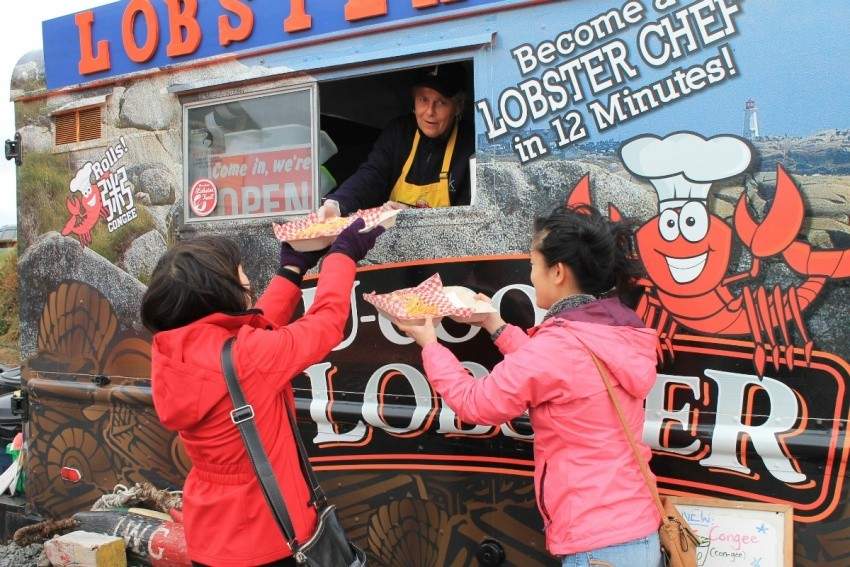 Over at Peggy's Cove, U-Cook Lobster is a food truck where you can boil your own lobster, while the waves crash over the rocks at Canada's most photographed lighthouse. For a quicker bite, Peggy's Cove Lobster also sells lobster rolls: buttery toasted hot dog buns stuffed to the brim with fat, juicy lobster meat and a touch of secret sauce, served with a side of potato chips and a lemon wedge.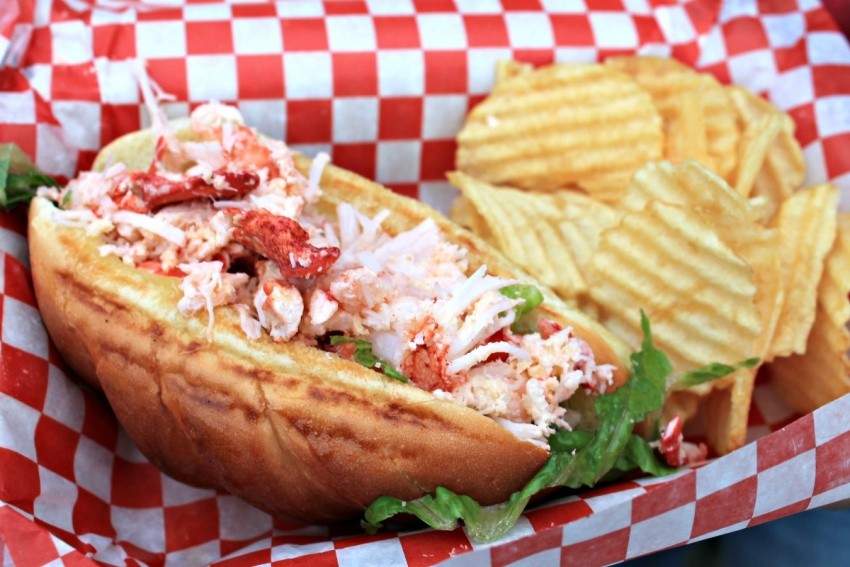 Lobster beer
And finally, there is the Lobster Crawl Craft Beer Festival in Lunenburg, Nova Scotia.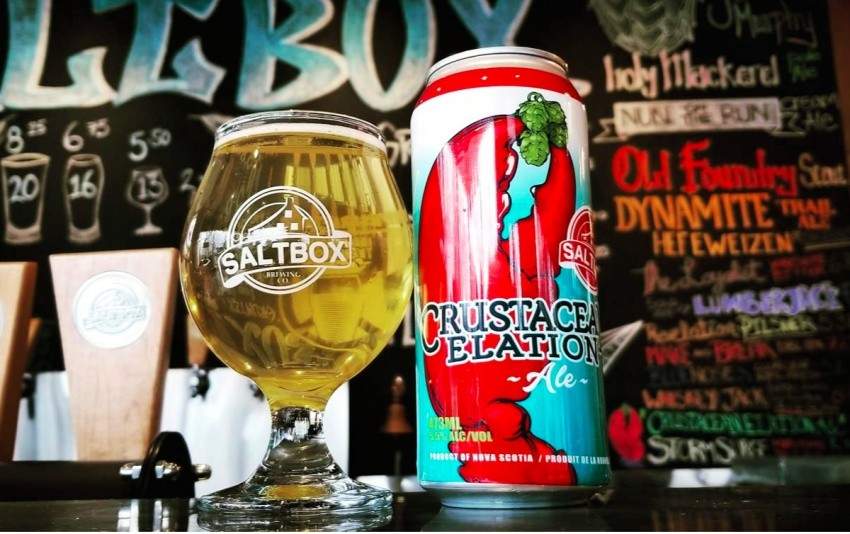 There will be plenty of delicious craft ales and ciders at the festival, but the one everyone will be clawing to try is Crustacean Elation, the lobster-infused ale from Saltbox Brewery in Mahone Bay.
Come for the lobster
Whether you like your lobster steamed, boiled, bought from the airport, stuffed into a bun, or even served in a pint glass, it's fair to say you haven't really experienced lobster until you've tried it in on Nova Scotia's South Shore... in the middle of winter.