Burnaby Heights, B.C.'s own little slice of chocolate heaven, Chez Christophe Chocolaterie Patisserie, has grown to be a destination for award-winning artisanal chocolates and creative viennoiseries, and are celebrating five years in business. Bringing a bit of Swiss flair to Canada, its collection of fine handmade chocolates ranges from artistic chocolate sculptures and creative truffle flavours to signature chocolate bars and seasonal favourites. Customers can also find an array of macarons, viennoiserie, desserts, and cakes. To celebrate half a decade, the shop's owner and executive pastry chef, Christophe Bonzon, travelled to France to create his own custom chocolate, launching in the form of chocolate bars this month.
This past winter, Christophe visited the headquarters of Cacao Barry in Paris to participate in the custom chocolate program, Or Noir. Only a handful of Vancouver chefs have done this in the past and Christophe is the first in Burnaby. Christophe tasted a variety of chocolate and tried a dozen combinations before coming up with two blends: Yverdon, after his hometown, and Montreux, where he learned his craft.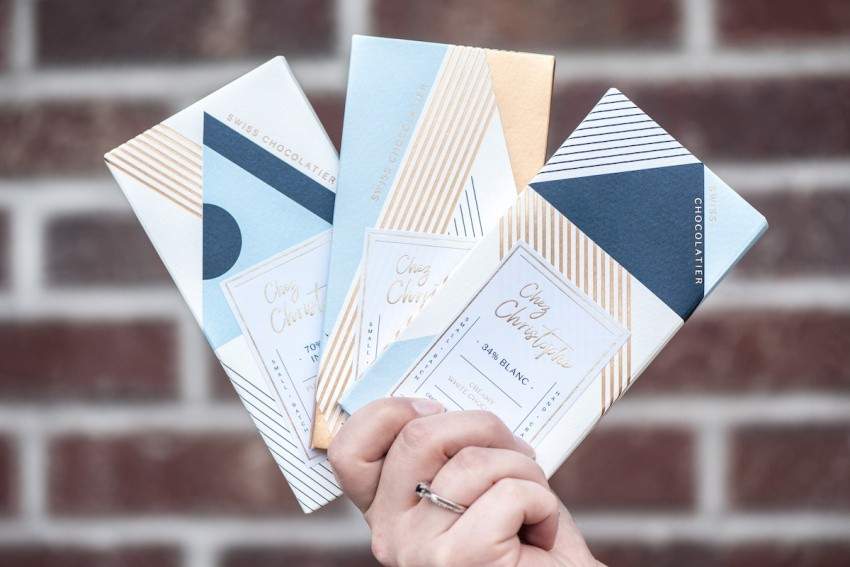 "Chocolate will always be my biggest and number one canvas," adds Christophe, who in 2015 won four out of five categories at the World Chocolate Masters Canadian Final. "When I invent with chocolate, I feel the options are limitless. Anything is possible if you put your heart and soul into it. And, creating my own chocolate is definitely a highlight of my career as a chocolatier."
The limited-edition anniversary bars are now available. The 63.6 per cent Montreux is a balanced dark chocolate with a hint of smokiness, originating from Madagascar, Ecuador and Papuasie. The 70.4 per cent Yverdon has a bold cocoa flavour with fruity notes, originating from Santo Domingo, and Peru.
Chez Christophe has also launched five other new chocolate bars: 34 per cent Blanc, 35 per cent Blanc Caramel, 42 per cent Pure Lait, 60 per cent Noir Brut, and 70 per cent Noir Intense. All chocolate bars are priced at $7.95.