There are few people in this country that are as hyper-focused on food as Mijune Pak. Fitting, then, that she has become a household name in Canada, first for her extensive travels captured via her social media feeds and now as a resident judge on Top Chef Canada.
With filming of the ninth season of the popular series recently wrapped, Pak is not one to rest on her laurels and has just announced an exciting new project: a bespoke chocolate collaboration with award-winning Vancouver chocolate company Chez Christophe.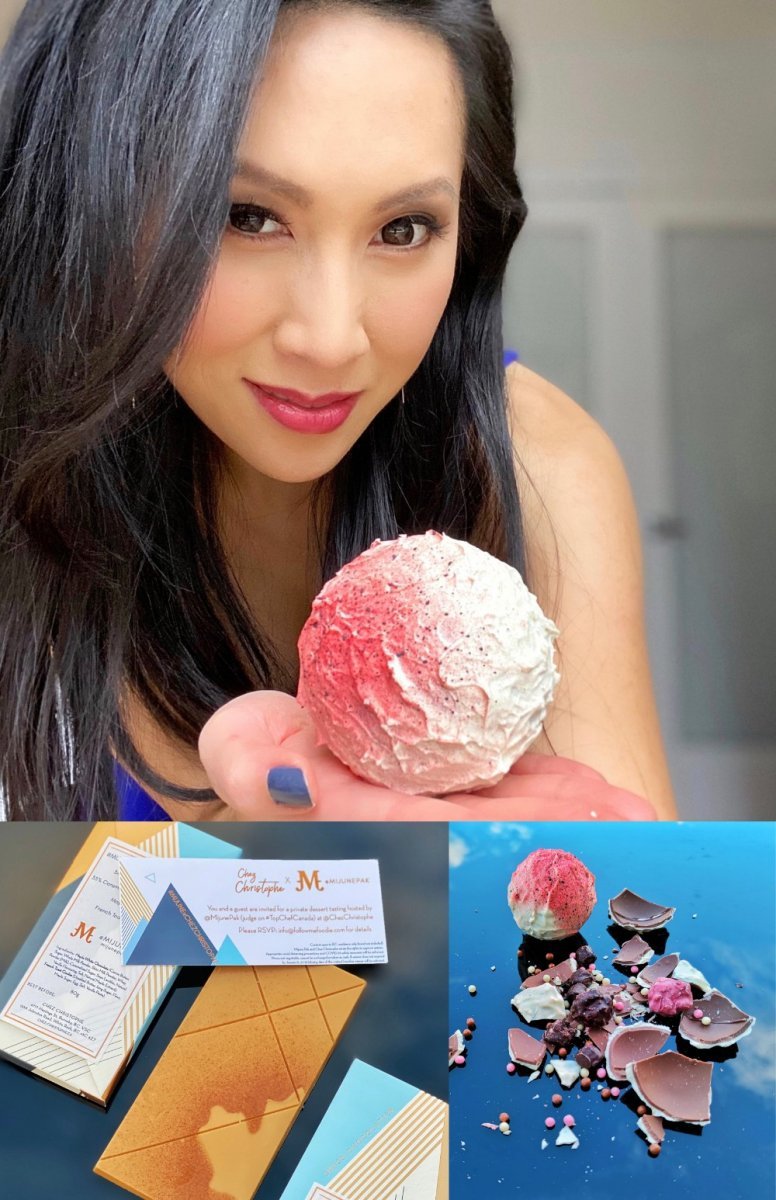 "I was overwhelmed by the incredible support from my first chocolate product launch [in 2019] and I've been eager to do it again," says Pak. "It's been a challenging year with COVID-19, and not being able to travel meant more time appreciating home. I wanted to develop products that were fun, creative, and of course, tasty."
The Maple Syrup French Toast Bar ($11.95) conjured up by Pak and chocolatier Christophe Bonzon is a stunner looks-wise and made from a proprietary blend of white chocolate, caramelized white chocolate, maple syrup, langue-de-chat biscuit and a touch of salt.
The real showstopper, though, is the Neapolitan Baked Alaska Snowball ($18.95). Taking inspiration from Pak's fond childhood memories of Neapolitan ice cream, the epic orb is double-coated, first in milk chocolate and then in a vanilla bean-infused white chocolate. Once smashed, the "snowball' reveals clusters made from freeze-dried strawberries and crispy feuilletine (one coated in ruby pink chocolate and the other in dark chocolate), dark chocolate covered marshmallows and crispy Neapolitan pearls.
"Growing up, my parents used to buy these big buckets of Neapolitan ice cream and I'd only ever eat the chocolate and vanilla layers," says Pak. "Now, as an adult, I have an obsession with ice cream, so I wanted to make a 'grown-up' version of this childhood favourite," says Mijune.
Both chocolate creations are now available for pre-order through Chez Christophe's website and will be available in-store as of Tuesday, October 20.
If you're wanting a side of Mijune Pak along with your sweet treats, the Top Chef Canada judge will be doing a (socially distanced) meet-and-greet Chez at Christophe on Saturday, October 31 from 10:30 a.m. to 2:30 p.m. and then at Popina Cantina Popina Cantina on Saturday, November 7 from 11:00 a.m. to 1:30 p.m.
Pak isn't the only member of the Top Chef Canada family with a custom chocolate bar on the market this month.
Season six finalist and fellow Vancouverite Mark Singson recently debuted a funky collaboration with chocolate maker BETA5 Chocolates. His creation, the Won't Ube Mine Polygon Bar, is comprised of freeze-dried corn white chocolate and crushed Hawkins Cheezies encased in an outer layer of ube-infused white chocolate. It's a quirky combination, but I would expect no less from a chef who's known to be playful in the kitchen and wildly creative.