It is a breathtaking view from the 27th floor patio of Edmonton Tower, a glass-faced high-rise in the new ICE District. The architectural renaissance taking place has renewed my love for Edmonton. I am not alone in this feeling, nor am I alone on this patio; I am with 149 other people here to attend a long table dinner as part of the Culinary Labs series, spearheaded by Edmonton Economic Development Corporation's Vibrancy Program. The mood of the guests is as lively as the bubbly in our glasses as we watch the setting sun shimmer off surrounding skyscrapers in various stages of completion.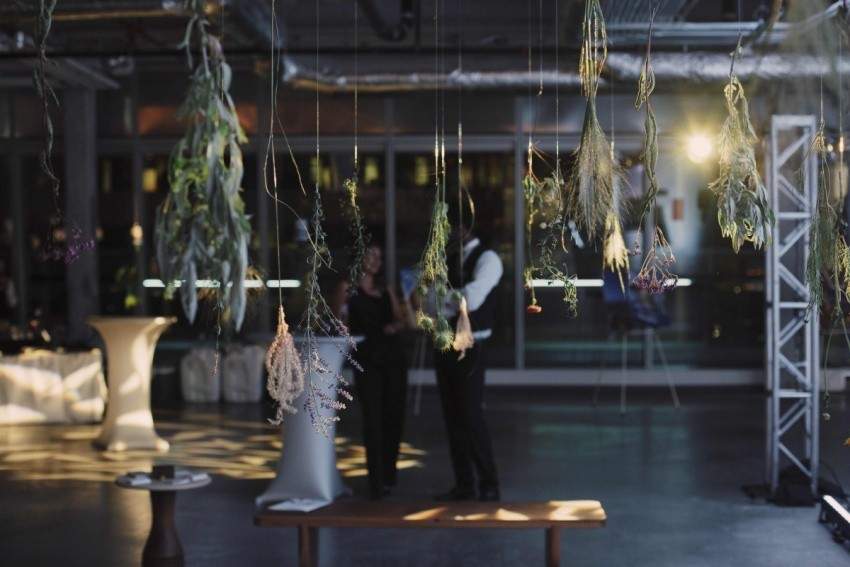 Inside, five chefs are preparing food they will serve to guests who have booked seats at their respective tables. This is the second seating. Another 150 guests have already left—begrudgingly but happy, staggering into the night, bellies full of exquisitely prepared food, Okanagan wine, and local craft beer.
The chefs read like the cast of a yet-to-be-scripted Food Force 5 movie: Vancouver's Ned Bell, author of Lure, and recognized for his commitment to featuring sustainable seafood on his menus; Winnipeg's Mandel Hitzer, owner of deer + almond, and the bright mind behind RAW:almond, a 21-day dinner extravaganza that takes place on a frozen river in the middle of winter; Christie Peters from Saskatoon, a chef who hunts, tans her own hides, and grows produce for her two restaurants, Primal Pasta and The Hollows; Garrett Martin, the opening chef de cuisine at Calgary's highly-lauded Pigeonhole, now holding the same position at the hot, new Bridgette Bar; and Edmonton's David Leeder, ex-NOMA and 108 alumnus, and the chef responsible for bringing together these wizards of cookery.
The event is initiated by the EEDC, whose sole intent is to showcase Alberta's capital city while heralding western Canada's food and culinary talent.
The 27th floor of Edmonton Tower is an open, unoccupied expanse with a panoramic view of the city. It is hard to compete with this backdrop, so designer, Danny Ross, doesn't, opting instead to accent the space with organic elements like wood and plants, modern ceramics, unfussy prints and uncomplicated sculpted pieces. There is much to be said for simplicity. Perhaps the most remarkable accomplishment of this evening—both in the design elements of the room and the food being plated behind the white curtains—is that integrity and passion trump ego, an element found so often in culinary soirees. For a prairie town that has long struggled for recognition on the Canadian food scene, it is heartening to see this event catch the attention of media and industry people around the globe as diners post praise and pictures on various social media platforms.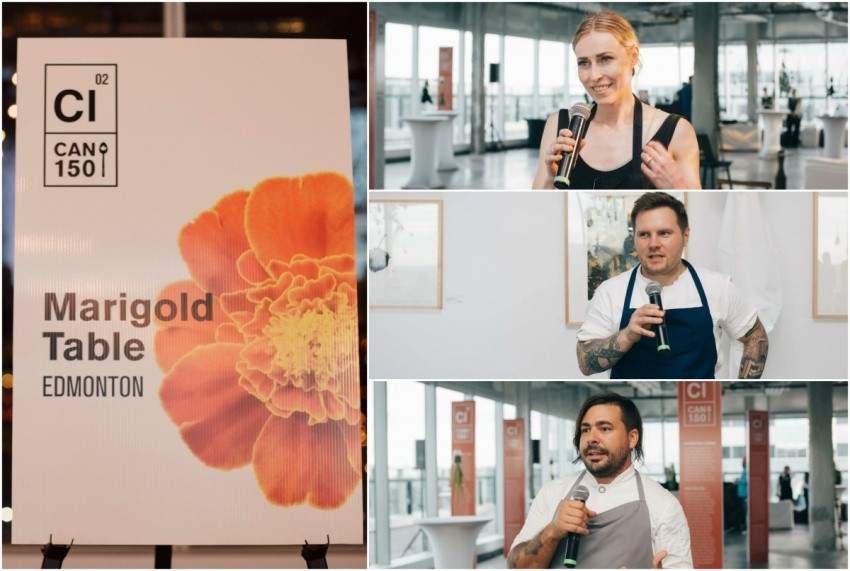 Of course, diners know not of the gargantuan preparation that goes into this event: the logistics involved to coordinate schedules, or find venues and secure capable support crew for both front of and back of house, and transport this army—more akin to herding squirrels than cats—or what it takes to keep hot food hot and cold food cold in a space with no kitchen facilities, or to cook outside 27 floors up while winds snuff the flames on outdoor grills and blow away garnishes so carefully placed by chefs whose backs are breaking from workdays long from over.
All we know, as we place the delectable creations in our mouths, is perfection.
We swoon over the roasted buttery sablefish from Ned Bell, and wish that all salmon in our future will be wild and as perfectly cooked as his. We marvel at the beautiful Arctic char dish from Mandel Hitzer, brilliant oranges and pinks from sea buckthorn, carrots and beets coincidentally imitating the colours of the sun setting in the west. Hitzer's smoked Winnipeg goldeye nestled in a crayfish broth, crowned with pretty flowers and succulent Cuban oregano defies description. How can something be rich and delicate at the same time?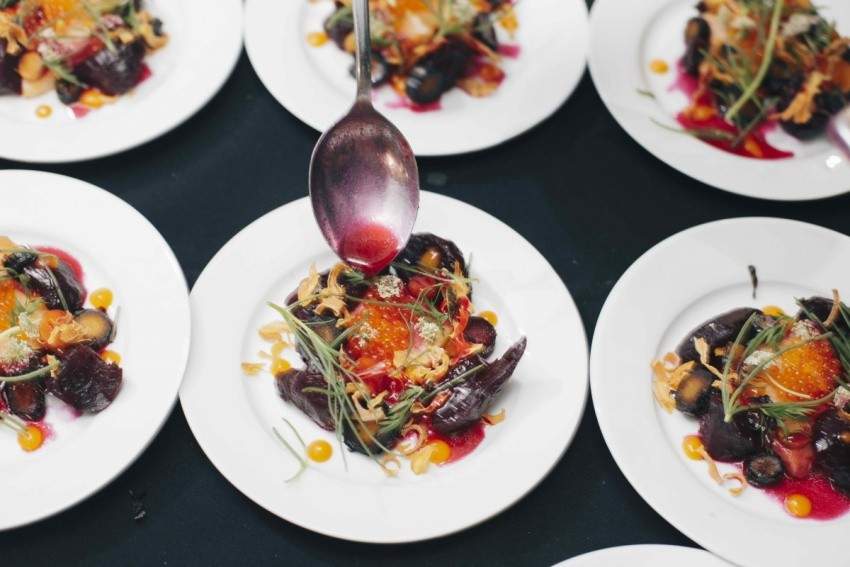 This is real food. Beautiful, yes, but most importantly, approachable, fulfilling, and thoughtful.
Christie Peters brings elk bratwurst from Saskatoon and lays it on a bed of sauerkraut and crabapples. Unlike the demure chef, this dish screams its identity: this is Saskatchewan in all its glory. The grape leaves, beets, and even the snails in Peters' second course, come from her prairie surroundings.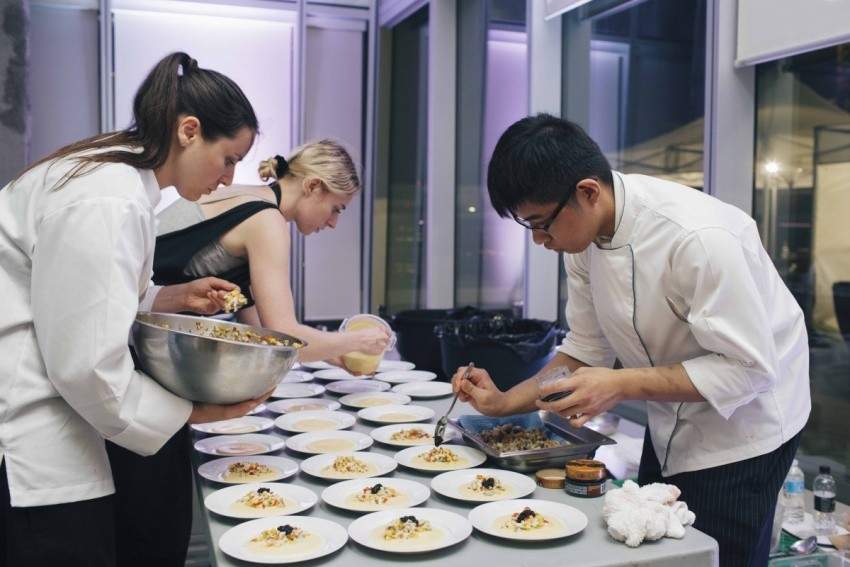 Alberta is well-represented by the hometown boys, David Leeder and Garrett Martin. While it's hard to pick a standout dish, Leeder's main is Alberta at its best: two thick slabs of locally-raised, tender beef rib eye finished with an outrageously smooth jus made from chickpeas, veal and beef bones. The smoked eggplant adds even more depth to a hearty yet elegant offering.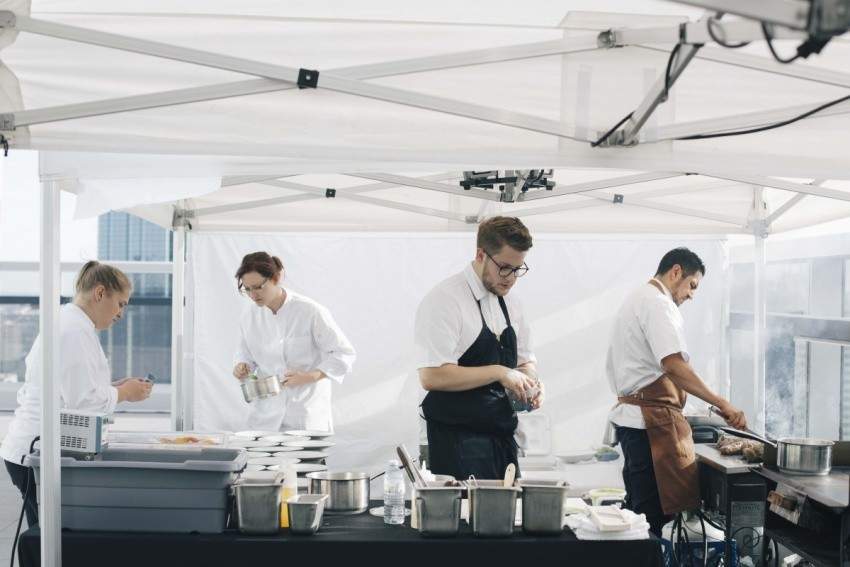 Martin's starter dish sees watermelon in a rare preparation: gelled, seasoned with rice wine vinegar, mint, and ginger, blended with finely chopped, pickled rind, and topped with trout roe. Freeze that, put a stick in it, and you could be looking at the next flavour trend for hipster popsicles. His slow roasted pork coppa and summer cabbage dish speaks to my heart. With ingredients like shallots, brown butter and pear vinegar, it is a modern version of the cabbage and pork dish my German grandmother served on Sundays.
Speaking of trends, some might consider what took place on the 27th floor of the Edmonton Tower, trendy: a chef collaboration using local ingredients with guests seated at a long table. If that's the case, then I hope this sets a trend for how we treat food in our lives, and how we treat each other in the food industry.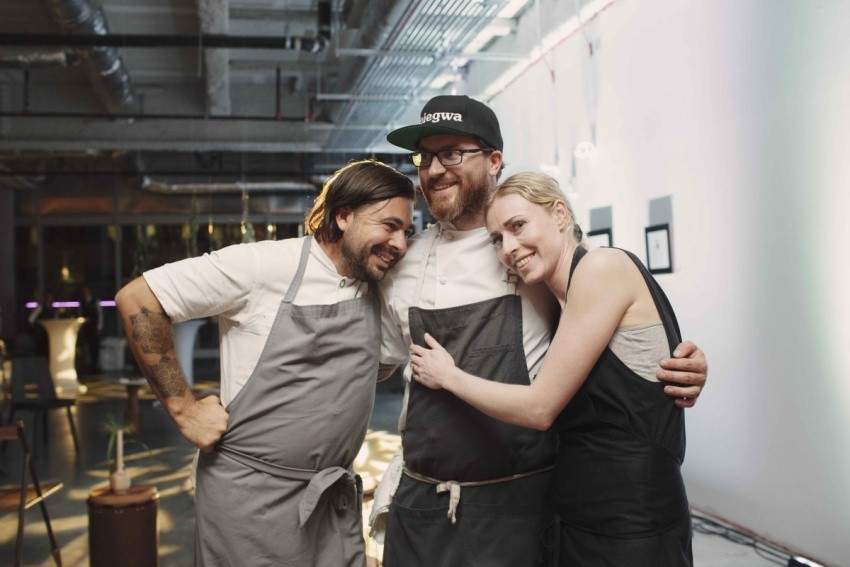 In a post-event phone conversation with Chef Hitzer, I asked him what he took away from this event. He said,
We learned from each other—not necessarily the youngest learning from the oldest; sometimes it was the other way around. We weren't there to compare ourselves to each other or worry about doing the same thing. Five chefs brought something different; they each brought their own story to tell.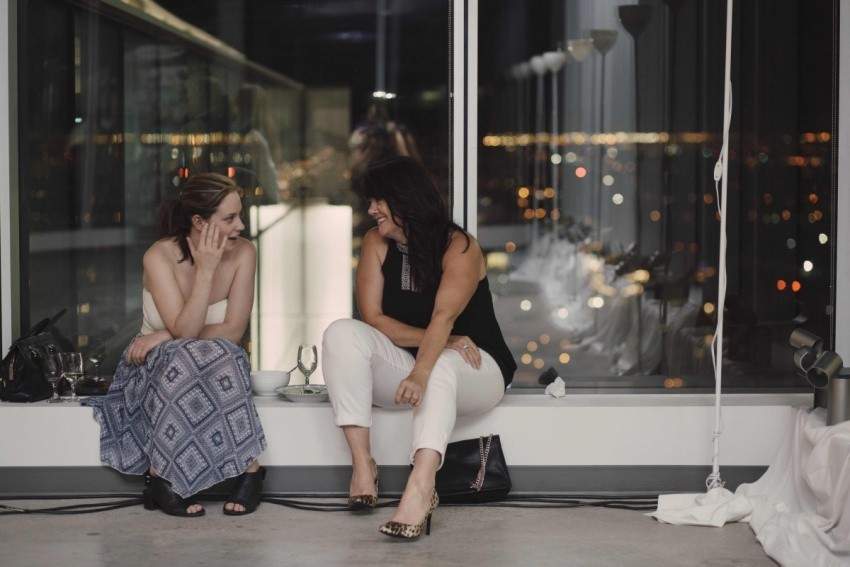 Edmonton's doors are always open, chefs. We look forward to sharing more stories, and more food with Culinary Lab 03. Stay tuned.