A gigantic mural inside Pho or Kuy Teav shows two women facing each other. One is dressed in Vietnamese clothing, the other in Cambodian dancewear. Angkor Wat, the famous temple, rises between them. The restaurant's name will be obvious to those who know their southeast Asian soups: pho, from Vietnam, and kuy teav, from Cambodia. The mural and the name pay homage to the heritage of the owners, Philip Tram and Sophie Vong.
While Edmonton sports a good number of Vietnamese restaurants including the Nha Trang (owned by Philip's family), no Cambodian restaurant existed until he and his wife opened Pho or Kuy Teav in 2018. Having eaten here three times in the past three months, I regret not discovering it sooner.
As is often the case with dining out, the food accounts for only half of the experience. Understanding what it's taken to put that food on the plate is the other half.
Sophie's mother and father didn't know each other when they both fled Cambodia in 1978. They ended up in the same Thai refugee camp a year later and were forced to marry. She was 15 and he was 17. Sophie and her two brothers were born in that camp. Two other siblings were born after the family moved to Canada in 1990.
Food is not only necessary to our survival, but it also connects us to our past, something that Sophie Vong knows very well.
"I learned to cook from my mother, which wasn't easy," she says, explaining that her mother's way of teaching is not using recipes but by tasting, touching, and smelling ingredients throughout the process. "It was important for me to understand these foods."
She's speaking about more than limes and fish paste.
Sophie's mom, Phan, learned her cooking skills from older Cambodian women in the refugee camp. Phan was living in Phnom Penh when she and several others fled from the approaching Khmer Rouge army. Her parents, meanwhile, remained in the countryside. Approximately one quarter of Cambodia's population was lost to genocide and malnutrition that resulted from the brutal reign of Pol Pot and his abiding soldiers. To this day, Phan has never received word of her parents' situation, or what happened to them. The dishes she cooks at Pho or Kuy Teav keep the memories and family ties close to her heart.
From Monday to Friday, Phan creates sauces, broths and pastes for the soups and curries. On weekends, Sophie and her husband take over to allow Phan some well-deserved rest. Except for the condiments on the table, everything is made from scratch.
As a professional and curious eater, and as a decades-long lover of Vietnamese food, I'm very familiar with that country's cuisine. I admit to having known little, though, about the food of its neighbour.
Sophie explains that Cambodian and Vietnamese foods are similar, to a degree. The difference lies in the Cambodian's copious use of lemongrass, coconut, and garlic.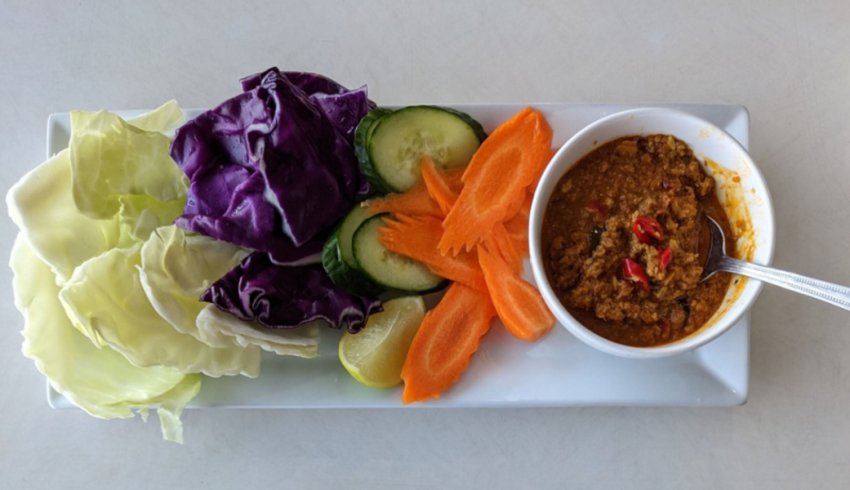 Prahok ktiss (above) is an addictive dish of minced pork seasoned with that aromatic holy trinity along with chilies, galangal, kaffir lime leaves, and a touch of fermented fish. Traditionally, prahok ktiss is served over rice, but Sophie offers it as an appetizer with raw vegetables for dipping.
"This dish takes a lot of effort to make," Sophie tells me. "It's what Cambodian people come for."
I can understand why. I've had it twice, and I'm craving it as I write.
The Phnom Penh chicken wings, the three-colour vermicelli bowl, and the Khmer karee are worth a return trip, too, but I've reserved my next date for satay beef pho, something I fell in love with on my first visit to a Vietnamese restaurant. On the Pho or Kuy Teav menu, it's listed as "Super Satay." I have no doubt it will be.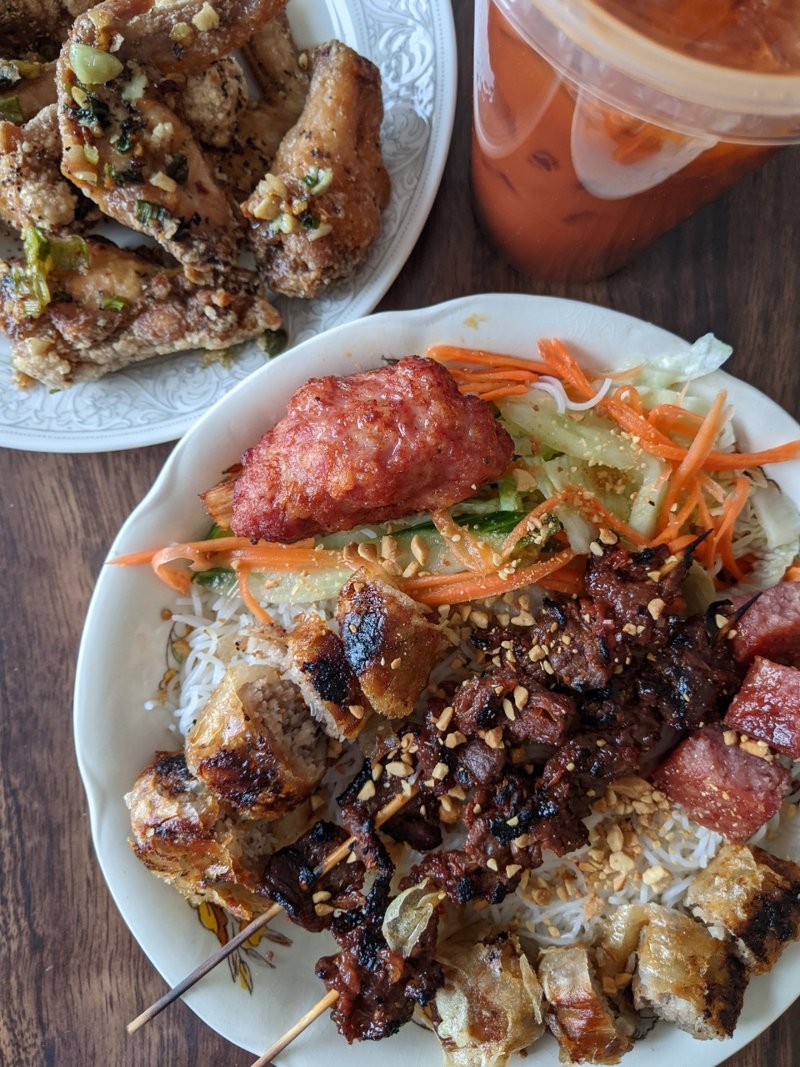 Pho, banh xeo, noodle bowls, and iced coffees represent Philip's side of the family. The Vietnamese spring rolls are made with rice paper (as opposed to wonton wrappers) and come filled with not only pork and vermicelli but carrots and taro root as well, making them "extra" as the current saying goes.
What's extra to me is the dedication and the heart and soul that goes into making the food at Pho or Kuy Teav. For every delicious soup and noodle dish I have eaten, the curries made with hand-crushed spices, the aromatic broths resulting from long hours of simmering, and the opportunity to learn more about a faraway place and its people: I am grateful.
Find Pho or Kuy Teav at 12924 – 97 Street, Edmonton.