The poster-sized menu inside the foyer at Burger Baron in Leduc features over 30 meal options and a dozen sides. I have come for the famed mushroom burger, but now, I'm undecided.
A man ahead of me has already ordered, so I ask him for advice. He lives on the northside of Edmonton but comes here for the bacon double cheeseburger. One minute into his 10-minute song of praise, I realize I am speaking with a "super fan", a term I learned only an hour ago in an interview with Omar Mouallem, the director of The Last Baron, a documentary about the burger chain in which I stand.
I am not a superfan and haven't eaten in a Burger Baron since 2019. But Mouallem renewed my interest and my appetite with the company's history—specifically how 64 years after being founded by an Irish American, this mishmash of independently owned burger restaurants run by Lebanese immigrants has a cult following to rival no other.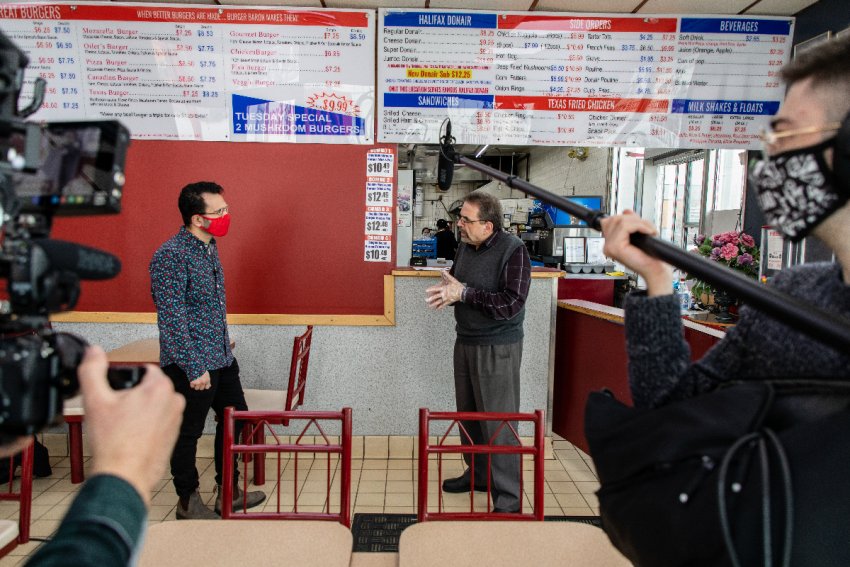 Mouallem is an award-winning journalist, acclaimed author, and burgeoning filmmaker, but he is also the son of two of those immigrants, making this project one in which he is both personally and culturally invested.
"I knew it was a great story even before I wrote about it eight years ago," he says, referring to his 2013 Swerve magazine article, "Will the Real Burger Baron Please Stand Up?" What he didn't realize was how intertwined the story was with the Lebanese Civil War. His parents were amongst those who arrived before the war; others, he says, came after or because of the war, a detail that carries much emotional weight.
While Mouallem's initial intent was to write a comedy with heart, a more serious arc revealed itself after several interviews with restaurant owners. "The Burger Baron was more than just a business. It was a way to start their lives again—a path and a promise for peace and security," he explains. "You don't expect that out of hamburgers."
Mouallem captures a lot in 45 minutes: joy, generosity, pride, ingenuity, and the power struggles that result when fiercely independent people refuse to take instruction from anyone else in the business.
On the plus side, this independent nature—or the "Lebanese mentality" as one restaurant owner calls it—contributes character and charm to the Baron cachet. On the not-so-plus side, it causes mayhem and adds to the precarity of the empire's future. The refusal to conform is the reason why one customer can have a so-so burger at Location X while another, like the man ahead of me, will make a 130-kilometre round trip to get a delicious version of that burger at Location Y.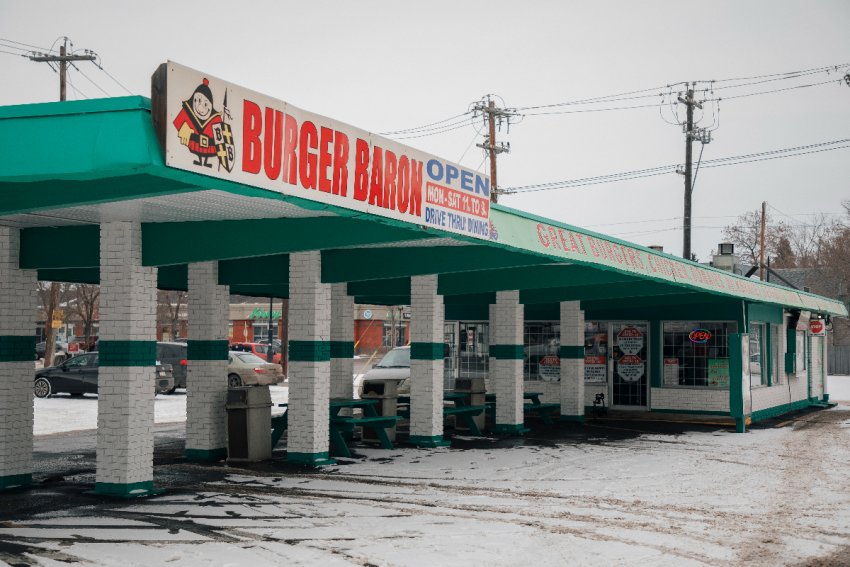 Fauzi Abi-Farrage, the man at the grill and owner of the Leduc location encourages me to be adventurous, so I ask him for the Rudy's Special, named for his brother-in-law, Rudy Kemaldean, the man who resurrected the failing chain after McDonnell's company fell into bankruptcy and liquidated in the mid-60s. This choice allows me to have the classic mushroom burger but one that's ramped up with onions, tomatoes and mushrooms fried in soy sauce, hit up with Tabasco and topped with a slice of processed cheese.
With no indoor seating, my option is to eat in my car or outside at a weathered picnic table beside the recycling bin. It's a sunny day, so I opt for the latter.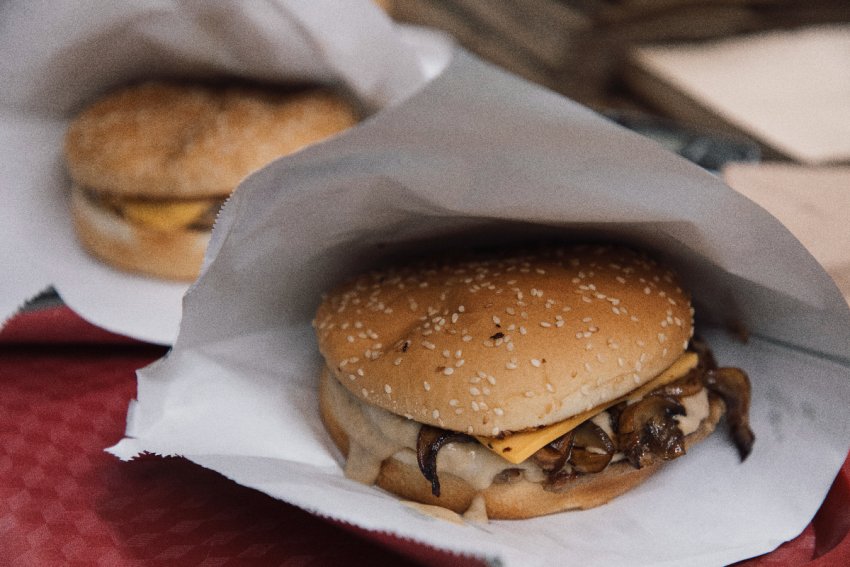 I often say that when dining out, the food is only half of the experience and that the story of the people behind it—their history, and what it took to get that food to the plate—is the other half. You need both to truly appreciate the meal. With that in mind, and having dug into the Rudy's Special, I am happy to eat my own words and tell you that this burger, while delicious on its own culinary merit, tastes even better having learned of its historical underpinnings.
From an experience of which only a child of Barons can claim and aided by a very skilled crew, Omar Mouallem helps us understand the Burger Baron saga in its entirety—or almost, and at least, for now. More is promised in a feature film to be made if the Indiegogo crowdfunding campaign is successful. If you want to help make that happen, hit the link.
In the meantime, whet your appetite by watching The Last Baron premiering on the CBC Gem app this Friday, September 17, and on CBC TV, in Alberta and B.C., September 18, at 7 p.m. local time.
Watch: The Last Baron: Feature Film - Crowdfunder campaign for a documentary about Burger Baron