One of the few concepts to open up in Calgary during the pandemic, Paper Lantern made a quiet entry into the city's food scene just over two months ago and has slowly, but surely become a go-to spot for cocktails and Vietnamese cuisine. The Vietnamese speakeasy, tucked away in Chinatown in the lower level of an unassuming building on 2nd Avenue, is operated by Nhi Tran and her partner Tanner Ennis, along with Tran's parents, Nguyen Tran and Nguyen Bui.
The multi-generational aspect of the restaurant captured the interest of local filmmaker Vicki Van Chau, who recently decided to create a short documentary celebrating Paper Lantern's family dynamic that helps to bring the concept to life.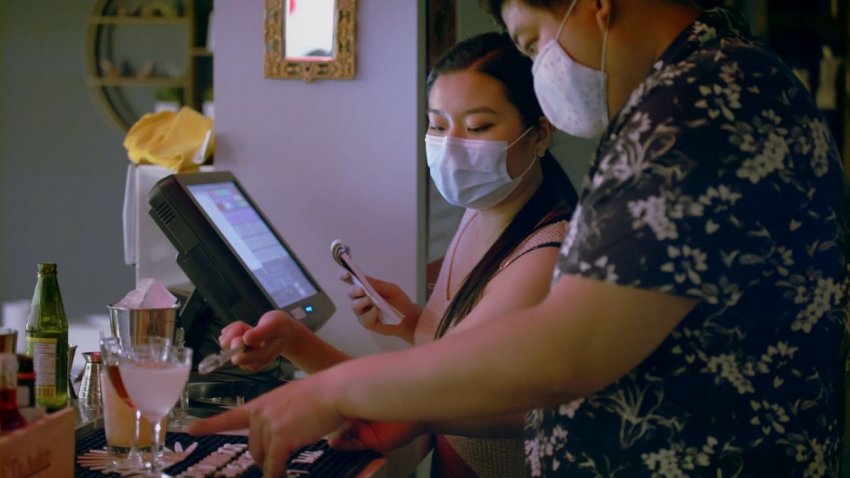 "I've always loved hearing the stories behind the restaurants, especially those that were founded by immigrant families and wanted to share that story with others," says Chau on making Paper Lantern. "This was a chance to give a voice to people that normally don't have that platform. Their story really resonated with me as my parents also escaped from the Cambodian-Vietnamese War to make a better life for themselves and their children in Canada."
The 15-minute documentary touches on everything from Nguyen Tran and Nguyen Bui's decision to immigrate from Vietnam to Canada in the 1980s to operating the Orchid Room in downtown Calgary. From there, it shares thoughts from Paper Lantern's main operating couple Nhi and Tanner and how their strong family connection helped them open up the speakeasy during trying times and hit their stride as a small business. Nguyen Bui even emerged from her retirement to conceive the bar's menu and run the kitchen.
"The Tran family are so close and connected through their love of Vietnamese food and sharing it with others, that it really shines through when you visit Paper Lantern," says Chau.
Chau's documentary, Paper Lantern, is available for public viewing (see below) and was made possible with the support of CBC and Radio-Canada and the Canada Council for the Arts Digital Originals Program, Calgary Arts Development and the Rosza Foundation.
Watch Vicki Chau's "Paper Lantern" documentary