It is with much excitement that Eat North announces that its annual fundraiser cocktail campaign Shake, Stir & Strainbow! will return for a fourth year beginning Friday, Aug. 13.

Over 50 restaurants and bars from across Alberta have created special Pride-themed feature cocktails that patrons can order and enjoy from tomorrow until Friday, Sept. 3. A minimum of $1 from each cocktail will be donated to Skipping Stone Foundation, a province-wide charity that supports trans and gender-diverse youth through a variety of year-round programming.
"We always look forward to organizing this annual Pride season cocktail campaign to help raise both funds and awareness for a great community cause like Skipping Stone," says Eat North creative director Dan Clapson. "As a member of the queer community myself, I think it's important that we engage people in a celebratory way like this–while reminding them that there is still much work to be done when it comes to inclusivity and acceptance."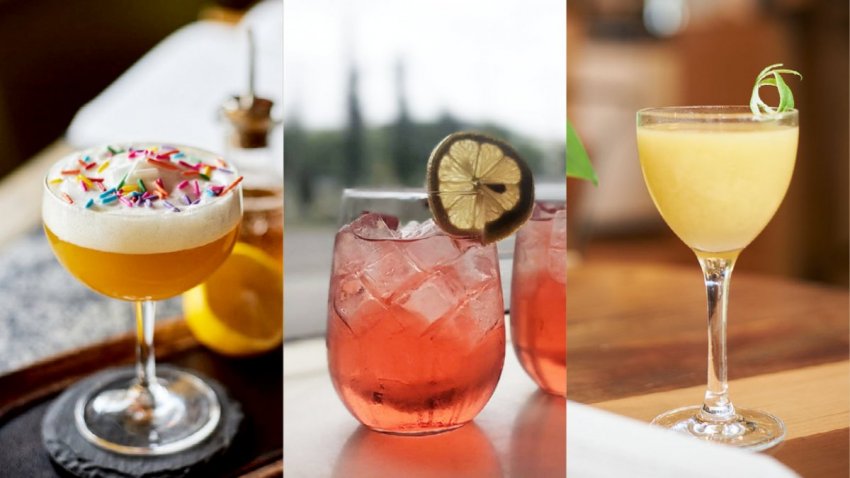 Participating Alberta restaurants and bars include Calgary's Proof, Dandy Brewing Co., Ten Foot Henry (all pictured above), Paper Lantern, Hawthorn Dining Room, Alumni, Deane House and Bridgette Bar, Edmonton's Rostizado and Central Social Hall, Canmore's Tapas, Banff Ave Brewing Co. and many more.

All bartenders were tasked with creating unique drinks using a spirit of their choice from the campaign's spirits partner Remy-Cointreau which includes brands like Mount Gay Rum, Cointreau, Botanist Gin, Tito's Vodka and St-Remy.
"Naturally, our organization relies on fundraisers like this to help us operate year-round, but campaigns like Shake, Stir &Strainbow! that involve so many great restaurants helps to encourage conversations surrounding diversity and acceptance," says Skipping Stone founder Lindsay Peace. "It's truly a wonderful thing!"

Last year's Shake, Stir & Strainbow! campaign raised over $5,000 for Skipping Stone and Eat North is eager for a new goal of $6,000 when the initiative wraps on Friday, Sept. 3.

A comprehensive list of all participating restaurants and bars can also be found on the Eat North website. If people are interested in donating to Skipping Stone directly at any time, they can do so online.