Edmonton's popular 124th Street just got busier (and tastier) with the opening of Meuwly's, an artisan food market just a few steps south of Duchess Bakeshop and right below bustling Northern Chicken.
The shop will feature cured meats, sausage, preserves and condiments, all made in-house, along with cheeses, and specialty food items sourced from local purveyors. Although it's mainly a grab-and-go for lunch items, a few tables can accommodate up to 20 people who want to sit and enjoy a glass of wine or craft brew to go along with a small selection of thoughtful sandwiches—think banh mi with house-made paté, or a Cuban sandwich featuring Meuwly's smoked meat.
The venture, spearheaded by chefs Will Kotowicz and Peter Keith, and business developer, Glendon Tan, has been almost two years in the making, but the idea for a meat-centric business started percolating back in 2009 when Kotowicz was experimenting at home using an old smoker he'd converted into a curing chamber.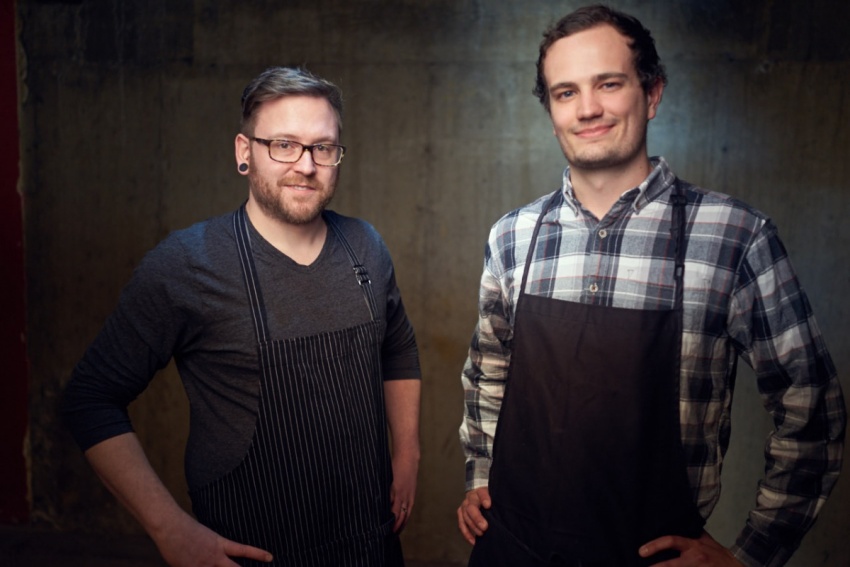 It was around that time that Peter Keith landed an apprenticeship at Café Deville—a popular restaurant on 124th Street back in the day—where Kotowicz, a seasoned veteran, worked as head chef. They didn't know it then, but that meeting forged their future. When Keith left, he vowed to keep in contact with Kotowicz, who even then, he viewed as "a master in the realm of meat curing".
As the friendship deepened over the years, they tossed around the idea of partnering in a culinary-focused business. The idea for a cured meat venture gained ground after Kotowicz returned from a five-week mentorship under American chef, Craig Deihl—the James Beard Award nominated chef who brought Charleston, South Carolina, into the culinary limelight with his restaurant, Cypress, and the charcuterie-focused, Artisan Meat Share.
After working with Deihl, Kotowicz found employment in Alberta at Calahoo Meats and Sangudo Custom Meat Packers. In his off hours, he read, experimented and tested his finished product on friends, including Peter Keith, who would meet him in parking lots to accept paper bags containing random cured, smoked and fermented items.
While Kotowicz was smoking hunks of pork and playing with nitrates, Keith was honing his cooking techniques in Jack's Grill in Edmonton before moving to Chambar in Vancouver. The experiences were invaluable, but feeling unsettled and unsure of a future in the back of a restaurant, he turned in his chef whites for textbooks and pursued a degree in business. In the meantime, Kotowicz kept throwing him bones (in the form of culatello or salami) while regaling him with curing techniques and preservation methods.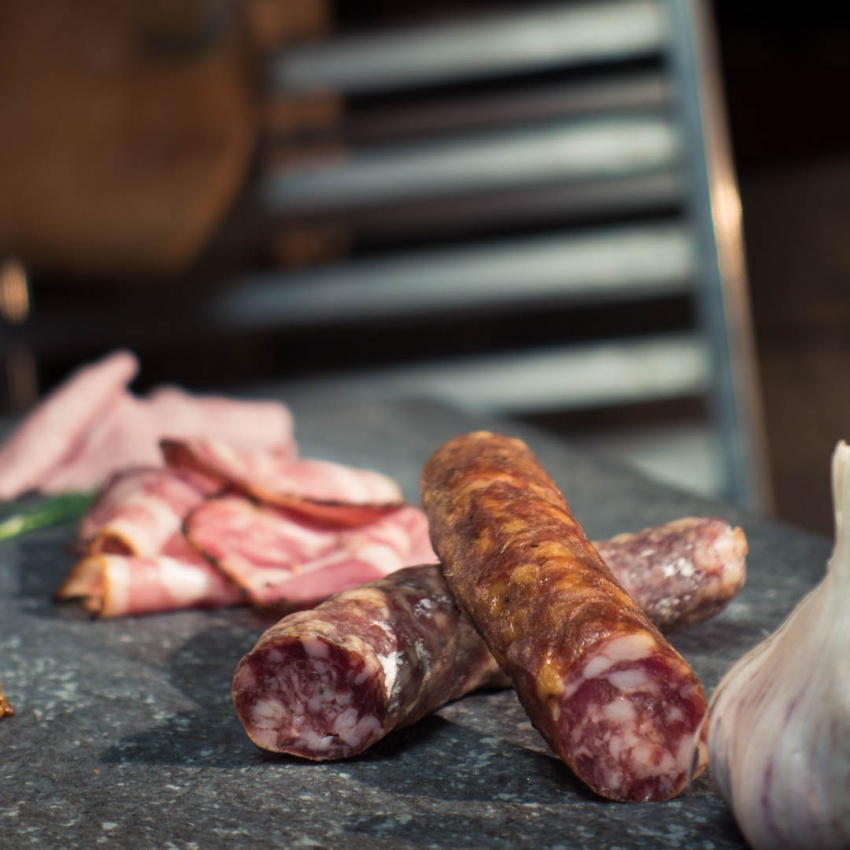 One can eat only so much salami though, and soon, the duo knew it was time to foist the samples on others who could provide feedback of what worked, what didn't, and what they wanted more of.
"We could have a meat club," said one. "A secret meat club," said the other, and so it was that Secret Meat Club, a subscription food box, came to be: born of two friends who shared a love of charcuterie and a desire to spread it to the masses.
Local buzz of the club landed them a spot on Global TV. Within minutes, the subscription service sold out. Fifty lucky people secured spots; 150 more had to content themselves with being wait-listed. Overnight, Secret Meat Club became Edmonton's most publicized (and tastiest) secret of all time. That was January 2017. A year later, the wait list grew to 300 salivating subscribers-to-be—not bad for two guys working out of a 200-square-foot kitchen.
It was obvious they were going to need a bigger shop. Enter: Glendon Tan, an engineer-turned-business developer with a landlord gig on the side.
Tan was looking for an occupant to lend vibrancy to the basement space of a building he owned on 124th Street. When Kotowicz and Keith presented their plans for a shop that specializes in cured meats and locally-sourced artisan food products, Tan offered the space—and a partnership to go with it.
After 18 months of dreaming, scheming and testing products on willing customers through their Secret Meat Club, Meuwly's, an artisanal food market, is set to open. The products enjoyed by members of that club will now be made available to all who pass through their doors.
You're probably wondering what, or who, is behind that name.
Joe Meuwly was a Swiss butcher who immigrated to Canada, and the great-grandfather of Will Kotowicz. The science of sausage-making, it seems, runs in the blood. Like his ancestor, Kotowicz has the innate ability to recreate old world flavours of sausages gone by, and the reason why Keith refers to him as "Einstein".
Meuwly's (10706 - 124 Street) is a modern space with an old world vibe. Joe would be proud.