A few longstanding winery restaurants regularly draw in seasoned Okanagan travellers: the Terrace Restaurant at Mission Hill and Old Vines Restaurant at Quail's Gate are two of the most popular in West Kelowna. In Oliver, Stephen Blackburn whips up beautifully crafted dishes at Burrowing Owl's Sonora Room, and just down the road, chef Jeff Van Geest continues to consistently wow the crowds at Miradoro, the restaurant at Tinhorn Creek. For years, Hester Creek's Terrafina has offered fantastic food and now that chef Rod Butters has taken over the kitchen, there are even more reasons to return. (That parmesan gnocchi, though!) Visitors to Osoyoos know the Patio Restaurant at Nk'Mip Cellars as one of the most coveted dining spot in town, and in the Far North (Lake Country), the Grapevine Restaurant at Gray Monk remains an iconic destination to sip, savour and indulge in well-executed and elegantly plated seasonal fare.
But each year, more wineries add restaurants to their properties and it's a challenge to keeping track of who's cooking what and where. We've spent the past few months eating and drinking our way up and down the valley, sussing out the lesser known and newer eateries, and we're here to help.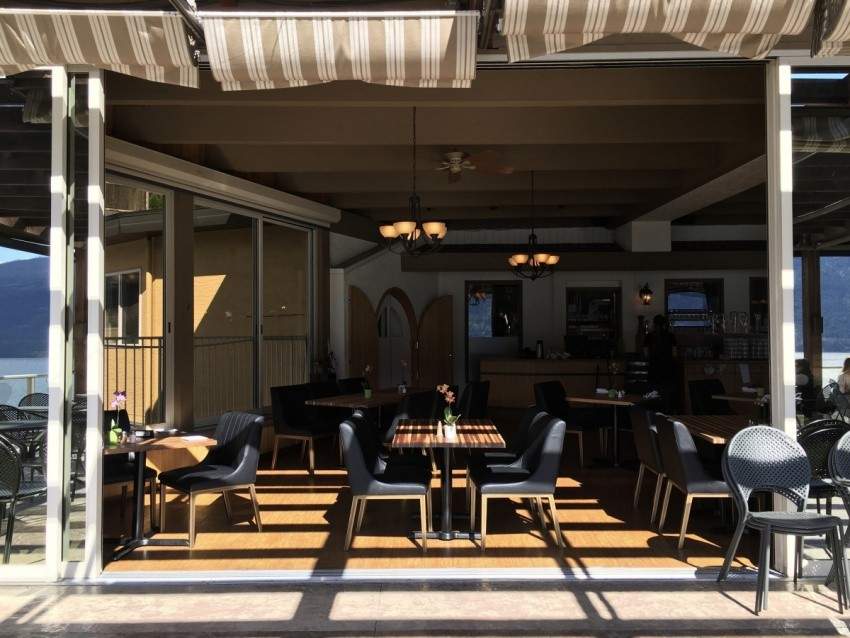 Take note of these six new and/or lesser known winery eateries, starting with three in the north, just down the road from Gray Monk.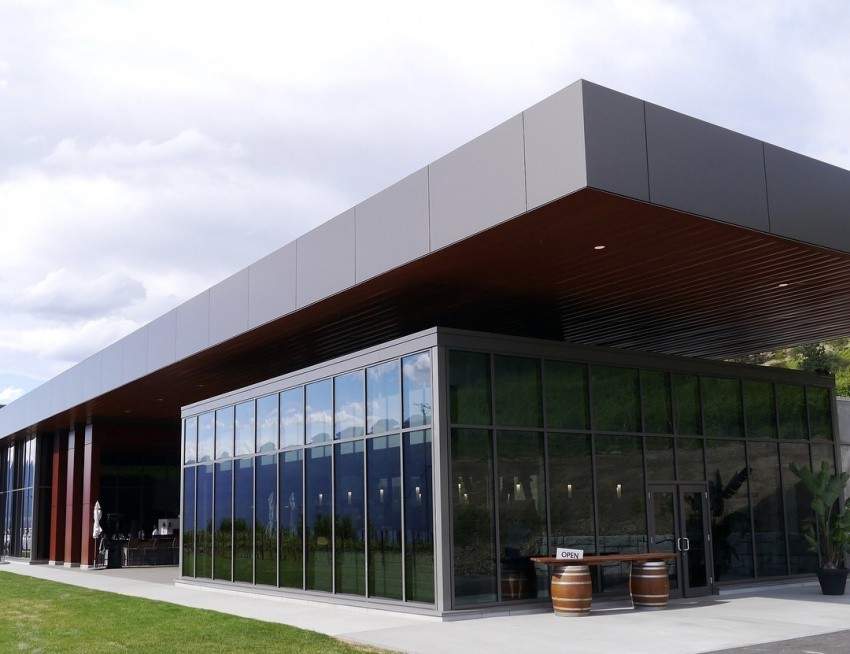 Never mind the gorgeous setting—a cement, metal, glass and wood architectural stunner with a jaw-dropping view of the lake—chef Kai Korroll has all the fresh produces he needs at his fingertips from the one-acre on-site garden to create refined and modern comfort food at Block One, the recently opened restaurant inside 50th Parallel. Guests have the option to sit indoor or out with beauty abounding from every vantage point—not only in nature, but in the architecture and food as well. There is seamless integration of all three aspects. Korroll pairs ingredients exceptionally well. Take the wild salmon, for example; a pan-seared filet, served with a corn and leek ravioli, topped with basil pistou, and fried and braised leeks over a corn velouté. The suggested pairing of the 2016 rosé? Perfect, to no one's surprise.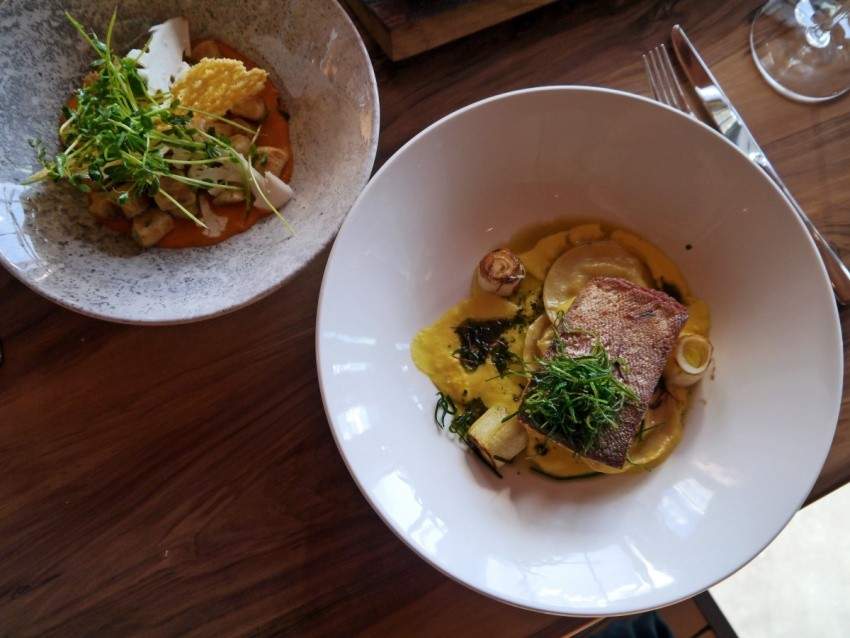 Owners, Sheri-Lee and Curtis, pull out all the stops for guests to have a safe and relaxed evening. To ensure that, they offer a complimentary shuttle to ferry patrons between the Delta Grand Hotel downtown Kelowna and the restaurant. You can enjoy all of 50th Parallel's award-winning wines and fantastic food, and leave the driving to them.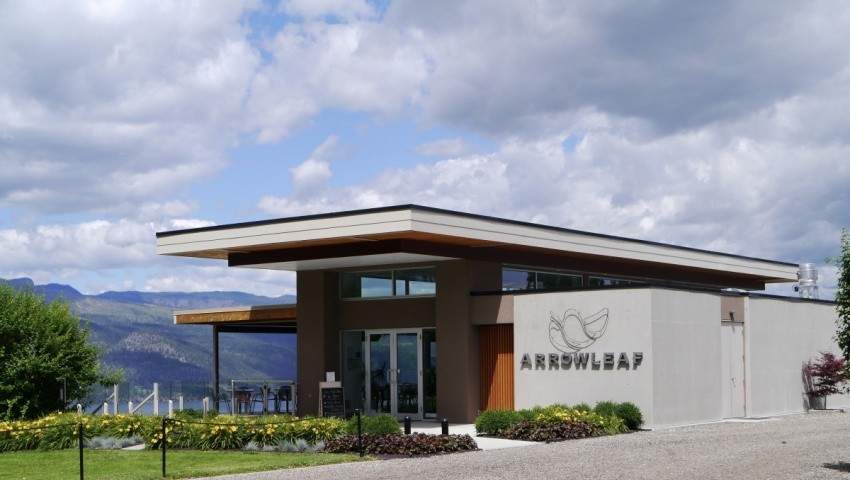 Arrowleaf Cellars could be one of the most overlooked wineries in the area, literally. You can't really see it from the road; but, once you descend the driveway, an extraordinary modern, clean-lined showstopper of a tasting room and wine shop designed by Penticton architect, Robert Mackenzie, reveals itself. The background isn't too hard on the eyes, either. Manicured lawns with picnic tables allow guests to have an informal lunch on the grass, and tables on the elevated patio provide several spots to take in the unending vistas of sparkling Okanagan Lake.
The kitchen and bakery puts out light lunch and picnic fare, including a smattering of hand-rolled flatbreads, dips, cheese and charcuterie boards, fresh-baked breads, and marinated olives, with vegan and vegetarian options available, too. A glass of riesling is the perfect accompaniment to butter chicken flatbread and Arrowleaf's Wildblume, a sparkling Vidal made by the charmat method, tastes even better when you have freshly made, soft pretzel to go with it.
The Garden Bistro at Lake Country's newest winery, The Chase, features a 60-seat patio with views of the orchards, mountains, and Lake. Chef Alex Lavroff sources herbs and vegetables from a half-acre, on-site organic garden to incorporate into his menus showcasing local and regional flavours. If you time it right, you can dig into a plate of hand-rolled pasta that's topped with side-stripe prawns, ricotta and lemon and finished with herbs fresh from the garden. This dish comes with Cabin Atelier bread made by local baker, Tarynn Parker, who uses all non-GMO heritage grains for her rustic breads baked in her "earth oven" made of clay and sand. The Chase's tropical fruit-laden, dry gewurztraminer is the perfect choice to go with this dish or to simply enjoy while relaxing in the sun on the west-facing patio.
Indigenous World Winery opened in West Kelowna in 2016 with winemaker, Jason Parkes crafting crisp, clean whites, and full-bodied award-winning reds right from the start. Those wines were the inspiration for chef Andrea Callan to create a menu of "native influenced" dishes for the property's Red Fox Club. Her Caesar salad incorporates candied salmon and bannock croutons; she combines both venison and beef in the burger patty, and the Haida smoked sablefish dish is accompanied by fingerling potatoes and turnip cream.
The bistro's patio begs for a bottle of La'p Cheet, a sparkling pinot noir, to be opened and shared on warm summer days. Callan's smoky bison back ribs are made even better with a glass of the sauvignon-cabernet franc-merlot blend called Simo, the Okanagan Syilx name given to the winery's owner, Robert Louis, by his grandmother. Louis served as Chief of the Westbank First Nation until he and his wife, Bernice, opened the valley's second Aboriginal-owned winery; Nk'Mip Cellars in Osoyoos was the first.
Chef John Stratton brings his globally influenced and seasonally inspired creations to the bistro inside Play Estates Winery. With commanding views of Penticton and Skaha Lake, this bistro is one extremely comfortable place to sit down and let the beauty of nature soothe your everything. Stratton's menu will appeal to everyone—from vegans to carnivores; those with gluten issues; those celebrating special occasions, and those with big appetites looking for something to sink their teeth into. The Southern Dirty Bird, a sandwich of buttermilk-fried chicken breast topped with pickles, tomatoes and a buffalo ranch sauce should appeal to the latter. A glass of the red blend, called Applause, will pair nicely with both the filet mignon and Stratton's duck confit and beet and potato galette dish that also features pork belly and cherry demi for extra oomph.
Play is only minutes away from the Penticton airport, allowing those who fly to start or end their Okanagan holiday on a very tasty note.
If you're doing any wine exploration between Penticton and Oliver, plan a lunch or dinner at Liquidity near Okanagan Falls. The contemporary structure sits at the top of a hill affording incredible views of Vaseux Lake and the vineyard below. Once through the doors, visitors are met with a collection of art pieces, some as wide and high as the walls themselves. Alison Moyes is responsible for crafting globally recognized, elegant wines here. You'll be hard-pressed to pick a favourite, but I've yet to find a chardonnay that impacted me more than the 2016 Reserve. Just saying.
Matt Martin heads a talented team in the winery's bistro. His travels through Europe are evident in the current menu: ostrich tartare with oyster cream and fennel; pickled skate wing with pancetta and spring greens; lamb with clams; game hen with under-ripe strawberries; sturgeon on heirloom grains. Steamed courgette? Quail with chervil and amaranth? Order the seven-course tasting menu and let the chef make the decision for you. All you have to do, then, is sit back and sip on seriously beautiful wine. Nobody needs that kind of stress on a holiday.
As someone who has witnessed the evolution of the Okanagan wine and culinary scene over the past 20 years, I couldn't be happier or more proud of the work performed by everyone involved in the industry. I also couldn't be hungrier, at this point.