A recent scouting mission to the south Okanagan turned up some interesting finds.
For those scheduling a winter 2017 or spring 2018 Penticton tour, listen up!
Consider the Penticton Lakeside Resort as your home base. Sure, it's been around since 1982, but the new West Wing tower was just completed in August 2017, and it is top notch! You might find it hard to get out of those super comfy beds, what with that stunning view of the mountains and lake staring you straight in the face, but try to muster up the energy; good food and drink awaits! The resort's restaurant, the Hooded Merganser, is a great place fuel up and map out your day.
At this time of year, many wineries open their wine tasting rooms by appointment only, so make sure you call ahead. If you're not into wine (does that sound as strange to you as it does to me?) you can still find lots to see and do, and eat and drink.
Pizza, beer, and pretzel bombs
Bad Tattoo makes seriously good brew and their rock oven pizza is mighty fine, too. Cooler weather begs for full-bodied beer so do yourself a favour: settle in for a pint of the Full Sleeve Strong Stout or the Los Muertos Cerveza Negra. Hungry? You can't go wrong with any one of the dozen or so thin crust, wood-fired pizzas. Pro tip: order extra for tomorrow's rations.
Owner, Lee Agur, became a Chartered Professional Accountant and then started making beer, because that's what you do with a CPA degree, right? At least he can do his own books, mind you; and judging by how busy that place is, he's got a lot of numbers to crunch.
Bad Tattoo also has some of the finest brewery graphics this side of anywhere. You'll be not only tempted to leave with a beer-filled grunt or growler, but with some wicked swag, as well.
Save space in your belly and on your itinerary, because Cannery Brewing, a few blocks over, deserves your attention, too.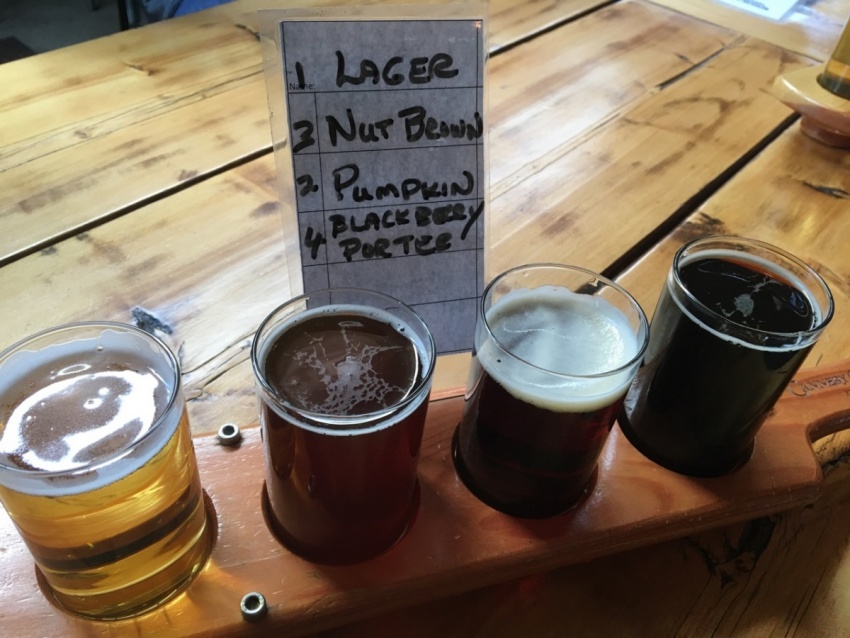 Cannery is pumping out comfort pub food like it's going out of style (we're quite sure it never will, though!). The pretzel bombs—hot, fluffy, chewy dough filled with ooey-gooey cheddar and served with a dijon mayo—are a must have. Those bombs are just crying out for the crisp Anarchist Amber Ale or the Lakeboat Lager. And, don't pass on the chicken nachos. Don't think chicken has any place on nachos? You'll be a full-fledged Team Chicken member after trying these.
BYOF and Breakfast Rations
The Bench Market is where the locals go for fresh baked pastries, all-day breakfast, grocery goods, and coffee made from locally-roasted organic beans. Keep this place in mind for easy-to-pack takeaway items for picnics in the park or at the beach. Many wineries encourage you to BYOF (bring your own food) to enjoy with a glass of wine on their patio. At the Bench, you're in the right place to start exploring the 40+ wineries in the Penticton/Naramata area.
And being that this is wine country, let's get to it.
New Winery on the Map
There's a new kid on the valley's vine-covered block: Play, a joint venture between winemaker Mohamed Awad and his business partner, Jason Pechet, CEO of Stagewest Hospitality, opened in August 2017.
Hard to say which is more impressive: the wines, or the food coming out of the bistro kitchen with chef Jeff Burns at the helm. The earthy 2015 syrah is a lovely dance partner for the smoked venison carpaccio and, the viognier, the muse for Burns' caper-crusted halibut. The food and wine at Play are a class act, and good news for residents who are looking for fine food in a spectacular, venue open year-round.
Your mission, should you choose to accept it (and really, why wouldn't you?) is to chow down and drink well in the Valley. Be brave, be strong, and good luck, recruits!
Captain Campbell, over and out.