Callebaut dark chocolate shavings dust a fluffy block of house-made marshmallow bobbing in a sea of creamy hot cocoa. A hint of orange-blossom and a dollop of real whipped cream are just the extras that gild this tantalizing, drinkable lily. Like all the creations at QB Gelato, it is an extraordinary offering.
Kevin Bojda and Victor Laderoute gave up corporate jobs in Vancouver to move to Italy to attend Carpigiani Gelato University in Anzola dell'Emilia, near Bologna—that's right, Gelato University. When it comes to food, Italians don't fool around.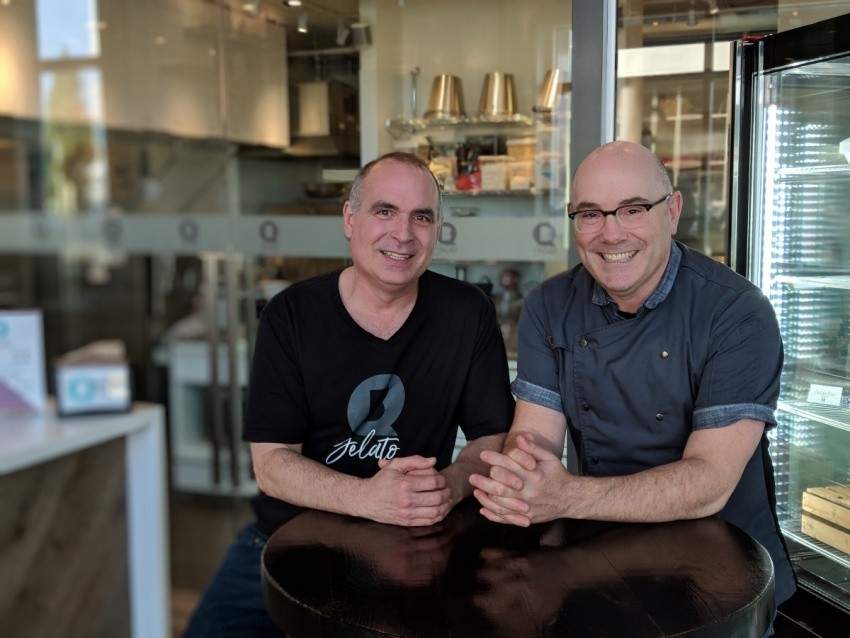 Bojda and Laderoute were exemplary students. They couldn't wait to return to their home province and share their knowledge.
They started their new venture in Kelowna where summer temperatures scorch the earth and parch the throats of tourists and locals alike. For the past year, the two have been serving up exquisite gelati and sorbetti made from all fresh ingredients, sourced locally as much as possible. Fresh nuts are roasted and ground in-house, and fruits are prepared and cooked on-site so that what you taste is craftsmanship and goodness in every bite. You won't find any artificial flavouring, fake colouring or preservatives in their treats, and certainly no shortcuts in the process.
Without preservatives though, these time-honoured Italian desserts have a shelf life of 72 hours. For that reason, they are made daily and in small batches to ensure quality and to avoid waste. The QB in the company name stands for the Italian phrase, quanto basta, which means, "as much as you need. No more, no less."
Fun facts: gelato has half the calories typically found in ice cream, and sorbetto is dairy free. QB's Holy Cacao, made of 70 per cent Valrhona chocolate and finished with 100 per cent cacao, has nary a drop of milk in the mix. The intense flavour and smooth texture would have you swearing the opposite.
Laderoute and Bojda take their craft seriously, but it's obvious the two are having fun. You feel it the moment you enter the sleek space on Dayton Street and are greeted with a friendly hello and invitation to pull up a seat at the tasting bar. Take it. This is your chance to indulge in creamy coconut and chocolate sorbetti, and gelati made of chocolate and hazelnut (called bacio), or the salted caramel, the café au lait, and Victor's favourite, the Italian classic called Della Nonna, a custardy gelato made of milk, egg yolks and lemon peel.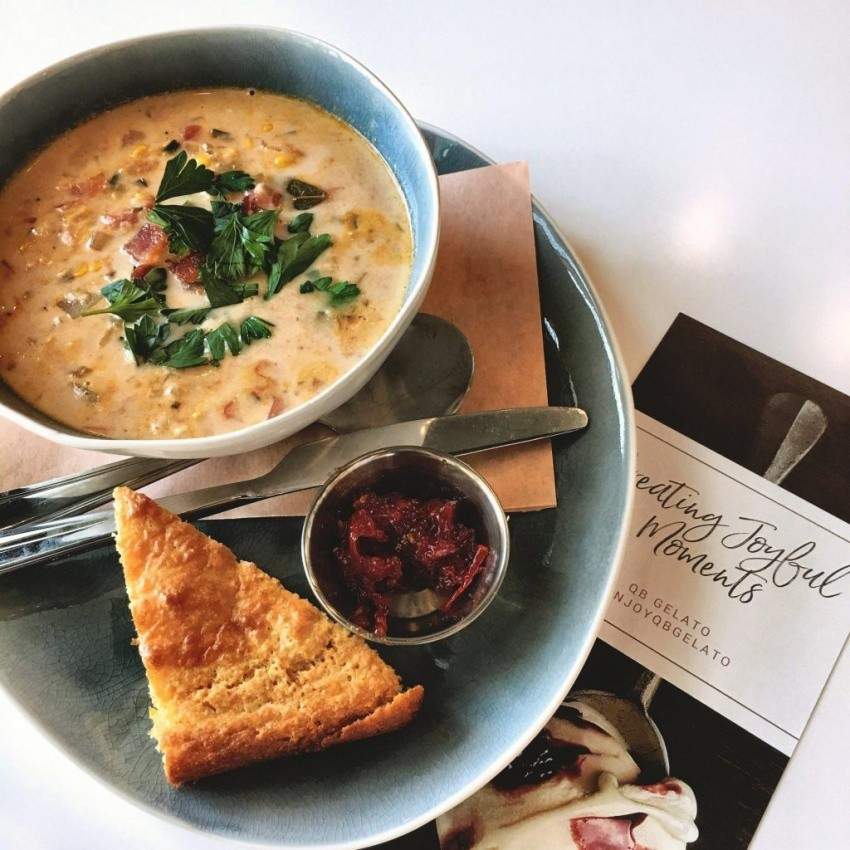 Recently, the two expanded the menu to include homemade soup and fresh-baked bread for weekday lunches, and desserts on Friday and Saturday nights. That's a sweet excuse for date nights, and great news for workers in the adjoining Landmark Centre.
Need another reason to visit? On December 5th, Summerhill's winemaker, Eric von Krosigk, will pair his sparkling wines with Laderoute and Bojda's creations. The event, called Sparkle, will have guests sipping, tasting and learning how bubbles and cold desserts interact.
May the education never end.