The past several years in Alberta have seen a steady stream of restaurant openings and an abundance of food events, from pop-ups to chef collaborations. With the rise of social media, "Instagrammable" dishes were in demand, with customers often opting for photogenic value over quality or flavour.
By contrast, in 2018, brewery openings dominated restaurant openings and food delivery services were high in demand as consumers seemingly gravitated towards convenience over a full service dining experience. Therefore, Alberta restaurants in general seemed more focused on honing what they already do well and streamlining processes, rather than on creating trendy but fleeting offerings.
For some, memorable dishes may be associated with in-the-moment food trends, or long time favourites. For me, it's the dishes I find myself wanting to experience again and again for many years, like the list of dishes here that were introduced to me this year.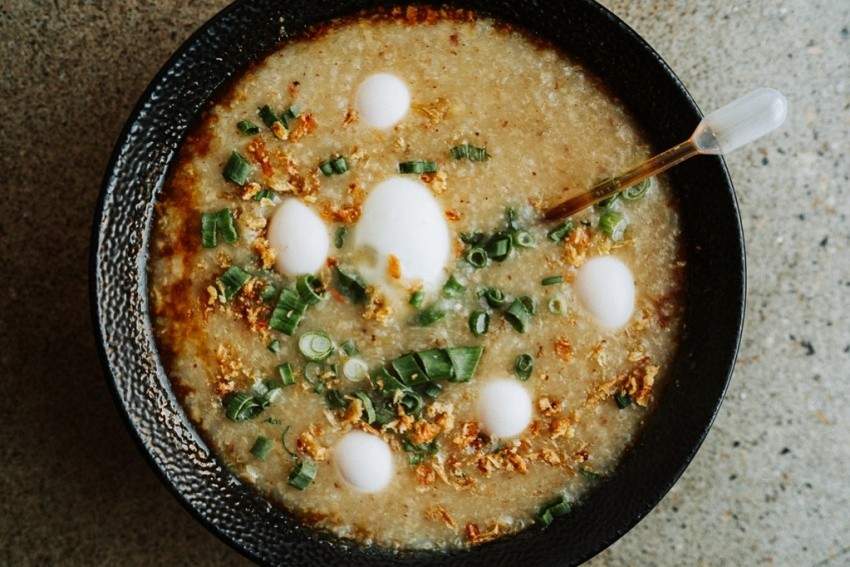 On a visit to Kanto 98 St. Eatery, friends insisted that we order the Lugaw, a Chinese congee-like rice porridge that is often featured as the Turo of the Day (daily special). Owner and chef Edgar Gutierrez cooks a combination of short grain and sticky rice with broth using a technique similar to that for risotto. He adds a spoonful of sauce, made with soy sauce and pineapple, to the bottom of the bowl before ladling the porridge in. The toppings vary each day, our Lugaw was topped with boiled quail and chicken eggs. For me, this is truly what comfort tastes like.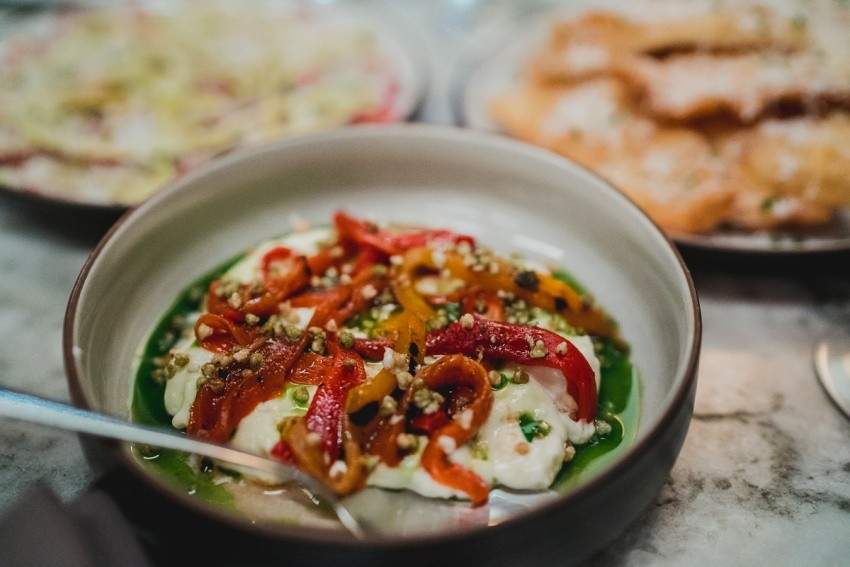 The first time I tried Bar Von Der Fels' house-made stracciatella, it was served under a pile of charred carrots. Although the carrots were delicious, it was the fresh cheese that made the dish. Made from Vital Greens 52 per cent heavy cream and whole milk, this cheese is luscious and rich. The menu at Bar Von Der Fels changes quite often and I am ecstatic every time I see stracciatella on it. My favourite version to date was topped with pickled grilled banana peppers and tomato leaf oil, then served with buttery fried bread. The contrast of the crispy bread with the creamy cheese was worthy of all the contented sighs at our table.
Chartier, Beaumont – Haricots Vert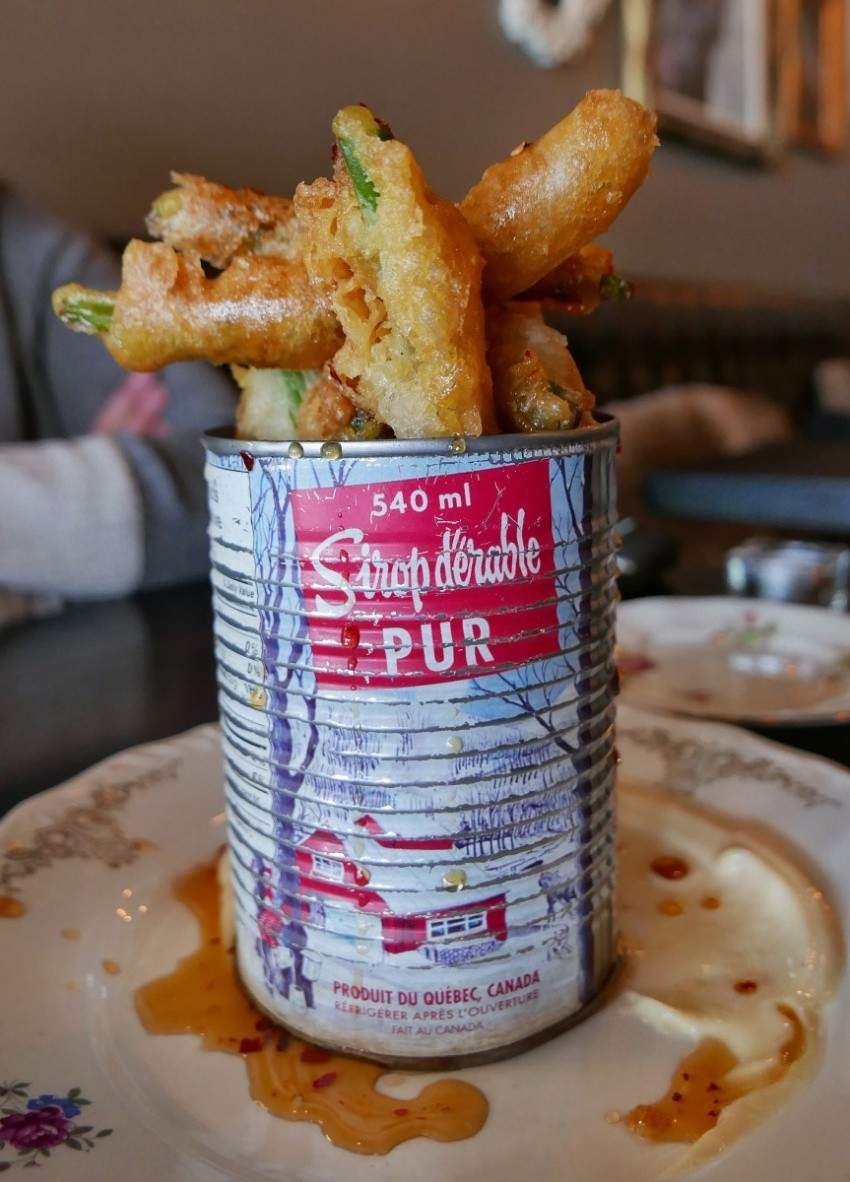 Who would have guessed that on a menu with decadent croque monsieur and lobster poutine, it would be the green beans that I can't stop thinking about? It's been 10 months since I first tasted Chartier's tempura fried green beans with smoked maple mayonnaise and spicy maple syrup, and I find myself thinking of them whenever I see green beans at the market.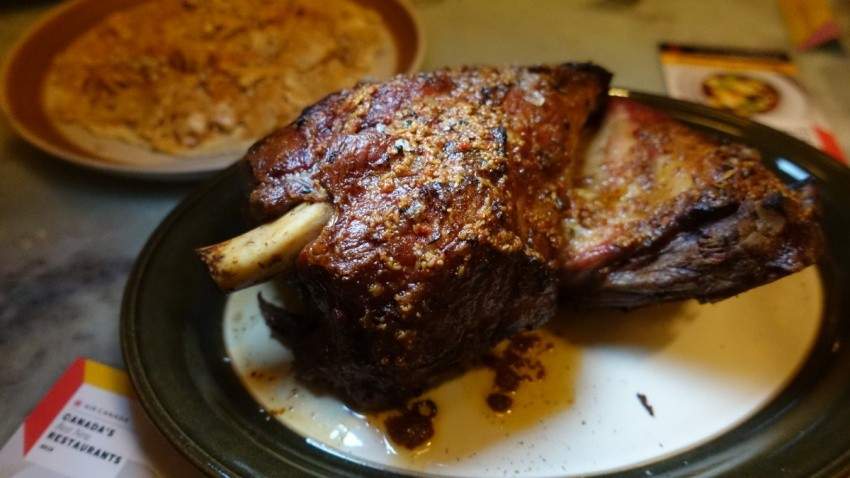 At a special dinner celebrating Bread and Circus' first birthday, executive chef Kayle Burns served the most delicious lamb dish I've ever eaten. The roast lamb shoulder was cooked perfectly; juicy and fork tender and our table tore into it without knives. This lamb made me rethink ever serving turkey again for special holidays.
Foreign Concept, Calgary – Squid Ink Spaghetti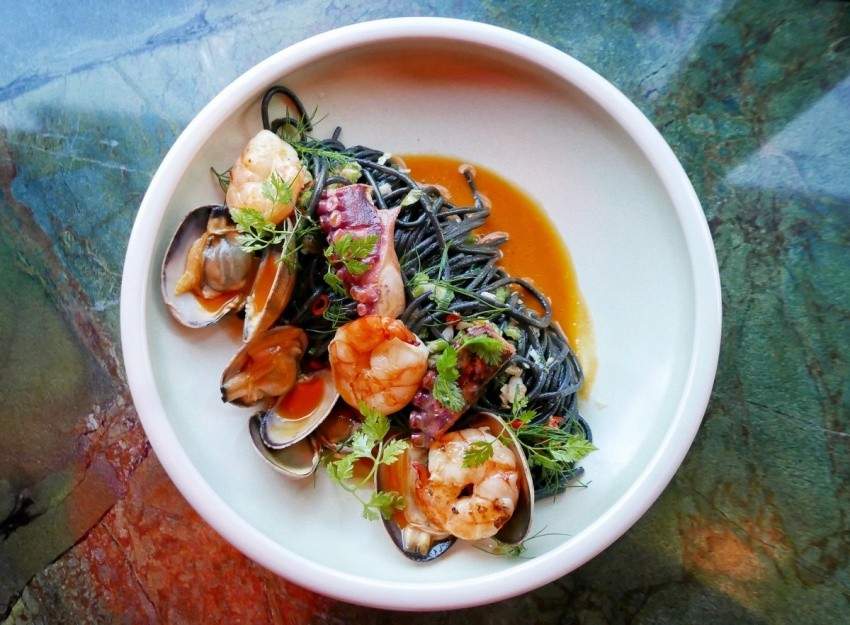 This squid ink spaghetti with lobster curry emulsion is so satisfying, it's hard for me to not finish the plate in three minutes. It doesn't hurt that the spaghetti is loaded with prawns, clams, mussels, and octopus. Every person I have recommended this dish to has loved it. Once I met a friend at a nearby restaurant for dinner, and when I asked if she wanted to order dessert, she suggested we go to Foreign Concept and have an order of this spaghetti instead.
Uccellino, Edmonton – Ricotta and Lemon Gelato & Amarena Cherries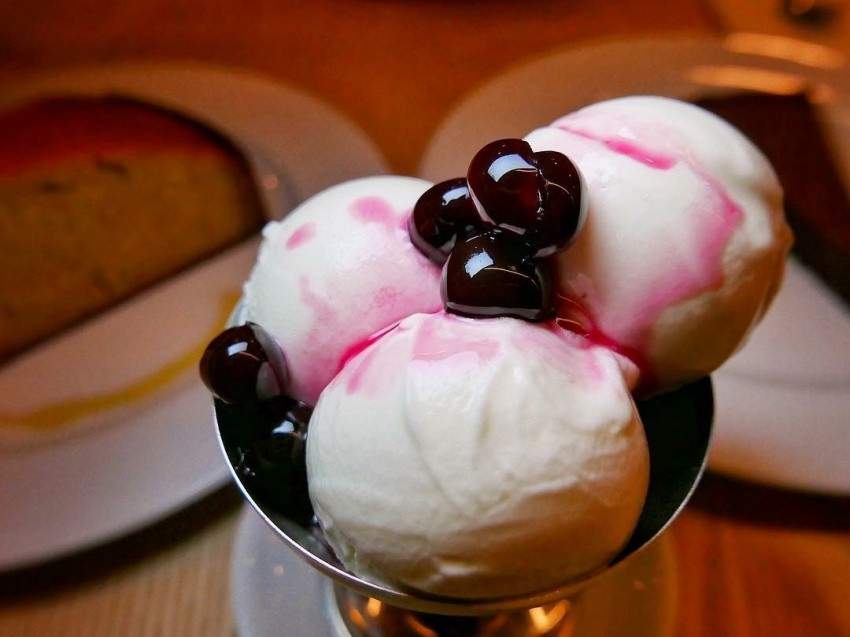 The tartness from the lemon and cherries makes this dessert deceptively light and you can eat the whole dish, even after a satisfying pasta laden meal. The lemon brings out the ricotta in this amazingly silky gelato.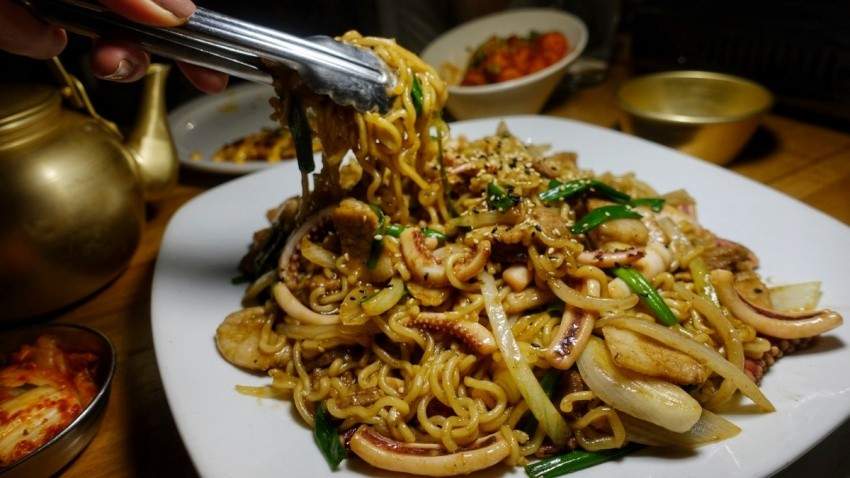 The night I met friends for Nongbu's late night menu, we had a table full of carbs, including cheese-ramyun pancakes, honey butter rice cakes, and a wok-sized pork neck and potato stew. When one of our friends suggested we add O-sam noodles to the order too, I was a tad hesitant. It turned out to be my favourite of the evening. Ramyun noodles are stir-fried with luxuriously fatty pork belly, squid, green onions, and a sweet soy sauce. Late night dishes are meant to be salty and over-indulgent and these noodles hit all the notes.
Zwick's Pretzels, Edmonton – Spicy Scallion and Mozza Pretzel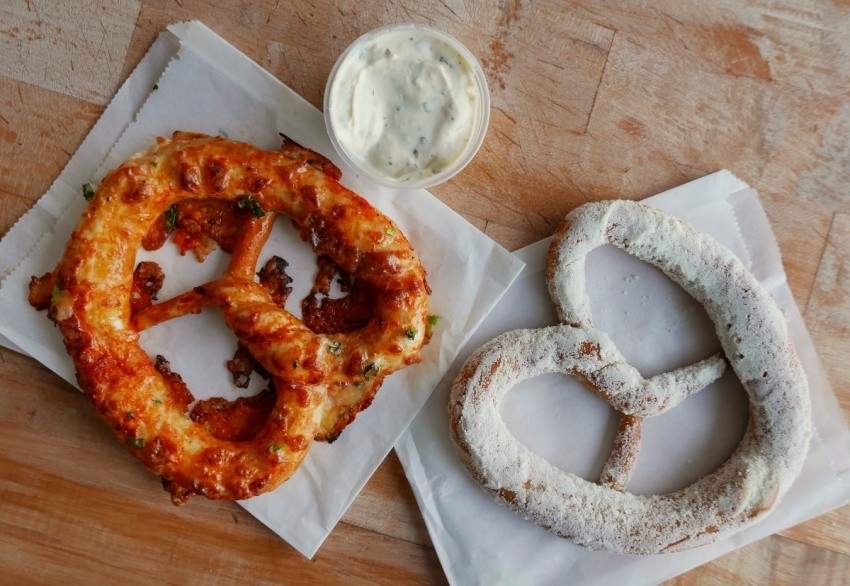 The first time I tasted a Zwick's pretzel, I fell hard. I ended up returning the next day for more. I knew their pretzels needed to be included on my list of memorable dishes from 2018, but choosing one was akin to choosing a favourite child. In the end, I had to go with the pretzel that ignited my love for this gem of a place: the spicy scallion and mozza pretzel is tangy and salty with a subtle heat. The dough is pillowy soft but still maintains a light crust. Dip it into a side of garlic butter to add to the decadence.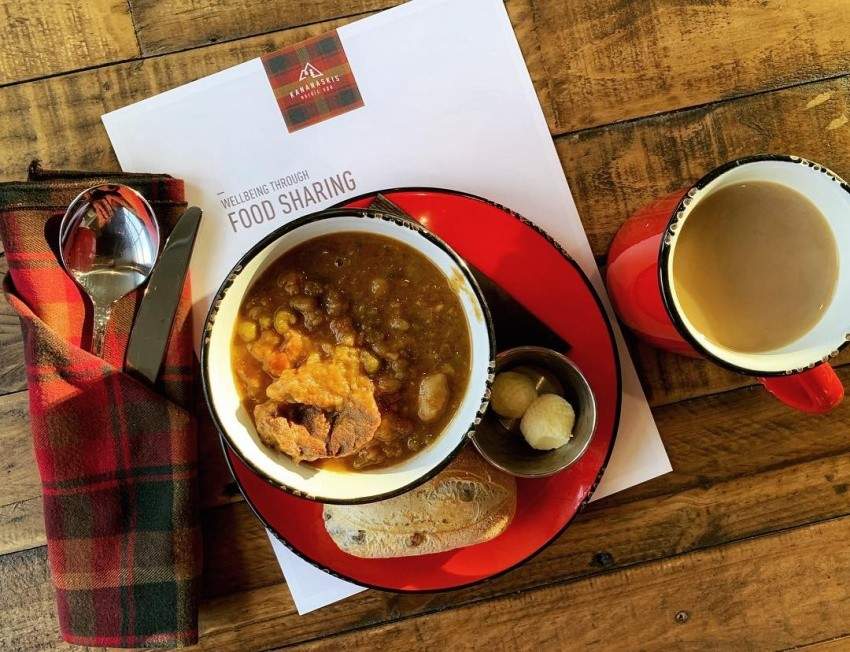 Sometimes, the memorability of a dish has more to do with the full experience than just the food. One of my favourite lunches in 2018 was enjoying a bowl of the pork and venison hot pot at the Kananaskis Nordic Spa. I was with one of my favourite friends on a girls' trip and this hearty stew was the perfect accompaniment to the magical snow-capped mountain setting that we were in. It was less herbaceous than a typical stew, which permitted the flavours of the pork and venison to really shine.
Teatro, Calgary – Carrot Cake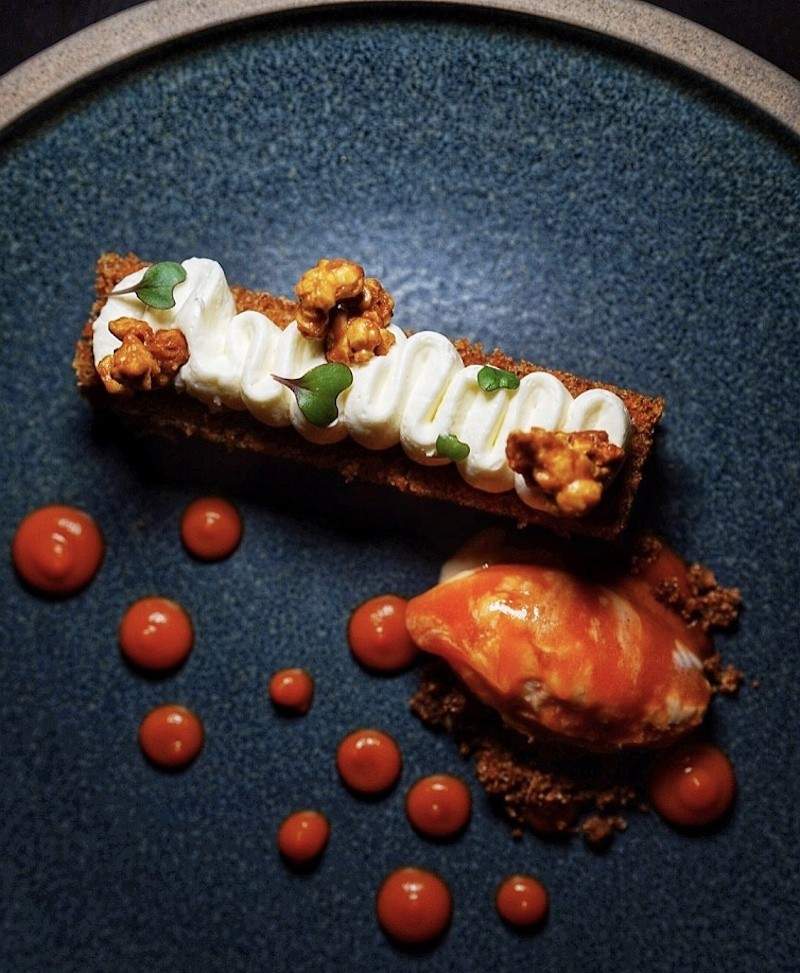 Pastry chef Daniel Ramon is well known for his bonbons and chocolates. His desserts at Teatro are just as swoonworthy. The classic carrot cake is elevated with layers of mascarpone mousse and caramel popcorn. Not only is the gluten-free cake light as a cloud, it is served with a side of mascarpone and carrot swirl gelato that I can't get enough of.
Bonus cocktail: Pomeroy Kananaskis Mountain Lodge, Kananaskis – S'Mores Manhattan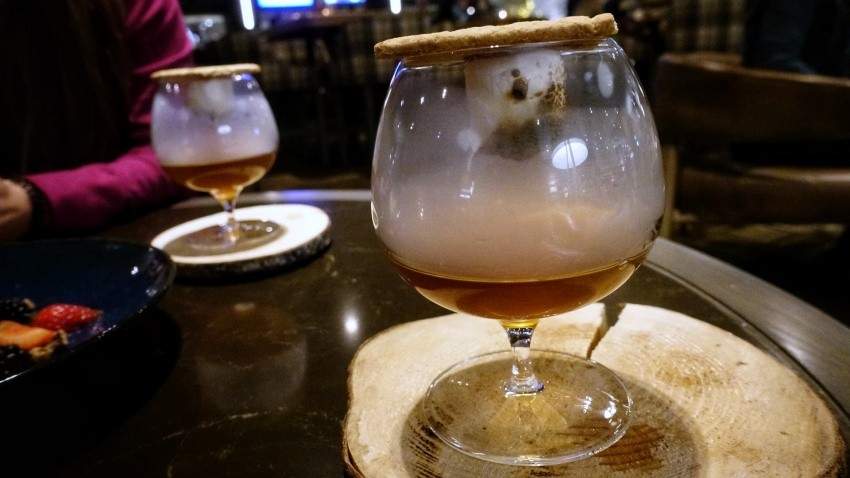 I prefer my cocktails to be spirit forward and not too sweet, which is why I'm surprised that any cocktail concocted with s'mores would become a favourite. At the Pomeroy's Blacktail Bar, a stiff Manhattan is topped with a flaming marshmallow adhered onto a graham cracker with sticky sugar. The marshmallow and cracker is turned upside down into the glass for a minute or so, putting out the flame and leaving a lingering flavour of the toasted marshmallow in the cocktail. Not only do you have a delicious cocktail, you also end up with an extra s'more to enjoy.