It's the day after the double elimination that sent Sebastian and Dennis packing, and Wallace Wong and Benet Hunt are talking about how hard the competition is getting and remaining pals. Wallace says that it only takes one bad dish to get you booted and everyone is bound to screw up somehow.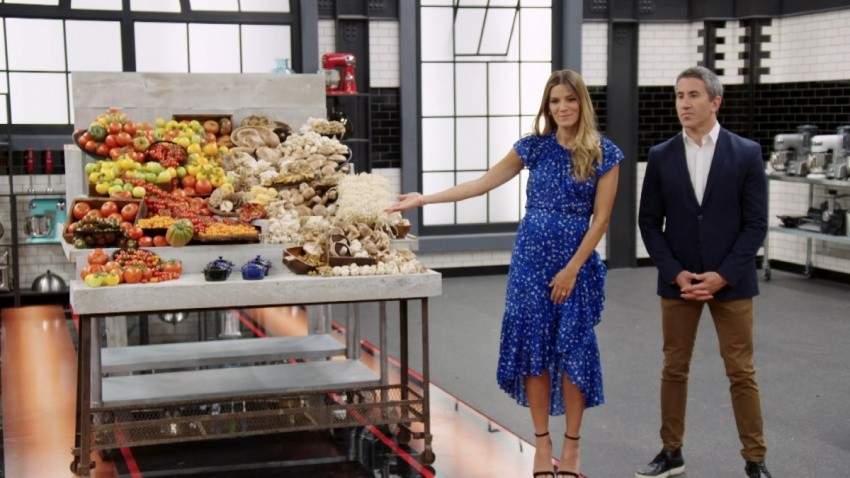 Quickfire Challenge
The Quickfire Challenge this week is to make a six-course meal that highlights the same main ingredient in each dish. Since Top Chef Canada is filmed at the end of September, there is a bounty of great ingredients for the chefs to choose from.
The six chefs are divided into team mushroom and team tomato. The mushroom gods smile down on Paul Moran and he gets his favourite ingredient. Renee Lavallee and Wallace join him on the side of fungus. Benet Hunt, Hayden Johnston and Phil Scarfone are team tomato.
Hayden makes a panzanella salad and seared tuna with tuna salsa. Phil somehow bangs out homemade pasta in 45 minutes with cherry tomatoes and basil, plus a beautiful tomato sorbet served in a tomato, while Benet makes two main courses.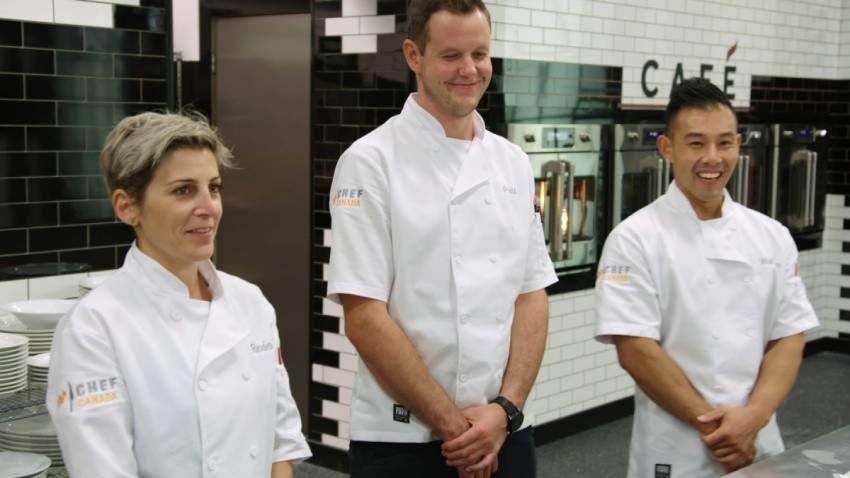 The guest judge of this Quickfire is Philadelphia chef Michael Solomonov, who owns Zahav, Rooster and other Israeli/Jewish restaurants and has been on the forefront of Mediterranean food in North America. He likes all the dishes but feels that the first three were repetitive tasting, like being served a Caprese salad three ways.
The mushroom side chose to do a vegetarian menu. Renee tried to suck up to chef Solomonov by using sour barberries, and it works. Solomonov does find her salad a little too overwhelming, but likes her mushroom tart. Paul treats makes "steak" and potatoes with chimichurri. The judges love it, but not as much as they love Wallace's mushroom desserts. Yes, you read that right. They loved the mushroom ice cream with candied king mushrooms and the hot mushroom and ginger broth. Michael Solomonov said that he can't remember when he had a dish that was so vivid and exciting.
With praise like that, Wallace obviously won the Quickfire and 5,000 bucks.
Elimination Challenge
The elimination challenge sounds like fun for the guests, if not the chefs. The chefs have to reinvent a carnival treat using a luxury ingredient. The chefs draw the carnival food they have to make, but they get to choose the luxury ingredient. Wallace gets to go first because he won the Quickfire, but I have no idea how they chose the order.
Wallace drew mini-doughnuts and then chose truffle as his luxury ingredient, which seems like an odd pairing when vanilla was on the table--but it's Wallace; his mind works in weird and wonderful ways. Paul had to go last and he drew nachos and saffron. He's a bit whiny about the saffron because it turns out that he hates it.
Nachos is a great draw for him, however, as we know he staged at Pujol in Mexico City and has a way with Mexican ingredients. He makes a dehydrated rice cracker with saffron, which he planned to top with chicken and pea guacamole, but as he the rice cracker was sticking, and it didn't work out as planned. He ended up making a more traditional nacho chip, which isn't his style.
Benet also had some major issues during prep. He burns the popcorn for his popcorn-flavoured parfaits, he drops the jelly, he is crashing into things. It's like Benet is having a terrible, horrible no-good day.
When we get to Canada's Wonderland, it's obviously a very chilly day, but the judges stay warm by doing a round on a roller coaster. Chef Mark McEwan then admitted to a fear of heights. I don't know how they got him on that thing, but it makes for a good promo.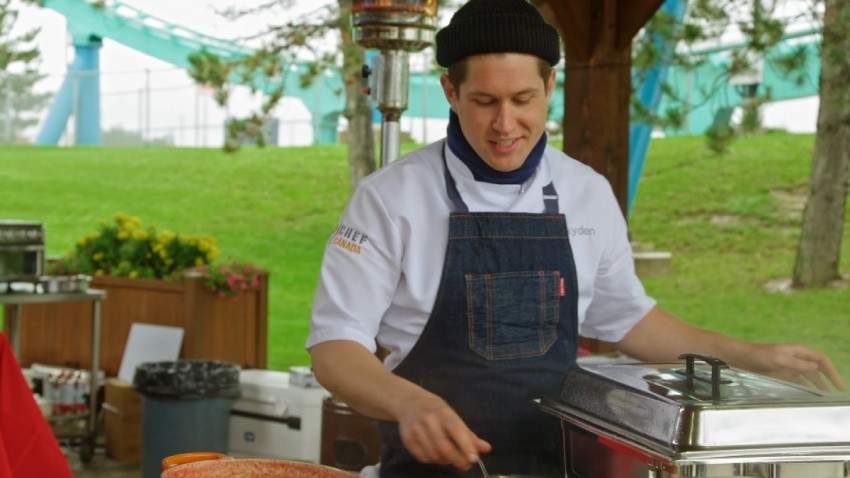 Karen Akunowicz, former Top Chef (America) contestant, and chef of Boston's Fox and Knife restaurant is the guest judge for this week's elimination challenge
Renee reimagined a corndog as a croquette filled with cheese. It squirts as the judges bite into it, and they love it.
Paul is concerned that all he made is nachos, which is of course, what his task was, but the judges say that his masa saffron tortilla with chicken adobo was brilliant and it wasn't a nacho.
Phil riffed on cotton candy with a potato with sour cream and caviar, accompanied by black peppercorn cotton candy, which the judges like as well.
Wallace's charcoal savoury mini-donuts with truffle are also fans' and judges' favourite dish.
Just like a rollercoaster, the judges hit a downturn when they try Benet's parfaits. The ice cream obviously melted on its way to the amusement park and then was re-frozen, which creates that icy crunch in his ice cream. There is also a lot going on with all the toppings, which overpower his luxury ingredient of vanilla.
Hayden's pretzel French toast with lemon posset also hit some snags. The pretzels were mushy and the lemon posset was a little too stiff for dipping.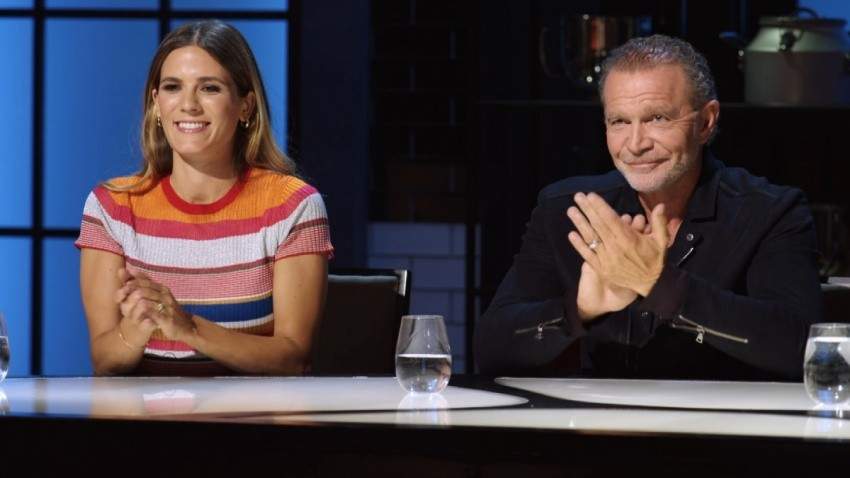 Judges' Table
Overall, the judges were impressed with the ingenuity of the carnival offerings and the chefs' mastery of many complicated techniques. In the end, they choose Wallace's "dinner doughnut" as the winner of the challenge.
Unsurprisingly, they call in Benet and Hayden to discuss who is packing their knives and going. During the discussion, chef McEwan asks if there is anything to add, and Benet calls out Wallace for cheating. Wait. What? Someone put the brakes on this ride quickly!
Benet says that Wallace served the judges a different dish than he had served everyone else. When the judges ask Hayden his thoughts, he diplomatically refuses to comment.
Benet says that the Wallace's discrepancy in the dishes "is cheating" even though he knows that he "mucked up".
The tension continues when they call in all the chefs to Judges' Table to discuss the allegation. Chef McEwan says that the integrity of the Top Chef kitchen is of the utmost importance and tells Wallace that he has been accused of cheating.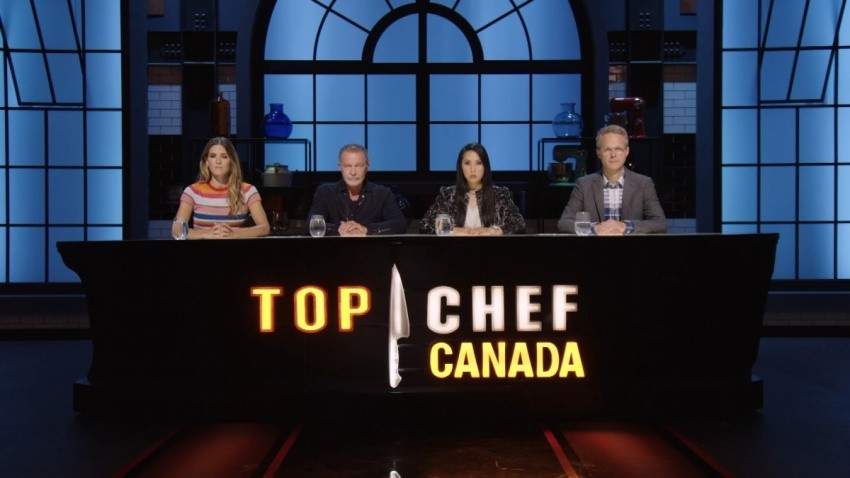 Wallace says that the judges' doughnuts were a little darker because he had saved a little more charcoal powder to add to the batter to make sure they were black. Charcoal doesn't affect flavour or texture (or, FYI, make food healthier) so the extra smidge of powder probably didn't affect the dish. Benet is obviously skeptical of Wallace's defense, but the judges seem satisfied with the explanation.
In any TV shoot, there are many extra producers, stylists and camera operator milling around and watching what is going on. I think that it would be very difficult for a contestant to get away with creating a different dish for he judges. A producer may let it go to make good television, but they wouldn't let a cheater win the challenge. So, I'm siding with Wallace on this one. Not to mention, did Benet have any actual proof about his allegation or did he eyeball the difference? Did someone tell him something? We will never know.
It's no surprise that Benet is asked to leave, he made the worst dish of the day and it would have been hard to keep him around after creating that kind of scene. This is not Real Housewives; it's not about the controversy, it is about the food.
Benet and Wallace hug it out and Wallace seems to forgive his "big brother" for accusing him of cheating. I'm not sure that I would have been so forgiving.
Benet leaves the show saying: "I'm Benet, and I'm a chef, that's what I do".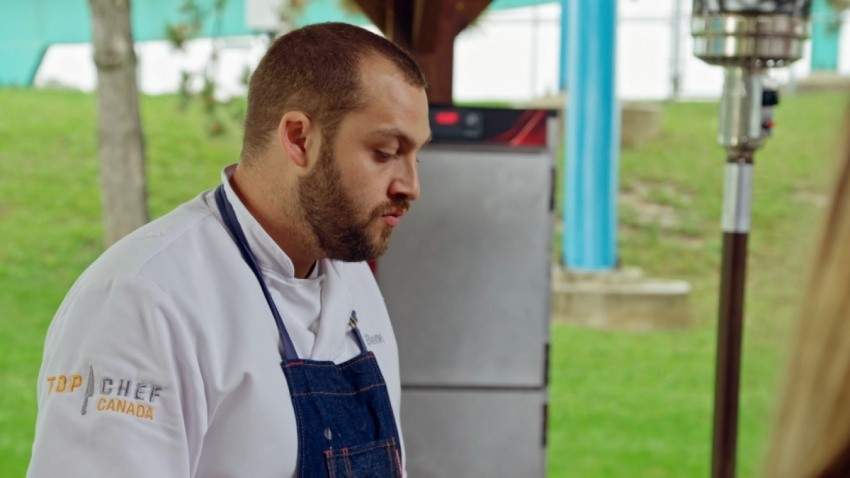 Kitchen Scraps
The whole cheating allegation seemed a little contrived. If anyone has any intel, I would love to know it.
Wallace won both challenges today and his food looks and sounds fantastic, but I think Paul is the one with the most experience and technique to go all the way.