The second episode of Top Chef Canada opens up a little oddly with its host Eden Grinshpan and chef Suzanne Barr in bed together (wearing cute pajamas). It's a peculiar, but good, opening sequence because both Eden and chef Barr are totally comfortable with the absurdity of being in a bed on television, in a kitchen on TV.
Just so you know I stan Suzanne Barr (to borrow a phrase from my kids). Her food is off the charts, she is full of positive energy and she always uses her platform to promote women, and people of colour, both things that Top Chef Canada could use more of.
This is a breakfast-in-bed challenge and the chefs get cooking quickly for their first quickfire. There is an extra 5000 bucks to the winner of the challenge. This is also their first challenge in the Top Chef kitchen, so the chefs have to learn the kitchen along the way.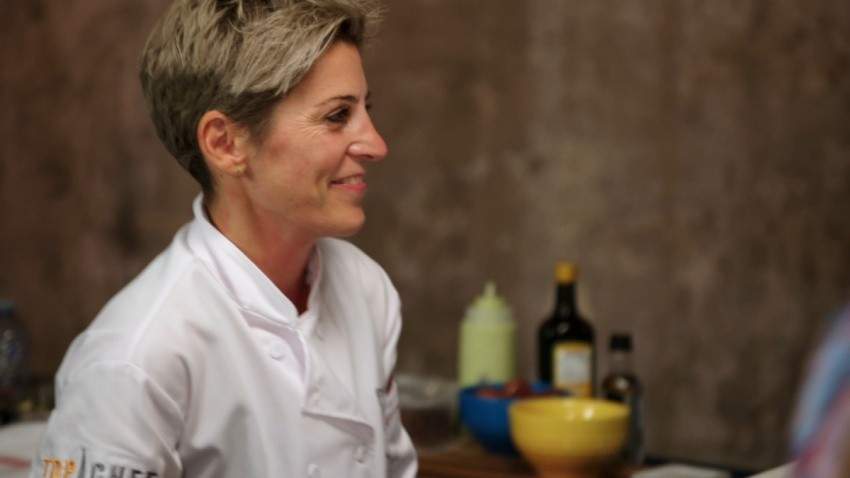 Renée Lavallée walks us through the challenge and her thought-process of her toast dish. Benet proves his hard-core cheffiness by saying he likes breakfast when he is awake from the night before and then adds chicken, duck and quail eggs to his dish.
Erin Smith's three boys love smoked salmon. I'm not sure if it is Erin, or the producers who make Erin talk about her family so much. We have seen this on other cooking shows. The women talk about their kids' favourite meals and recreate them.
The men just cook.
Dennis Peckham confuses me by saying that he is more of a pancake connoisseur than a pancake maker and then he screws them up. Pancakes are hardly Top Chef level cooking, Dennis!
A surprising lack of bacon going on in this Canadian kitchen. But the dishes do look good. There is also a lot of reinforcement of the appliance-maker's brand. A lot.
The judges seem to be enjoying their breakfasts in bed, despite dripping egg down their pjs. Sebastien LaFramboise's potato galette with smoked salmon and his grandma's fruit ketchup wins the Quickfire and he thanks his grand mere for the ketchup. He beats out Paul's mini buttermilk pancake with deer sausage and quail egg and Renée Lavallée's sweet, salty and crunchy toast.
Dennis's pancakes, Benet Hunt's sourdough pancake and Hayden Johnson's Finnish pancakes all miss the mark. I guess pancakes are tougher than I thought in the Top Chef Canada kitchen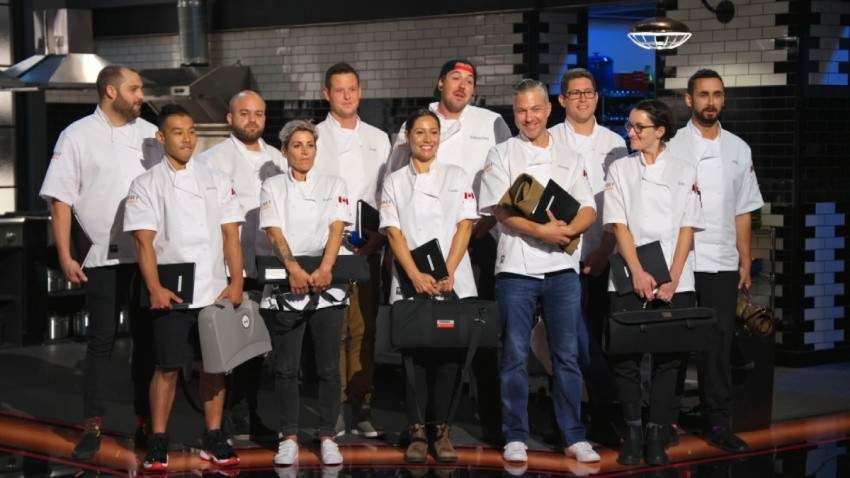 Elimination Challenge
Now, the chefs are tasked with making their ideal in-flight meal for a certain airline. The guest judge is Quebec chef Daniel Vezina, who makes the chef's choice meals for said airline.
Sebastien obviously has some history with chef Vezina, remarking that he has been judged before by him and he is tough.
The challenge is to make an in-flight meal but then to translate the flavour into a one-bite hors d'oeuvre that will be served to 100 people. Wallace Wong is worried because he doesn't fly much and he never cooks for 100 people.
Was he a one-hit wonder and his inexperience is going to bring him down?
Max Straczek has cracked more eggs than I would have thought possible to make a egg yolk gnocchi with mushroom sauce. He sous vides the eggs but they curdle and is gnocchi look more like scrambled egg. He can't do regroup but knows that his dish puts him in the bottom three. The judges seemed more confused than disgusted, but he does end up in the bottom.
Erin makes a sea bream crudo with a peach yuzu salsa and a stone fruit salsa. Even as I type this I can taste how it's too-fruit heavy. The judges find it overly sweet, drowning out the delicate fish taste.
Dennis' main dish looks like something you would be served at your cousin's wedding at a banquet hall. It's a grilled steak with turned potatoes (peeled and boiled submarine-shaped potatoes) and green beans. He turns it all around into a steak tartare with smoked egg yolk. Chef McEwan, the professed lover of beef tartare does love it.
We haven't seen much of Phil Scarfone this episode, but he pops up with a beef tataki and black pepper sauce and lots of strong flavours from all over Asia that wows the judges.
Sebastien has made a strange compressed chicken mousse with BBQ sauce. It's cut into squares which looks over-processed and well, not that appetizing. Judges agree, they miss the smokiness of a piece of real chicken. Has his star fallen so quickly?
Hayden makes a chicken paprikash with a dumpling which does sound like a good in-flight meal to me. He blushes adorably when Eden calls his dumplings dope, but he lands in the middle. Renee makes a one-bite Cobb salad, her blue cheese cracker is a bit heavy and she's in the middle as well.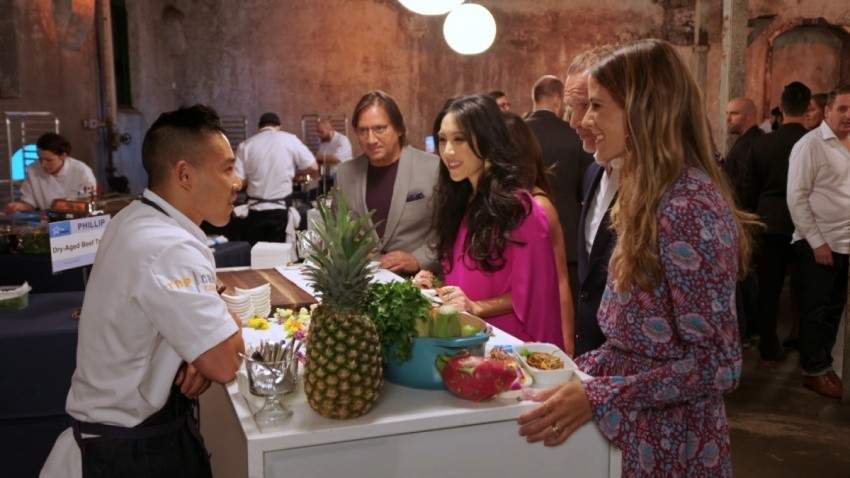 Wallace may have not known about in-flight meals or how to cater a crowd. But he makes a good-looking, and I assume good tasting, chicken al pastor on a masa pancake with pineapple gel.
Our first shot of Tania is making a braised fennel in a bagna cauda sauce. Her dish is all plant-based and the judges like it. Not enough to make her in the top four however, she continues to hover in the middle.
Paul Moran makes a Japanese tuna taco with chayote as the shell. The judges were doubtful, but they loved the explosion of flavour. Judge Janet Zuccarini says that it is "pure pleasure". It does sound good, but it doesn't look filling enough for me when I fly--boredom makes me hungry.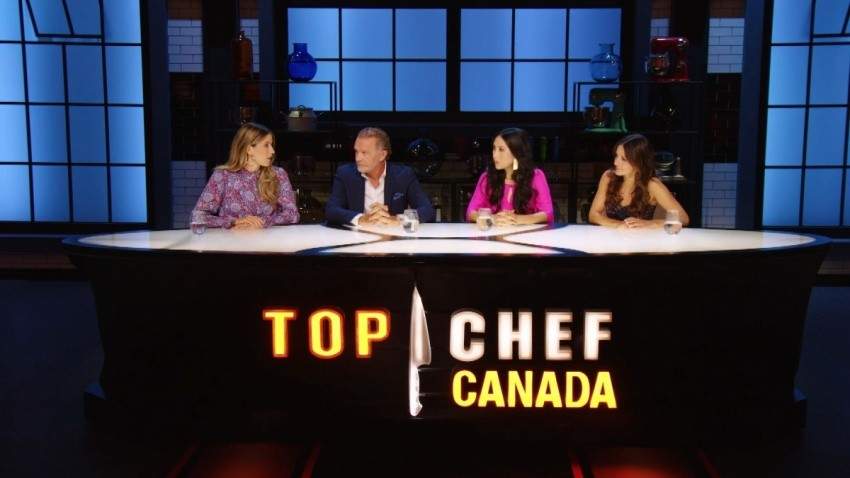 Judges' Table
Paul, Wallace, Dennis and Phil are called in for an all-male lineup of best dishes. The judges liked the mix of flavours and textures that all the top dishes were able to put into one bite. Though, chef McEwan was able to throw some shade at Dennis' turned potatoes.
In the end Paul's "shockingly simple but shockingly delicious" tuna taco won the day. He is now travelling anywhere that the airline flies, and he is on a roll with a second win. Is he going to dominate the competition?
The bottom three are Erin, Max and Sebastien. All three were very open that they made some bad choices that they would change. It was much less acrimonious than usual, but Erin did shed some tears when she said that she had to cook the food that she enjoys.
During the deliberations Eden noted that the chefs all took their feedback, which reinforces once again that what a chef says at Judges' Table can affect the outcome.
The judges had to choose between Erin's dish that didn't have any redeeming features according to Mijune, or Max's dish that was only half a dish because it needed some other elements to be really good. Janet and Mijune had some friction over whether they ate Max's dish because they liked it or not.
In the end Sebastien and Max's dishes showed promise, but Erin's didn't. So, Erin is going home.
Erin is heartbroken and shocked. I think we may see her on another cooking show in the future.
Kitchen Scraps
It's not a surprise that Erin went home, she hadn't really shone in any of the competitions yet. Her biography said she got her start with chef McEwan but there was never a mention of their relationship. She may be talented, but she doesn't have the maturity of the top tier of cooks. Maybe in a few years. I'm still a bit uncomfortable with her being classified as "the mom". It made it easy to dismiss her. Don't some of the other competitors have kids?
Can we talk about Mijune Pak's bracelet that wrapped around her palm? Was it a handlet? Was it uncomfortable?
My top five from last week (Phil, Paul, Renée, Sebastien and Wallace) continue to win and make up the bulk of the narrative of the show. Could we just skip ahead a few weeks to see them go head-to-head?
No, we can't.
Next week is "Restaurant Wars" and that usually sends a frontrunner home because they take the lead on a losing restaurant. We'll see what happens!