In the debrief after last week's Judges' Table, Phil Scarfone nods to Renee Lavallee and says, "One lady left."
She laughs uncomfortably.
I know that laugh; most women do.
It's the laugh that comes with a shrug of the shoulders.
It's the acknowledgment that this is not the way it should be, but it is.
The show must go on.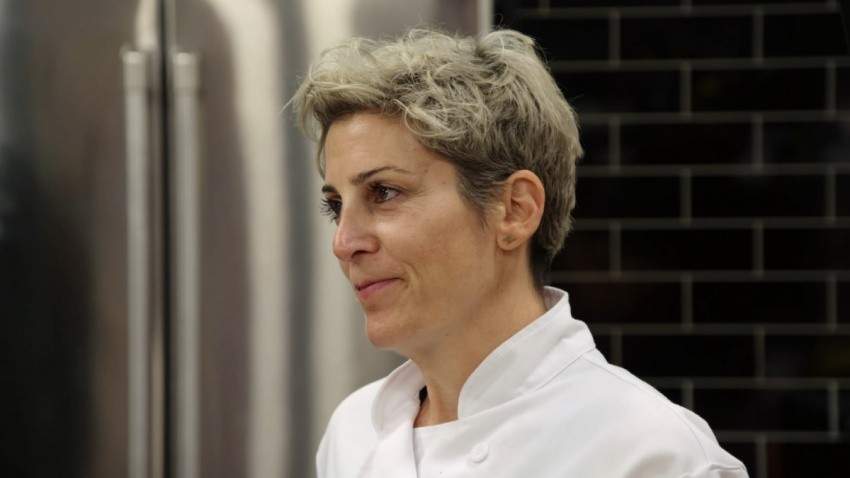 Quickfire Challenge
This week's Quickfire is all about the kids (supposedly). There are two teens from the not-for-profit Kid Food Nation, who are going to judge this challenge, along with the winner of Top Chef All-Stars (U.S.) winner Richard Blais. We are huge Richard Blais fans, we watched him almost win Season Four (he lost to my ultimate favourite Stephanie Izard) and then win Top Chef All-Stars in 2010. (If anyone wants to fall down the rabbit hole of Top Chef US from Season One through 10, please @ me).
The chefs have to cook foods kids don't normally like (Brussels sprouts, cabbage, liver, anchovies) and make them kid-friendly. The winner of the challenge will donate money in their name to Kid Food Nation and get the opportunity to attend a gala in Ottawa. I don't know what "an opportunity to attend" means, either.
The chefs randomly choose their ingredient and start cooking. I personally don't think Brussels Sprouts or cabbage is that kid unfriendly. In my house, they are roasted until sweet and then bathed in bacon and cheese. But what do I know? I only wrote a cookbook for families of picky eaters and have three kids.
Renee may be at an advantage as she is the only chef in the room with children, which is interesting, even though being a chef is not a very family-friendly profession. It concerns the other chefs, and she shrugs off the challenge, saying that kids eat what they are given.
We see Renee's softer side when she tears up talking about her daughter's birthday. While the chefs are competing, they have limited contact with their families, and for a moment, you can see how tough this is on her. She makes a cabbage salad with lots of flavour and texture, competing against Benet Hunt's fried chicken with coleslaw, which kind of obscured the cabbage.
The challenge was to make an unloved food into a loved one, as judged by kids, but it is Richard Blais who is making the decisions, and it looks like it is based on what he likes. To be honest, everything looks and sounds delicious.
Dennis Peckham pulls out the modernist technique and makes a frozen liver parfait, which is exactly the kind of thing that I love, even more than I like those brassica vegetables. Richard Blais likes it more than Phil's fried liver fingers (which looked better than they sound).
Hayden Johnston's Brussels sprouts Caesar salad beats out Paul Moran's Brussels sprouts mac and cheese because the salad was about the sprouts and Hayden didn't bury them under cheese.
Renee's salad is crowned best of the day, giving her a "major advantage" for the Elimination Challenge (which is sometimes the opposite of an advantage). She gets to pick the teams and her teammate for the next challenge. This is a double elimination and from what happened last season—the frontrunner Matthew Sullivan went home because of his partner's bad dish and there was an immunity in play as well—the stakes seem higher.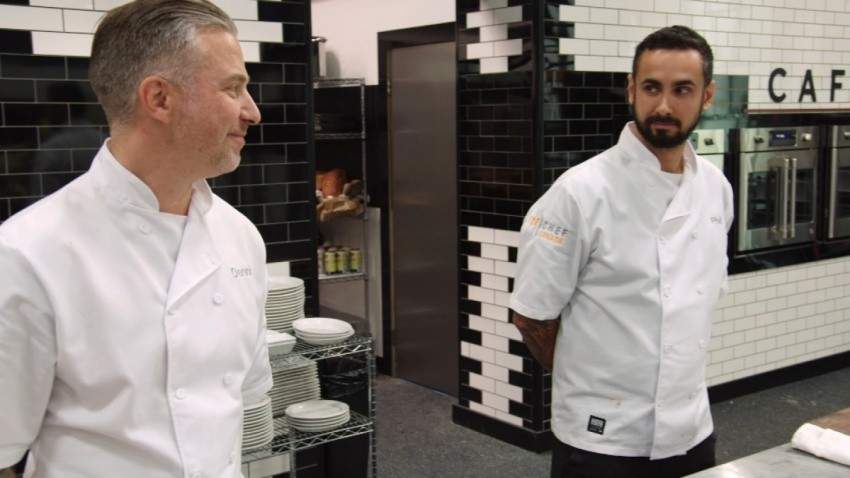 Elimination Challenge
The challenge is similar to Restaurant Wars; each team has to create a fast-casual concept and serve their dish to 150 people at a chef's food hall in Toronto.
Renee picks Phil as her partner, which is the obvious choice to me (and my husband). She then chooses the rest of the teams, putting Hayden and Paul together because they have some bad blood between them. She also puts Wallace Wong and Benet together because their styles are so contrasting. And then, she puts Sebastien Laframboise and Dennis together, who she considers her allies. Finally, we get some gossip out of the Top Chef kitchen!
Paul and Hayden combine Mexican flavours with Southern U.S. barbecue. Paul, as usual, pulls out all the stops and makes a tostada with beef. Hayden makes a chicken mole sandwich, but his mole is just really a braise.
Chef Angie Mar from the Beatrice Inn, tastes Hayden's sandwich and wonders where the mole flavour is. She wasn't the only one, but this visiting judge is not here to make friends, and she is the toughest critic so far.
At Dennis and Sebastien's Crazy Canard counter, she is also disappointed that Sebastien did not make the wrappers for his dumplings, which she insists are dry and needs more fat. Though, he obviously disagrees. Dennis' bao dough is also too heavy for his sandwich.
She does like Wallace's ragu on rice (here we go with the textures again) and Benet's bao. Their concept of Dai Sai (big-little) is also lauded and their contrasting techniques seem to have worked for them.
Phil and Renee's Feast Meets West station does not impress. Phil's fried fish is cold, making the batter soggy, and Renee's chowder is watery because she did not have time to puree.
Renee's choice to make chowder again, after making a great chowder at the start of the season, is questionable. It's an easy choice for an East Coast chef and one that the judges rarely look upon favourably. Why didn't she make a different Maritimes specialty, you ask? I don't know.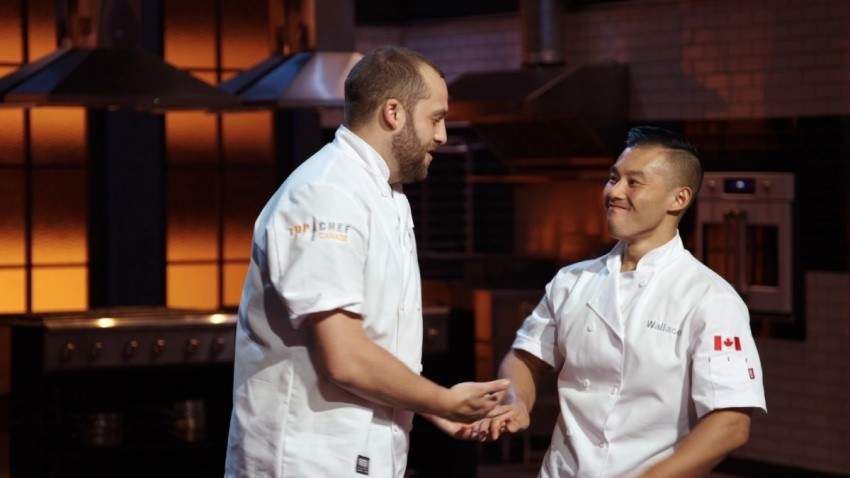 Judges' Table
At Judge's Table, Wallace and Benet are the only team called in to be crowned winners of the challenge and $10,000 to split.
The other three teams are called in for this double elimination. Paul and Hayden's concept is criticized for being unclear, as well as Hayden's execution of a non-mole mole chicken. If only he hadn't raised the judges' hopes by calling it a mole, he may not have been in this situation. Hayden then goes to bat for Paul, saying that he is an outstanding chef. It was a lovely gesture to Paul after the two's previous friction. In retrospect, maybe Hayden was trying to save himself while saving the perceived frontrunner? Either way, it seemed genuine.
The judges again criticize Renee's chowder and her decision to make the same dish again. Chef McEwan calls her chowder "amateur" at least three times. OUCH.
In the end, it is Dennis' bao and Sebastien's dumplings that was deemed the worst of the day and they are both sent home.
Dennis said in the waiting room that good food can't win anymore; it has to be great food. And he is right. They did cook good food, but it just wasn't enough. I have no doubt that Dennis does great food out in B.C.
Sebastien, meanwhile, is a wreck. He is very upset to leave but says it was all worth it. He also seems to have real talent, and he was a good interview. I wouldn't be surprised to see him again. He represented Quebec City well.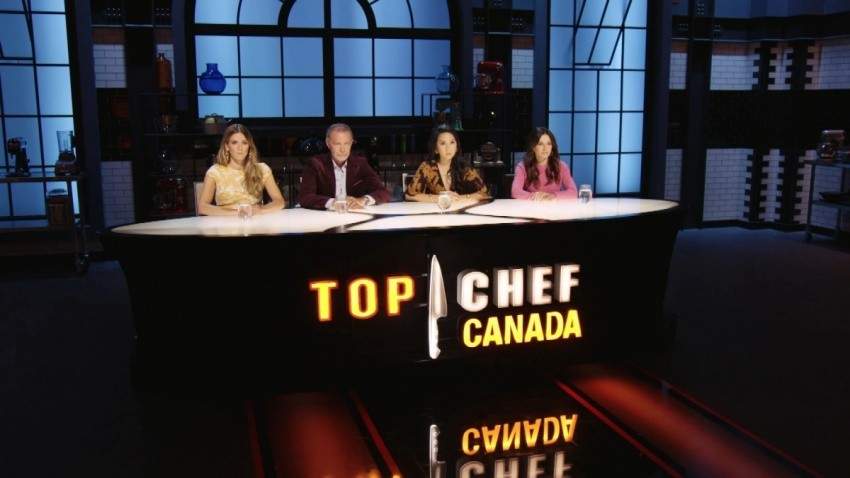 Kitchen Scraps
I have noticed over repeated watchings that almost every chef in the opening was told to nod at the camera. So, whether they are tossing, sprinkling or slicing with great enthusiasm, they are also nodding. I guess it makes them approachable.
We are down to the top six, who all have potential to win, but I'm sticking with my top three from the first episode of the season: Paul, Phil and Renee.
Janet Zuccarini was an excellent judge for this challenge. I wish we saw more of her no-nonsense style.
Speaking of judging, Angie Mar was extremely tough. Sometimes, I feel like the guest judges are wasted. They fly in to lend star power to the judging, but then we don't really hear too much from them about what they thought of the food.
The promo for next week has me excited. Has someone really cheated in the Top Chef Canada kitchen?