We are now living in a post-Restaurant Wars world here on Top Chef Canada, and Paul Moran is not enjoying it. Benet Hunt, the winner of the skills challenges and Restaurant Wars is rubbing it in to the Tofino chef who was on a winning streak until last week.
But is Paul out of the running? I very much doubt it.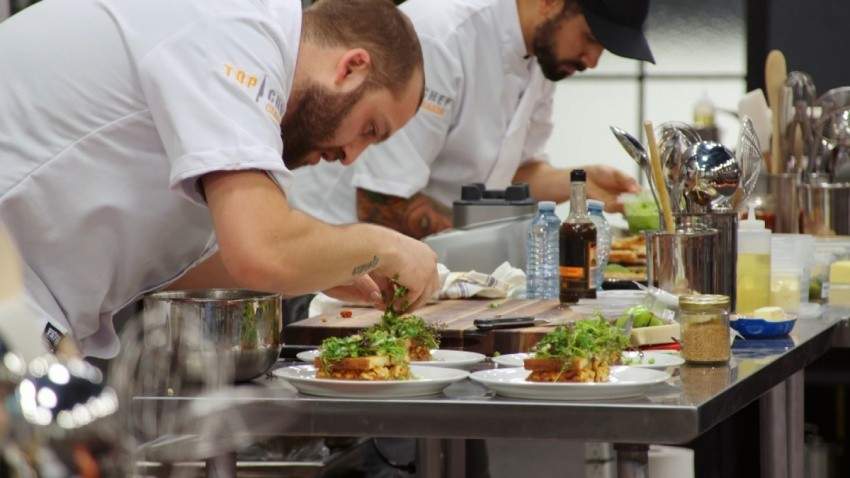 Quickfire Challenge
The Quickfire is set up as a seafood challenge where the chefs have to run and grab their seafood of choice off of a table.
Note to producers: do not put desirable items on a rolling table. The chefs all pile over each other to get to the seafood as the table keeps rolling backwards, all helter-skelter toward the stoves.
But that's not the hardest part of the challenge. They have to pair their chosen seafood with cheese in a grilled cheese sandwich. Seafood and cheese are not a conventional pairing. The guest judge is the unstoppable Afrim Pristine, cheese master extraordinaire of the Cheese Boutique in Toronto. Immunity is up for grabs for the winner of this challenge.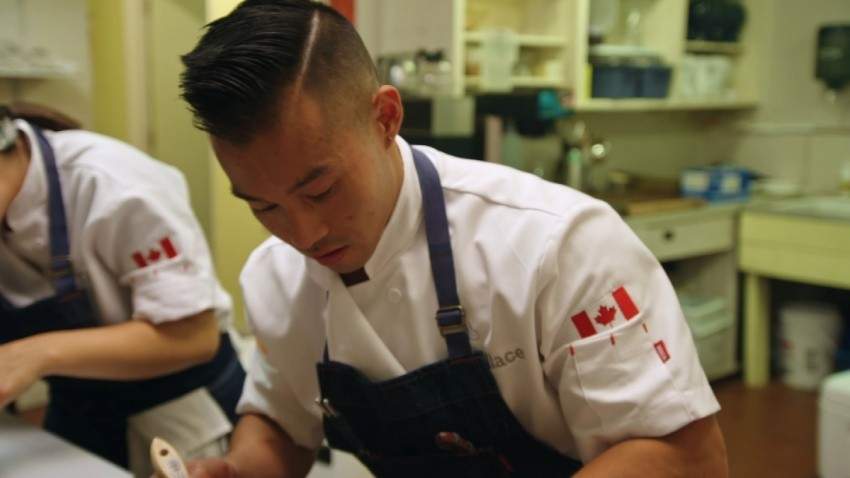 Wallace Wong, ever the iconoclast, goes Asian with a deep-fried shrimp on toast and mozzarella which go unintentionally ablaze on the grill. With only five minutes left on the clock, Wallace makes another set. Tania Ganassini also has issues. She is forced to confront a non-plant based protein and she is making scallops with a queso fresco tostada. The scallops are the least of her problems, as her tortillas fall apart and she does not finish her dish in time.
The top three grilled cheeses all managed to merge the cheese and seafood together seamlessly. Phil Scarfone wins immunity with a sable fish and smoked mozzarella sandwich with pickled green tomatoes. Hayden Johnston makes a lobster grilled cheese with pickled fennel and curried ketchup that is my husband's idea of a perfect lunch. East Coaster Renee Lavallee turned her clams into a cream cheese spread and tripled the cheese with fontina and havarti.
If you know Afrim, you know that he loathes mayo and loves superheroes. I wrote a profile of him where he calls mayo his kryptonite. So, it must have taken enormous willpower for him to keep a straight face after Renee tells him that there is mayo on the grilled cheese. The question is: will Afrim ever eat mayo again?
The less-successful grilled cheeses allowed other ingredients in the dish to overpower the fish. Dennis Peckham's play on a tuna melt with trout and jalapenos had too much going on. Paul's Dungeness crab and gouda sandwich was loaded with black truffles that drowned out the crab. Tania's incomplete tostado rounded out the bottom three.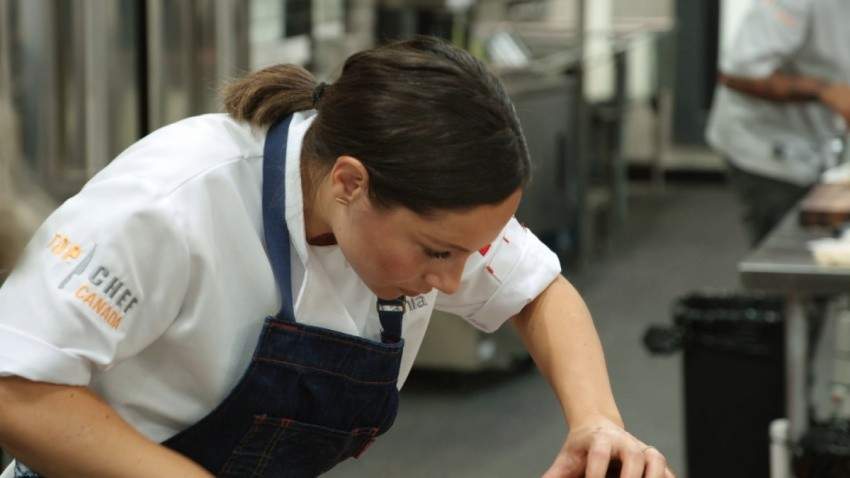 Elimination Challenge
The Elimination Challenge is to create an "authentic Nordic feast" as a group. Nordic food has swung into the limelight internationally but there are very few restaurants in Canada. Chef Emma Bengtsson from New York-based double Michelin-starred Aquavit comes in to school the chefs in Nordic flavours. She is one of only two female chefs in the U.S. to have a Michelin star and the only female Swedish chef.
She is not the top-billed judge, however. Her star is eclipsed by superstar chef Marcus Samuelsson from New York.
Each chef chooses a wooden plank with a traditional Nordic ingredient on it. Some of the more esoteric includes Hayden's lichen, Paul's autumn olive (it's not an olive) but other chefs pull familiar spices such as Wallace's cardamom and Benet has dill. Chef Bengtsson gives very clear instructions to the chefs—telling Hayden she is not a fan of lichen but to clean it off and fry it, and that Dennis' rosehip needs to be rehydrated or used as a powder.
The other twist is that the meal is going to be a blind tasting so the chefs will not have a chance to "tell their story" of their dishes. I think this is a great idea because the judges probably have some unconscious biases towards some chefs. It also makes me wonder why they don't do this every week.
The chefs head into the woods to do some foraging. This is Paul's passion and he finds a giant puffball mushroom as big as his head that he can slice up.
I love this segment of chefs gone wild.
Back in the kitchen, the chefs start prepping. Each chef is making one dish but the viewers are not privy to how they decided who got each course.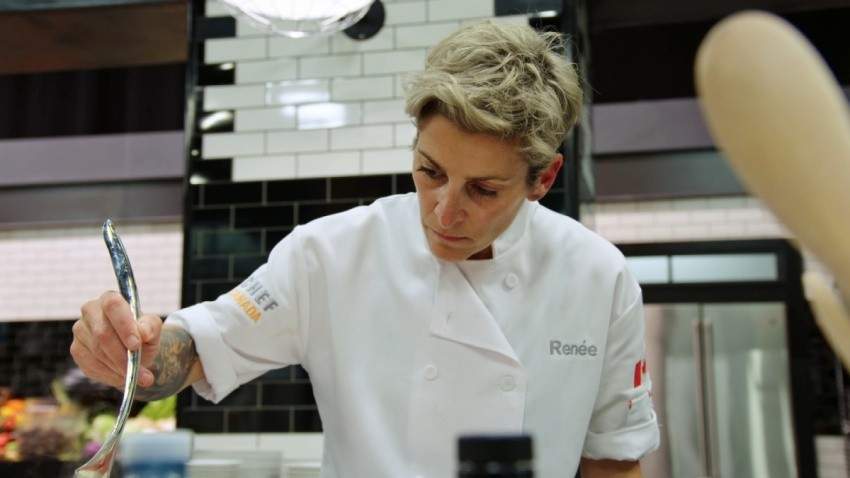 Renee, Hayden and Sebastien are making appetizers. Renee makes a savoury panna cotta with juniper and once she realizes that they have set properly, she has nothing to do during prep time. Hayden says she is "mincing" around the kitchen and the whole scene does feel a little bit ominous.
Sebastien is using sea buckthorn for the second time this season. He tones down the sour flavour with maple syrup over a grilled pork belly and scallop. Hayden is making a cured and brined beef tartare with the lichen fried on top and lichen in the beer bread.
All three appetizers are beautiful. The judges love Hayden's beef dish and Sebastien's, but they are left wanting by Renee's juniper panna cotta, which feel incomplete and safe.
Benet is grilling giant slabs of roast beef on the bone with moss, birch and beer and finished it with dill. The judges love the beef and chef Samuelsson says the pickled berries taste extremely Nordic. Dennis has a more refined dish of grilled venison with rosehip sauce and powder. It's lovely and chefs like it quite a lot but don't feel that is "delicious enough".
Paul's autumn olives were difficult to work with and he is concerned that the judges won't "get" his dish—but he shouldn't have worried. Chris Nuttall-Smith says whoever made this dish is not afraid of flavour. My guess is they know exactly who made that dish; liver and puffball is a giveaway.
On to the trickiest course: dessert.
Both Tania and Phil use root vegetables as part of their desserts but without success. Phil's savoury crepe cake with celeriac and grape mousse is too literal and French. Tania sticks to her plant-based cooking and bakes up a risky root vegetable cake. Vegan food can be delicious but vegan cake often lacks the texture and richness of a cake baked with butter and eggs.
Chef Samuelsson clarifies that Nordic cuisine uses root vegetables in desserts as decoration, or for a slight taste. Wallace used carrots as decoration in his beautiful cardamom cake, which was the clear favourite.
All in all, the Nordic feast was interesting, with good flavour and beautiful plating.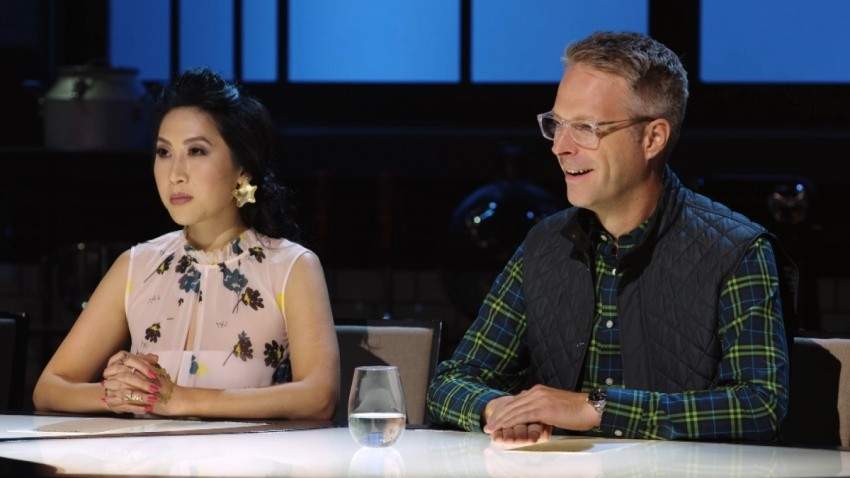 Judges' Table
At the judges' table, the judges learn who made each dish (though they must have guessed a few of them) and were pleasantly surprised that Hayden was the chef behind the cured beef with lichen. Sebastien is also on the top along with Benet. Eden Grinshpan tells Benet that his dish was Marcus Samuelsson's favourite of the day. Paul's dish was also well-liked but it is Hayden who takes home his first win.
Chris Nuttall-Smith says he wants to talk about the crepe dish and then might as well have yelled "Psyche!" as he then tell Phil that it was not a good dish, as well as being not Nordic.
Tania's dessert was also disliked because the cake's texture was mushy. Tania says she wanted to go super "nutritional" and knew if she failed, she failed on her terms.
Renee is also taken to task for her panna cotta, which was flat, and also was not a Nordic preparation. It felt like half a dish, says chef McEwan and I hope she doesn't only get to participate in half a show because of it.
Phil has immunity so the debate is between Renee and Tania. This is distressing because I think that both women have very good reasons to remain on the show. While Tania probably can't win as long as she sticks to her plant-based cooking, she obviously makes very good food. Renee, however, could go all the way and I think they need a woman to compete.
In the end, it is Tania's mushy vegan cake that does her in. Tania never makes excuses for her mistakes, which is refreshing, but I wonder if sticking to the cake idea was worth it. She wanted to showcase how plant-based food has a role in fine dining but by choosing to make a cake, she doomed herself to miss out on the rest of the show.
I like what Tania added to the show. Her personality and her food were colourful and enticing. I will miss her presence going forward.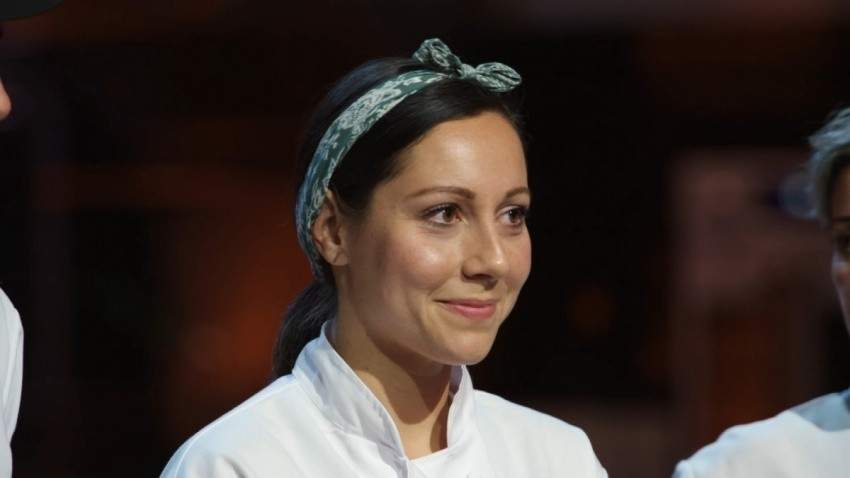 Kitchen Scraps
Having the only two women left on the show face off against each other at the bottom is not a good scenario. While that may reflect the demographics of kitchens, it does not look good on national TV. Last year, Top Chef Canada turned into a bro-fest, and it looks like it could again this year. I don't know what the producers can do to make sure there are more women in future seasons (assuming there are some), but they need to do something to make the show more balanced.
Overall, I liked this episode, the chefs were excited and they were forced to work with new ingredients in new ways which was interesting to watch.