Unlike Easter, this came a little early this year, but it's best night of the Top Chef Canada season: Restaurant Wars! This is the most stressful episode with the highest stakes, and it shows what the remaining chefs are really made of.
Or it doesn't?
Tofino's Paul Moran, who won last week's challenge, is the team captain. Let's be clear. Being team captain may be an ego boost, but it is a huge risk because if your team loses from a bad dish, you are at risk, even if it isn't your dish.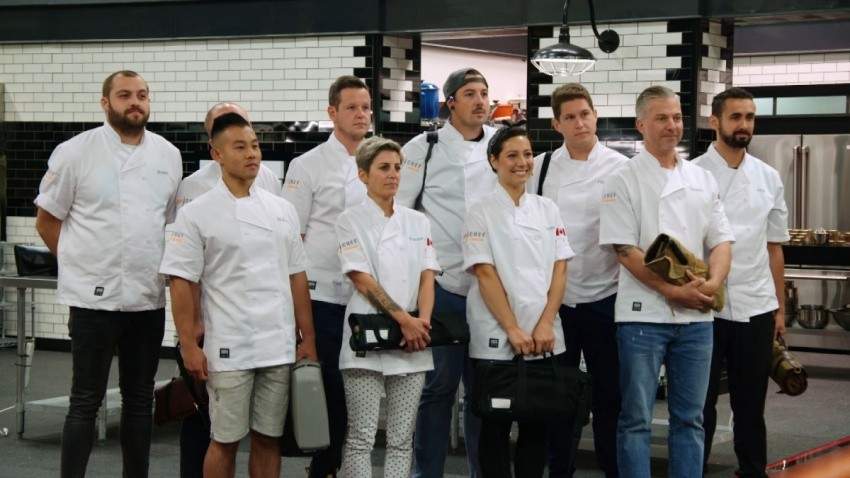 Paul chooses Benet Hunt as the opposing team captain, which, to me, is a weird choice. Benet won his way onto the show but has been in the bottom a couple of times. He is a bit of a loose cannon. It seems like a bit of a low move by Paul, who I would have expected to choose someone strong to helm the opposite team.
Instead of going straight schoolyard style, the chefs have to win a finesse test to get first pick for their teams. Paul is the competition chef--stoic and solid--and he loses the first round of the finesse test, which is supreming an orange. I am shocked, the chefs are shocked, he is absolutely shocked.
Benet picks Phil Scarfone first, which is the way to go. But Paul chooses Dennis Peckham first. What?
Paul fails at the basic home cooking challenge of trussing a chicken, so Benet wins again. Benet chooses Sebastien Laframboise. He's not Renée, but a good choice. Paul chooses Hayden Johnston, who seems like a nice guy, but he hasn't been racking up the top threes.
Cast your mind back to last week when chef Mark McEwan made fun of Dennis's "turned potatoes" (as he should have). But the next challenge is turning potatoes, and I learned that a turned potato has seven sides. Benet wins again and chooses Tania Ganassini. Paul takes Wallace Wong.
Benet wins again when he brunoises (chops) an onion and finally chooses Renée Lavallée (with Sebastien pointing to her for encouragement). Max Straczek goes to Paul's team. It's never fun to be the last one picked for a team and, yes, I would know what that feels like.
Elimination Challenge
I'm not in the kitchen, I'm not hanging out with the chefs and I'm not privy to the interpersonal relationships going on, but my dream team would have been: Phil, Renee, Wallace and Sebastien, maybe Tania. Paul chose almost exactly the opposite of who I would have, which makes me wonder if he was choosing the easier personalities, the ones who would bend more easily to his alpha male spirit?
So, on the surface, Benet has the stronger team. He chooses Lake as the restaurant name, which is fitting because the 360 Restaurant at the CN Tower is their home for the night. There is a quick clip of the chefs being forced on the CN Tower Edgewalk and before heading off to the kitchen.
Benet's team meeting is a roundtable with everyone pitching in ideas. Sebastien offers to do two desserts, which is definitely taking one for the team. Season after season, we see how dessert is the riskiest course.
Paul had a very different management style. He tells the team that the name will be Culmina, which means pinnacle in Latin. And the menu will be a Japanese-Italian hybrid because those are two cuisines that are at the top of their game. Ummm… I can't ignore the privilege that goes into that remark. All cuisines are at the top of their game, but some cuisines are more valued because of a myriad of issues that have to do with race, class, bias and patterns of immigration. Trends come and go, but that's not because one culture's food is superior to another.
I need a little Edgewalk of my own to calm down now.
Paul wants Dennis out front, even though Dennis wants to be in the kitchen. I actually agree with Paul on this one, and he doesn't give Dennis much choice.
He may not be the most conciliatory leader, but we know that Paul can cook. He makes a tamago(egg)-wrapped sushi with some Calabrian chili sauce and tortellini from scratch. Both his appetizers show a tremendous amount of "craft", say the judges.
His kitchen also has a calm vibe and the chefs communicate well with each other, but maybe not well enough because both Hayden's veal dish and Dennis's branzino are bland. Neither of them is a bad dish, but they also don't have anything that makes the judges excited. Paul did raise some concerns with Hayden's sauce but Hayden felt he was off the mark.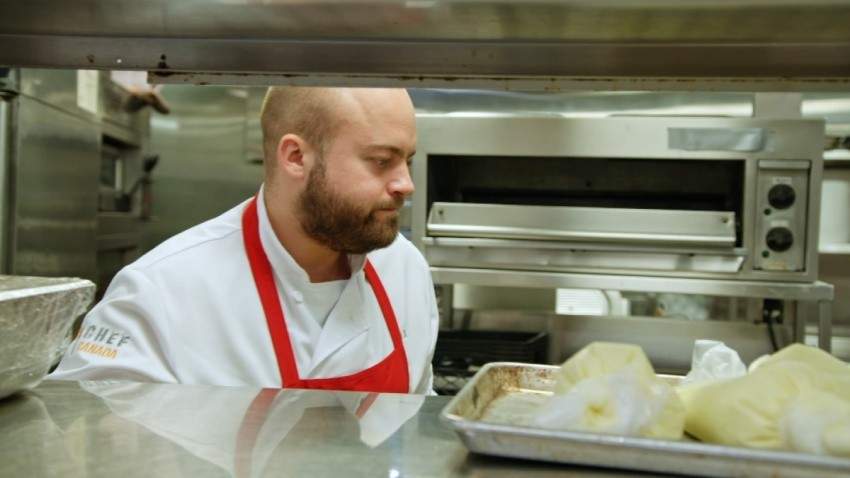 Luckily Wallace, who so far is a master of texture and flavour, makes a pistachio and umeboshi plum dessert that everyone absolutely loves. The bad news of the night, however, is Max's cheese course. Paul insisted on a composed cheese course and Max chose to make a taleggio toast with smoked Asian pear. The judges hate it. Mijune Pak cannot stop talking about how the pear tastes like butane and how the dish is amateur and desperate.
Over in Benet's kitchen, it seems a little noisier and the stress level is rising. Tania is in charge of the front of house. Eden notes how friendly and warm she is, until she forgets the judges' orders. Tania has a total brain freeze and cannot find where she wrote it down and has forgotten what they ordered. After disappearing for a few minutes, she re-emerges and walks over to the table and admits that it is her fault. Eden's face says it all, and suddenly the stronger team has one major black mark against them.
Lake's appetizers are well-received. Tania made a sunflower custard that the judges adore, and Renee's cured char is good without being great. Phil's spaghetti chitarra with duck ragu looks so good, I want to reach through the TV to eat it. The judges are euphoric over it. They like Benet's sablefish and scallops dish but it just can't compete with Phil's pasta.
Sebastien is not a pastry chef, but he definitely cooks like one. His two desserts employ some Canadian flavours, like balsam fir and sea buckthorn, with lots of great technique.
Judges' Table
At the judges' table, chef McEwan says it was the best Restaurant Wars so far. To be honest, I don't believe him, but I can't immediately recall the other ones from past seasons, so maybe he is not just mugging for the cameras.
Regardless, it is quite obvious that Paul's team has lost. The judges call out Hayden's boring veal with the one fingerling potato, but they save their disdain for Max's butane-flavoured cheese dish. The interesting thing here is that Paul throws his team under the bus. When asked if he had tasted Max's dish, he says that he thought he had seasoned chefs on his team. Burn.
The judges have to debate whether to send home the weakest chef, or the leader who allowed the weak dishes out of the kitchen.
In the end, the butane burned Max and he is out of the Top Chef Canada kitchen.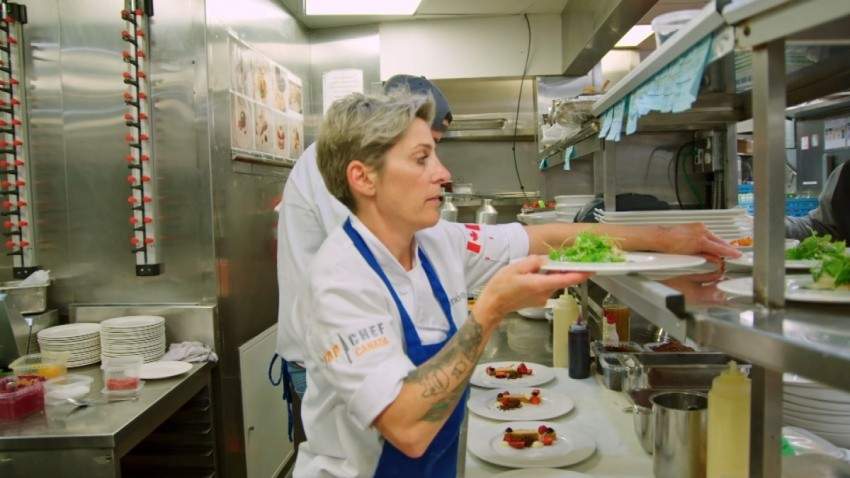 Kitchen Scraps
I would happily eat Paul's food, but I'm not sure I would be on a team with him. Paul's alpha tendencies denied his team an opportunity to play to their strengths. Benet's weaker leadership actually gave his team an opportunity to shine.
Paul hates losing, so will this be the beginning of a downward spiral or will he be back next week with a renewed sense of vengeance?
As always, I am interested in the gossip. So, I want to know: why was Renée picked second-last?
I know someone who was at the Restaurant Wars tasting and they said that there was a one-hour lag between courses from Paul's team. This was never shown to viewers, which goes to show you how little the audience actually knows about the event.
Overall, I thought this episode of Restaurant Wars was a little bit boring. How about you?