After the cheating non-scandal of last week, I was hoping for a full debrief by Wallace Wong on his feelings about being called out by exiting contestant Benet Hunt, but we don't get much, other than Wallace saying that having his character called into question was the "worst feeling". Wallace did post on his Instagram that he and Benet are still friends and he has no hard feelings. I think we will never know what truly happened.
This episode decides who competes in the finale, which means we should see the person who has underperformed the most often go home (sorry Hayden), but probably won't. The penultimate episode often has a shake-up so that the finale is not the expected strongest four. As they say, one bad dish can send you home at any time.
Quickfire Challenge
When host Eden Grinshpan announces the next challenge to the chefs, she acknowledges that they might need a taste of home and then announces that there are family members there to help them cook a dish from home. The catch is that the chefs cannot touch anything for the first 15 minutes of the challenge.
Renée's husband Doug walks in first, and she seems relieved and emotional to see him. All the chefs shed a few tears when they see their family members walk in. The other chefs, all males, have a parent join them, which leads me to assume that they are not married, potentially pointing to the demands of this show and being a chef in general. Renée's husband brought Asiago from home because it is Renée's favourite cheese.
Any keen observer of this show can guess what Paul Moran's father would bring him. That's right. It's foraged mushrooms, golden chanterelles to be exact. We learn a lot more about Paul, who grew up with a single dad and became the cook in the family because his father got home late. There is a photo of them with buckets of foraged mushrooms when Paul was a teen and you can really see the large role cooking and foraging played in making him the kind of chef we see on the show.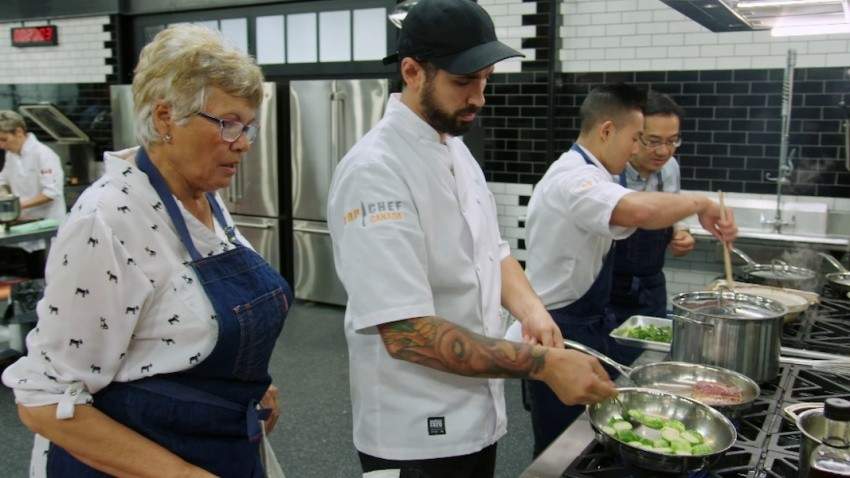 Phil Scarfone's mom Heidi brings him garlic from his father's garden. The best part is that she keeps yelling, "Phillers" at him, and seems like fun. They make a Sunday roast with a potato al forno and lots of garlic.
Hayden Johnston's mom is not that proficient in the kitchen, but we can see where Hayden gets his adorkable vibe from. She brings pheasant from their camp property, which is something they would hunt in Thunder Bay. Hayden says this is the first time they have cooked together in 29 years (as in ever), but their pheasant and wild rice soup is enjoyed by the judges.
Wallace's dad brings dried Chinese sausage. There is an interesting story here, especially if you have read Ann Hui's book, Chop Suey Nation. Wallace grew up in a Chinese restaurant with his dad in the kitchen. His dad chops garlic like a whiz as they make seafood and rice in a clay pot. You can see Wallace trying to take control to make the dish more in his style, but it all works out.
Looks like there are no bad dishes here. Judges Craig Harding and Rob Rossi--Top Chef Canada season one finalist--choose Phillers' and Heidi's dish as the winner.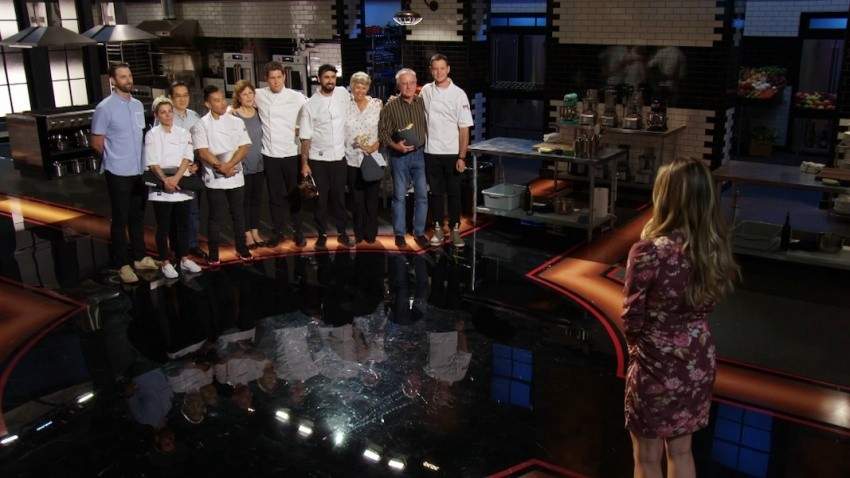 Elimination Challenge
We are off to the next challenge, where the chefs have to do a dish with a beer from Mill Street Brewery, as it's shown obviously. And I am going to have to break my own rule about mentioning the brands in these recaps.
Mill Street's brewmaster gave some tips to the chefs as they drew their beer. Renée gets the Tankhouse Ale, which she is told has a strong taste that pairs well with curry. She takes the advice and makes a vegetarian curry. She says that she is going with something surprising, but also admits that she only makes curry at home for her family and that the curry really needs a little longer to stew. She then says she is "here to cook, and to win". I cannot help but feel this is foreshadowing, only because I am a little sensitive to Renée's progress on the show.
Paul pulls the Cobblestone Nitro Stout, which has a roasted coffee overtone that matches well with dessert. Paul has an advantage because he runs a brew pub with 40 beers on tap, so he is well-versed in beer pairing. He decides to take a risk and make a dessert, but in typical Paul fashion, the dessert is savoury with parsnip and mushroom. He is very confident about his dish, saying that, "Nothing can go wrong." Does that mean it all goes wrong?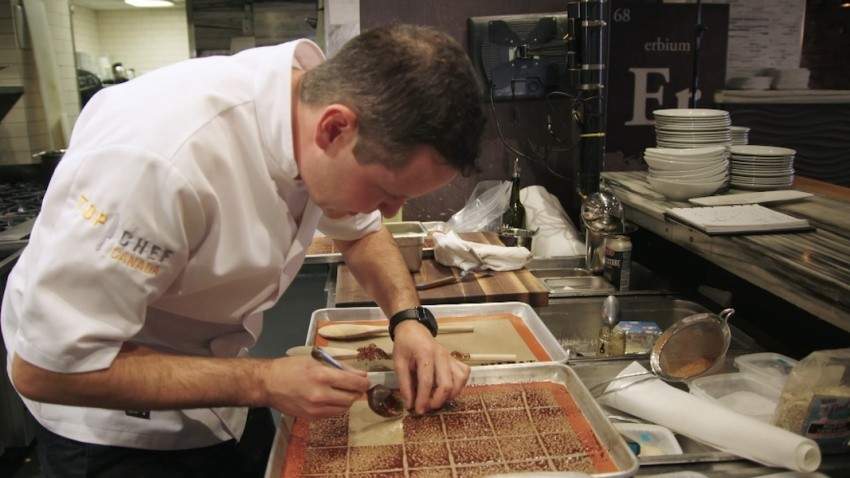 Wallace, however, is not a beer drinker, which he admits will cause some issues for this challenge. He gets the Tragically Hip-inspired 100th Meridian amber lager. The Brewmaster says it has flavours of malt and citrus, and recommends matching the strength with strength. Wallace chooses to interpret this literally and pulls the malt and citrus flavours of the beer into his dumpling dish. He says he is trying some things for the first time, but it's Top Chef Canada, so it is time.
Phil disagrees with that tactic, saying that he is there to cook, not to learn. I kind of agree with Phil, except at this stage, you can't play it too safe with your dishes, or your flavours. As the winner of the Quickfire challenge, he can choose the beer he wants. He pairs the original organic lager with sablefish on a malt polenta. It's not the first time he's made sablefish, but just as he said, he knows what he is good at--and he makes a mean sable fish.
Hayden also has the organic lager, which he says reminds him of the beach, so he leans into some Mexican flavours with scallops, black beans and pico de gallo. He reiterates that he is going to make the dish salty and spicy so that the judges go back to the beer to refresh themselves. Hayden has been known to under-spice in the past, but his commitment to spicing and the many shots of him dipping and salting makes me think that he is making a flavourful dish. I am wrong.
The judges find Hayden's scallops perfectly cooked, but the dish is bland. The promise of spicy and salty Mexican flavours does not come through, and so, the beer gets lost with the dish.
Judges' Table
At Judges' Table, the guest judge is Ian Davis who, at the time, was the chef at Band of Bohemia, the only Michelin-starred brew pub in North America. He resigned amidst sexual misconduct allegations.
Renée's curry is also not spicy enough. The Tankhouse ale overpowers her sweet curry, which Janet Zuccarini says tastes like it was made by somebody who had never made curry before.
Wallace's dish looks beautiful, but it is also a misstep. His literal take on the beer matching does not complement the beer. Instead, the flavours echo each other too much.
Phil's dish is well-received, and his sablefish is cooked perfectly, but it is Paul's dessert that has the judges raving. The buckwheat ice cream goes so well with the beer that it actually makes the beer taste sweeter. The mark of a good beer and food matching has the diners eating a bite and then taking a sip as if the two were part of the same dish, which is what is happening with the dessert.
It's no surprise that Paul's dish is the best of the day and Paul's culinary skills keep him on his steady march towards the Top Chef Canada win.
The judges have a harder time deciding who is going to leave. Is it Renée for her bad curry? Or Hayden for his bland Mexican scallops? Or Wallace for his disappointing dumplings?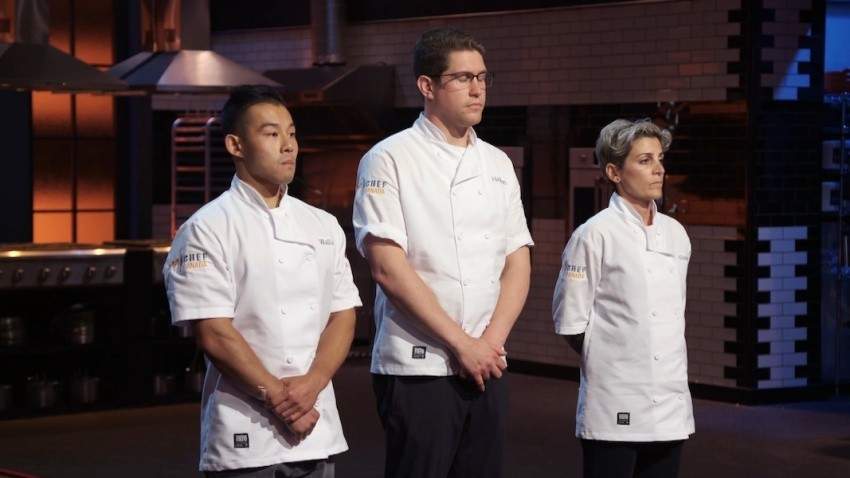 Mijune Pak says that Hayden has a chronic problem with under-seasoning and keeps landing in the bottom three because of that. To me, this means that Hayden should not advance to the finals. At this point in the show, the judges should be putting the four most compelling chefs into the finale. I know that they judge on the worst dish of the day, but I just think that is a bit of a fallacy.
It's decision time.
Booooooooooooooooooooo…
Renée is asked to pack her knives and go. I guess that means that Renée made the worst dish of the day.
And it is an all-male revue for the finale.
Kitchen Scraps
I have been #TeamRenée from day one. I am biased because I've met her a couple of times, eaten her food and really like her perspective. Generally, I am more inclined to back a woman because I think the industry, and the show, is stacked against women. I also think she had the mental toughness and skill to go to the finale and the show is lesser without her.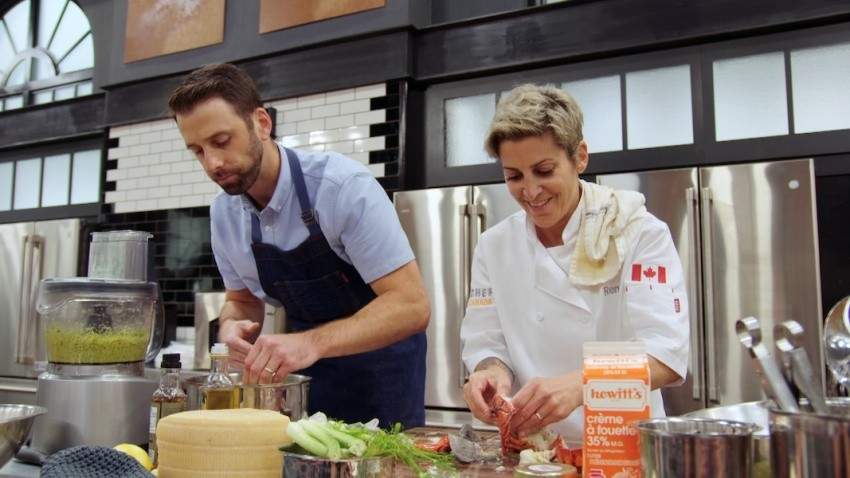 Hayden is a good chef, and Richmond Station is one of my favourites in the city. I am not discounting his talent in any way, but what I have seen on the show (which is only part of the story) does not make me think that he is ready for this competition. I think he is a lovely guy, and his knowledge and skills run deep.
Wallace is another underdog going into the finale. From what I can tell, he is not actively cooking anywhere right now, but is competing as a bodybuilder. He staged at Noma and Alinea, which shows his abilities and knowledge. I wish I could eat where he is cooking!
It looks like Paul is going to win, but I Phil's not out of the race. He runs a big kitchen and has some incredible skills.
I don't like the optics of an all-male finale, just like it was last year. I also don't like constantly writing about this, so I hope they cast more women next year (and people of colour, and indigenous chefs).