No longer just a kids' holiday, Halloween has become synonymous with "sexy dress-up day" and an occasion to show off as much skin as possible, in costumes ranging from French maids to lustful zombies. However, in Canada, where trick-or-treat day temperature frequently hovers around zero, baring skin is often impractical. What are we freezing Canadians to do?
At Eat North we know the real way to be sexy is through our appetites. These food costumes will have your mouth watering and party-goers lining up to get close to you like you're an all-you-can eat poutine buffet. Even better, all these costumes are available from Canadian retailers and offer reasonable shipping prices.
Hot Dog
As far as provocative costumes go, there is nothing more risqué than dressing up as a massive wiener. Canada-based costumechik.com sells a "light-weight adult hot dog" costume (because there is nothing more inconvenient than dragging a heavy wiener around all evening!) for $32.99.
The mustard and ketchup costumes, together with the hot dog costume, would make a perfect trio. $27.99 each.
Campbell's Chunky Soup Can
Nothing says hunky like chunky, am I right? If hot dogs are too high-calorie for you, this healthy alternative will have everyone craving your hot, lean meat. Warhol would be proud. $39.95.
Annoying Orange
If you want to party like it's 2009, you can dress up as Annoying Orange to bring back the nonstop comedy of the Internet sensation. We recommend adding extra padding to the costume to account for fights that start from yelling, "Hey! Hey! Hey!" to everyone at the party. $32.25.
Whip-It Whipped Cream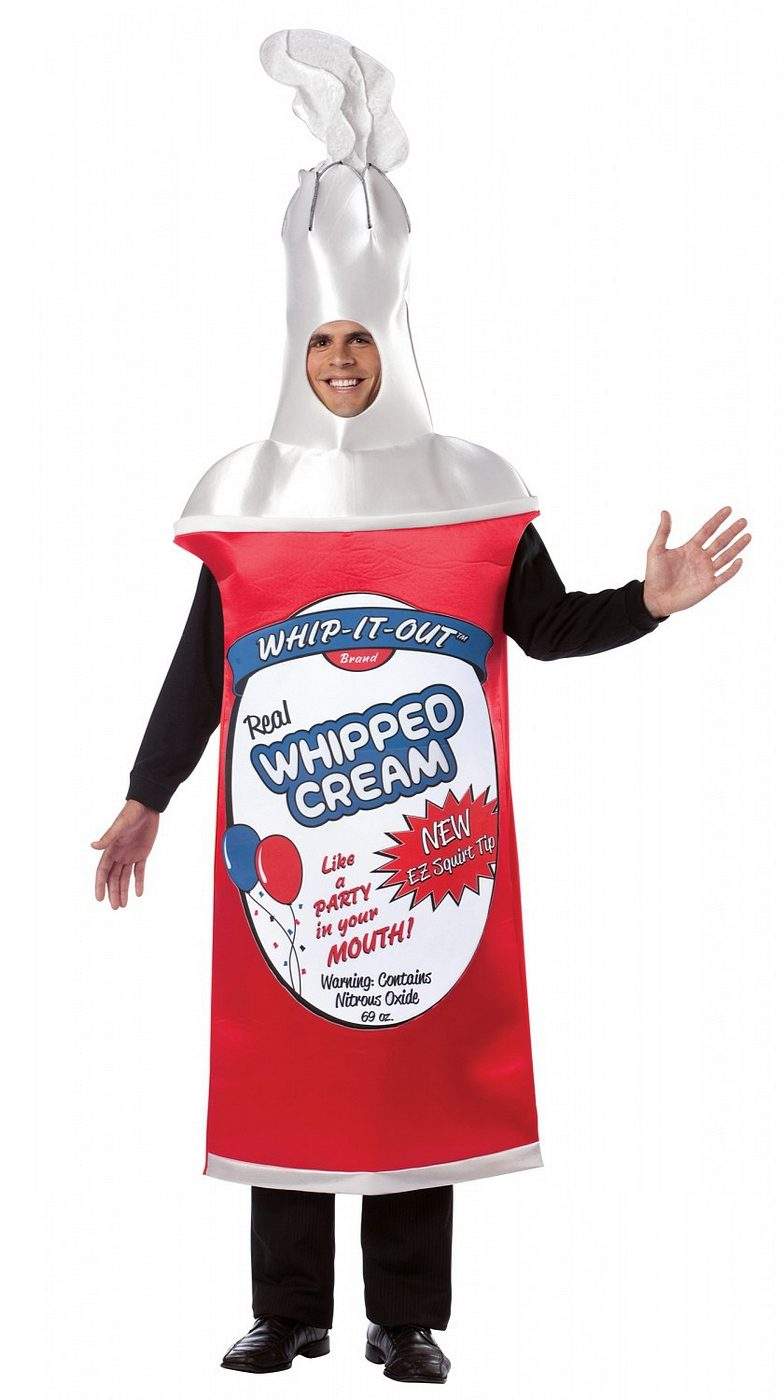 Want a way to "whip it out" without getting arrested? Whip-It Whipped Cream costume promises a "party in your mouth." Bring a couple cans of Cool Whip to the party and you'll have an evening of messy, innuendo-filled fun. $64.95
Couples Bacon & Eggs Breakfast
Couples costumes are always a hit (unless you're dressed as Chavril), and there's nothing more romantic than a piping hot breakfast. This two-piece bacon and egg costume describes how much you want to be eating each other up, which we strongly recommend saving for the privacy of your own home. $52.99.
Get Real Cheeseburger
While some little girls and boys dream of becoming firefighters or superheroes when they grew up, we kids at Eat North had childhood daydreams of growing up into big juicy cheeseburgers. Live the dream this Halloween with the Adult Get Real Cheeseburger costume. The website suggests purchasing pants along with the tunic, but pants suck, so we recommend forgoing them and showing off that hot little beef patty for an extra sexy Halloween.
Note: the reason for "Get Real" in the description is unclear, but I assume it's a reminder to get real about how we'd prefer cheeseburger trick-or-treat handouts over stale chocolate this year, amirite? $29.99.
Couples Peanut Butter & Jelly Sandwich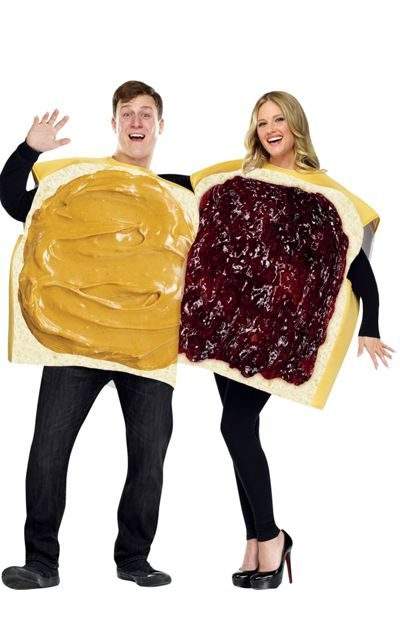 For a vegetarian-friendly couple's costume, this PB&J costume is so sexy you may find yourself in a "sticky situation." Gluten-free option currently not available. $49.99.
Banana/Banana Flasher
Due to let's-go-bananas puns, banana costumes appear to be the most sought-after food attire of the season. You can play it safe with the regular costume, or go for an extra dose of traumatizing "fun" with the Men's Banana Flasher costume that will have everyone thinking you're really gross. (Tip: pair with the couple's PB&J costume to do that "It's peanut butter jelly time!" banana dance). Banana costume: $49.95. Banana Flasher costume: $65.55.
Gobbler the Turkey
If you're still craving Thanksgiving leftovers, this golden turkey costume is a perfect choice. Party-goers will want to gobble you up in this alluring gold one-piece costume. $104.95
As a bonus, if you're going to the party with a baby, you can go as matching turkeys with the Little Turkey Bunting costume. I'm not sure how I feel about the idea of dressing babies as food items, but to put it into perspective, my mother dressed me as Jane Fonda when I was two and I turned out alright.
The description says that this costume can be re-used at Christmas, offering a two-for-one humiliation opportunity. As a bonus, the costume promises to keep your baby warm and cozy. No preheating required! $33.95.
Spam
With the promise of "a great way to start your day!" this spam costume will have party-goers falling for the emails and wiring funds to their long-lost wealthy uncle in Nicaragua. The description mentions, "convenient holes for the arms and head to fit in," which is great because it would really be unfortunate to suffocate in a spam costume. $79.95.