In her own words, Saskatoon restaurateur and chef, Christie Peters, explains how she approached creating a monochromatic ten-course tasting menu using custom coloured plates created by Winnipeg ceramicist Jenn McCurry of Pēpo Ceramics.
A rainbow of inspiration
I was really excited to bring together art and food and let the beautiful ceramics be my guide and inspiration. I tried to connect the colours to nature as much as possible and evoke a truly satisfying feeling from eating each dish. Each ceramic plate was unique and I wanted the guests to be able to taste the colour reflected in the unique and exciting flavours of each dish.
I wanted to create a lively, engaging experience for the guests that would have them on sensory overload; using not just their taste and smell, but to have them eating with their eyes and ears as I described each dish.
Grey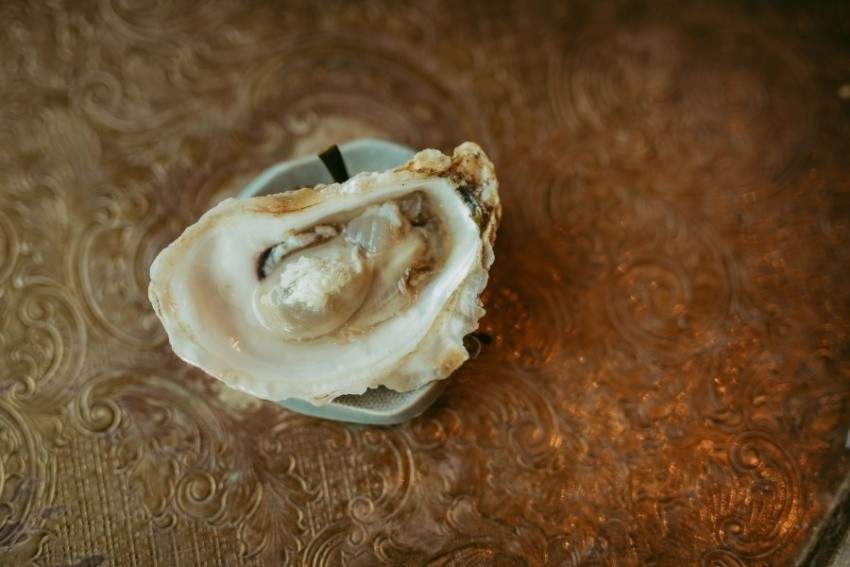 Oyster, grey salt, and horseradish.
Oysters are the perfect way to start a meal and are a delicious grey food. The fresh local horseradish connects it to the Saskatchewan land.
Green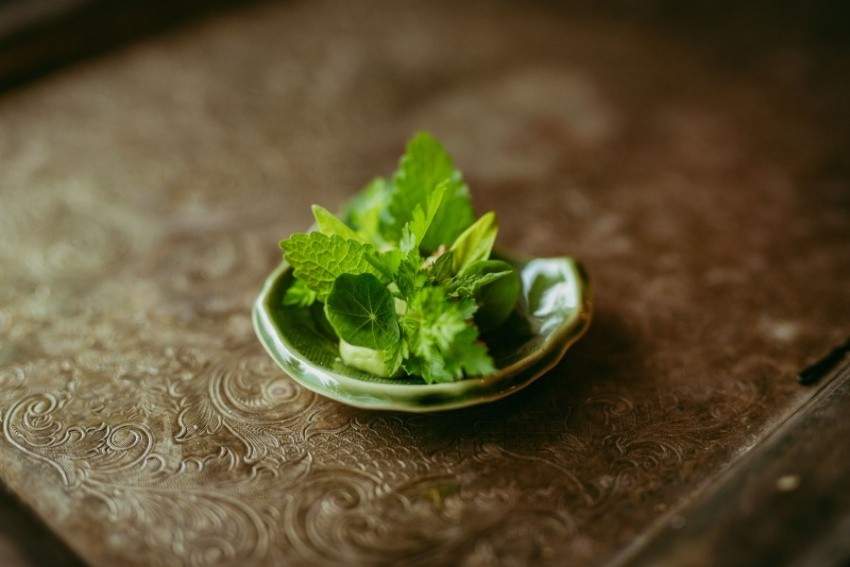 Grapefruit, avocado, avocado puree, greens, herbs, and toasted buckwheat.
This is a play on a green goddess dressing, with greens and herbs picked from our patio garden.
Orange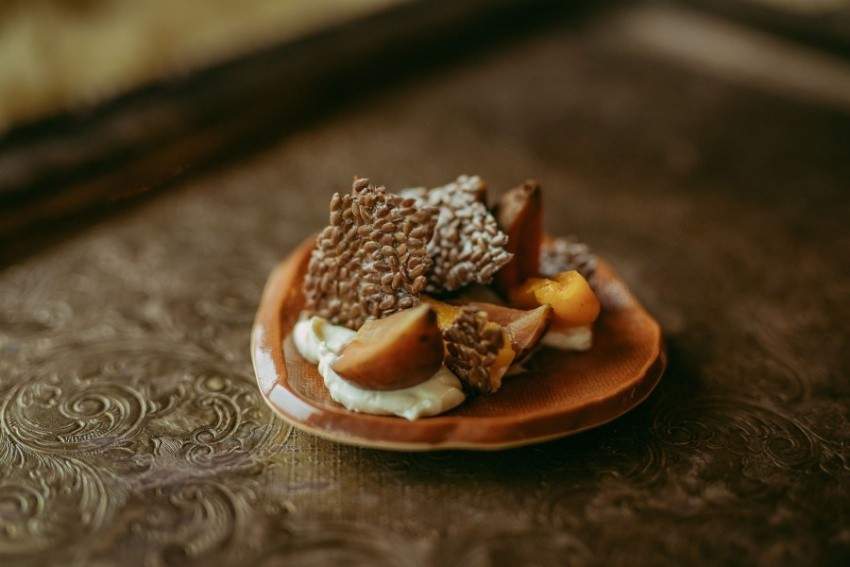 Thumbelina carrots, apricots, smoked cheese, flax cracker, and dill.
When I think orange, I immediately think of carrots and apricots. The smoked cheese adds warmth while the crunchy flax cracker ties in the terracotta colour of the plate.
White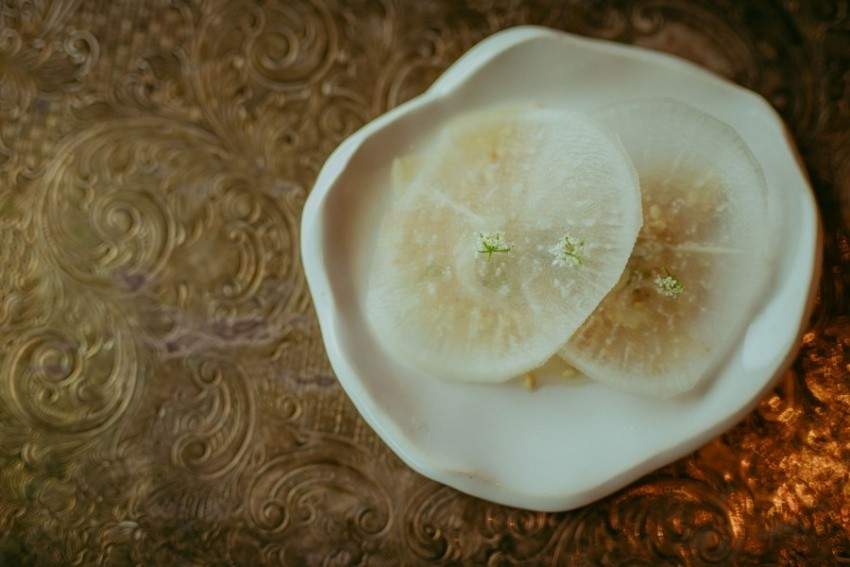 Jackfish, white soy, lemon, daikon radish, white sesame, cilantro, green onion, and white flowers.
Jackfish--one of Saskatchewan's white fish varieties--is dressed lightly in white soy, lemon, white sesame, and the thinly shaved white part of the green onion, then covered in rounds of white daikon radish with white cilantro flowers.
Red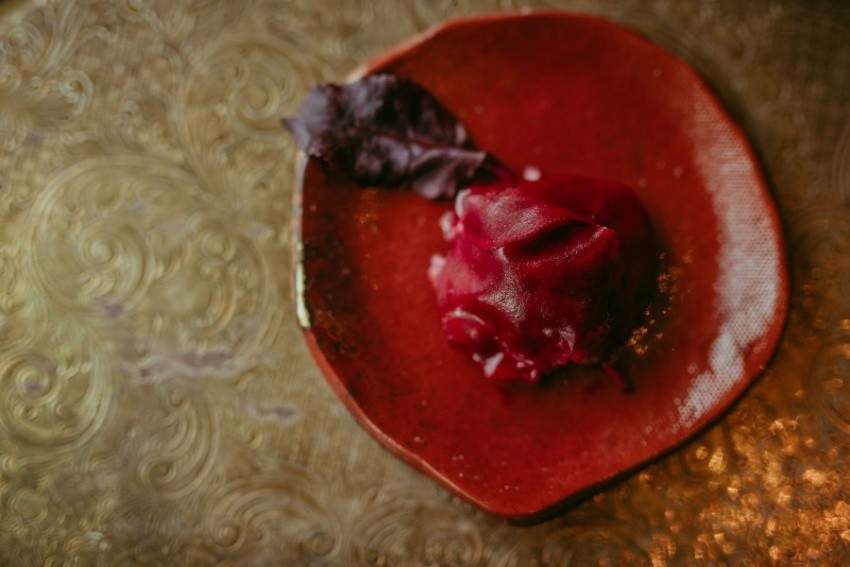 Bison, tomato, beet tartar, covered in blanched beets, and red beet thinnings.
The deep red of the bison inspired this dish. We covered the tartare of bison, tomato and chopped red beet with shaved pickled red beet and topped with a red beet leaf that was thinned from our garden. We tried to make it resemble the humble beet on the plate.
Pink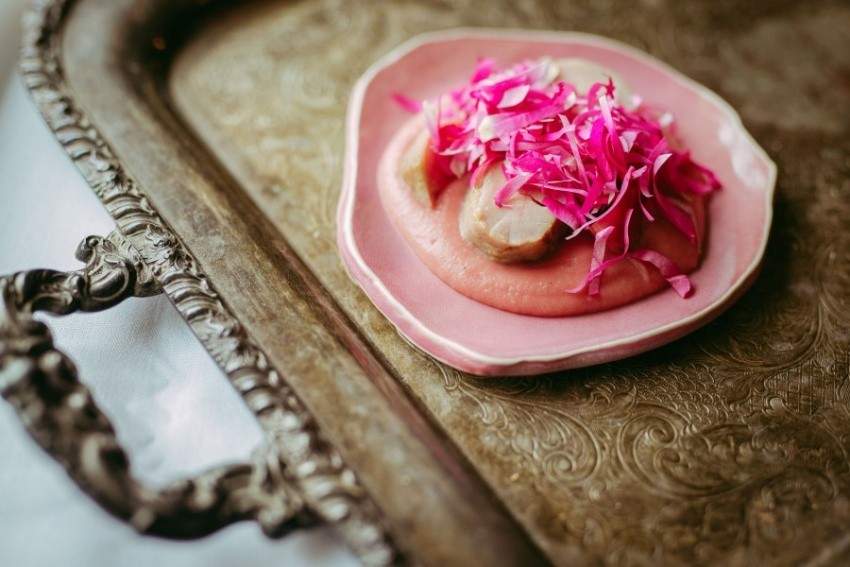 Pork tenderloin, crab apple brown butter puree, braised watermelon radish, and chiffonade wild rose petals.
All things pink: Saskatchewan-raised pork cooked to the perfect rosé, local crab apple puree and watermelon radish topped with chiffonade wild rose petals. It's as prairies as it gets. The scent of the rose petals when they hit the warm pork is amazing.
Yellow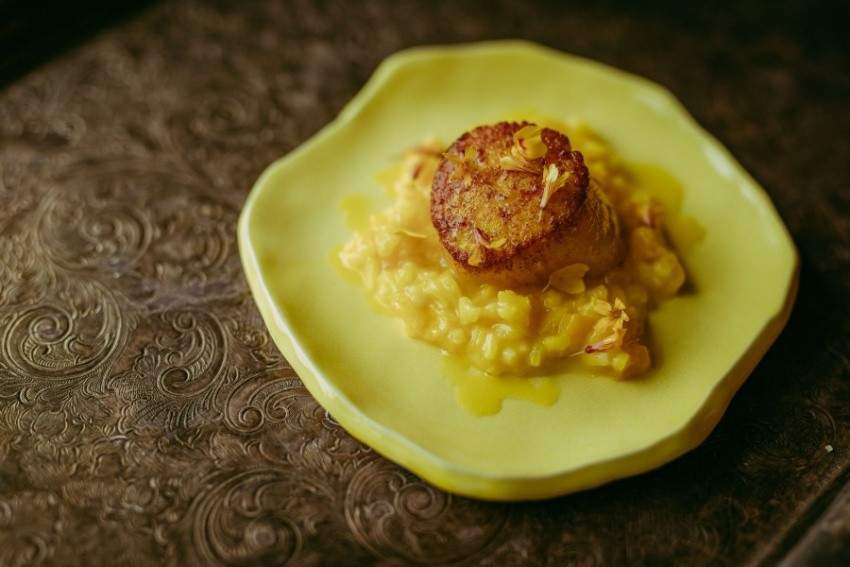 Saffron risotto, turmeric-marinated scallop, yellow peppers, corn, yellow marigold flowers, and lemon zest.
When I think yellow, I think lemon, saffron and turmeric and the perfect vessels for those flavours are diver-caught scallops and risotto finished with bright lemon zest and fragrant marigold.
Black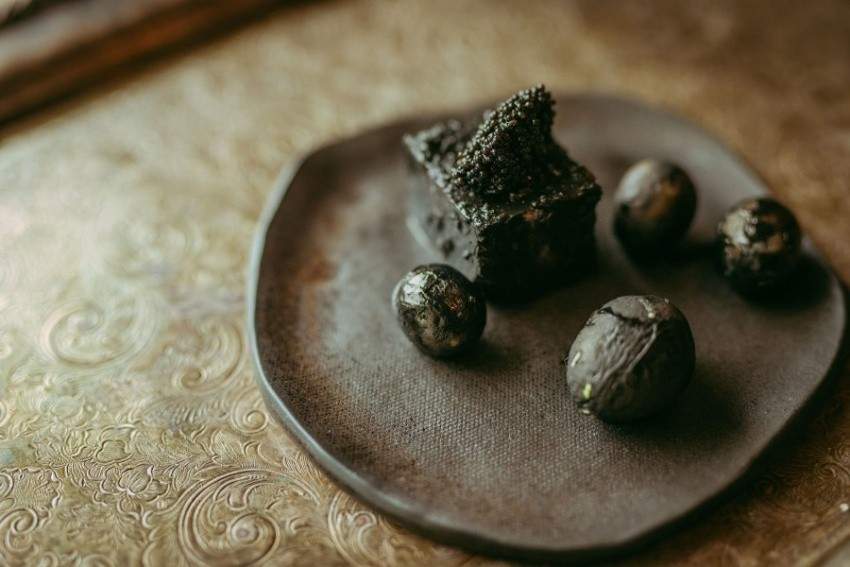 Beef brisket black charcoal, squid ink and black garlic baby potato, and black caviar.
I love black on a plate. This dish combined all of my favourite black ingredients to create a play on surf and turf with charcoal-rubbed prairie beef fresh off the smoker and topped with decadent caviar.
Brown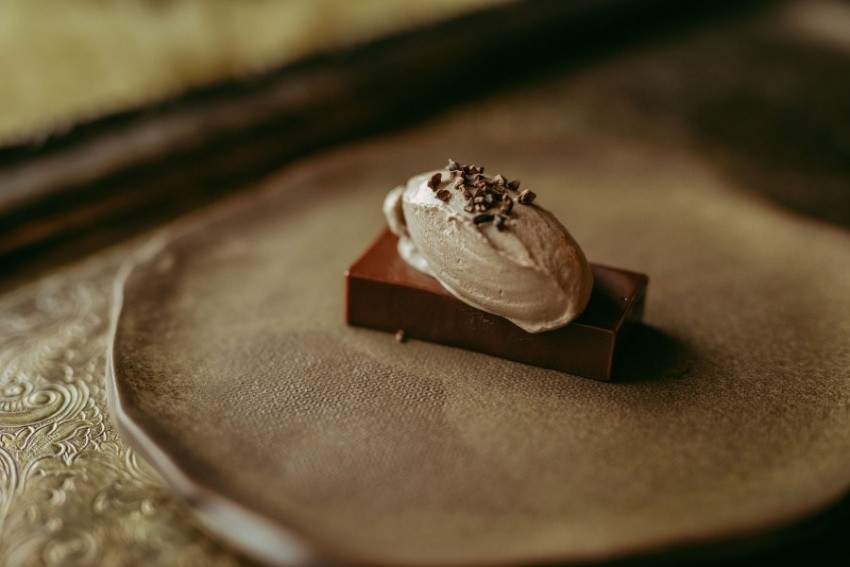 Milk chocolate pate, quenelle of mint cocoa whip, and cocoa nibs.
I am a lover of quality chocolate, so we used two different varieties of Valrhona chocolate and to lighten it up, we had a mint and cocoa-whipped cream with potent mint picked fresh from the patio.
Blue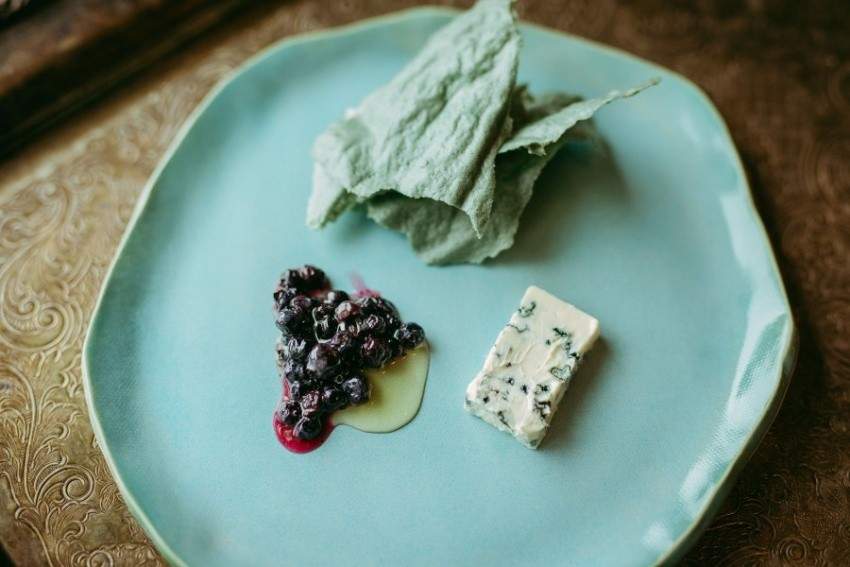 Saint Agur blue cheese, wild blueberries, honey, and blue magic cracker.
Blue foods are very elusive in nature. For the blue course, I chose my favourite blue cheese, wild Saskatchewan blueberries covered in dandelion honey and a cracker made blue by seaweed powder.