People who haven't been to Calgary during the Stampede will never quite understand just how tiring those ten days can be. Even non-night owls typically wind up out well past their bedtimes from top concerts and shows--and it's hard to ignore the siren call of the faux cowboy- and cowgirl-populated midway. And let's not forget its distinct deep-fried food scents wafting well outside the Stampede grounds. Is that a fresh-out-of-the-fryer corn dog I smell?
But, I digress...
If you're starting your morning this weekend feeling less than superb, here are a few edible ways you can get back on track to enjoy the last couple of nights of the 2019 Calgary Stampede, from epic hotdogs and pulled pork breakfast sandwiches.
Cluck N Cleaver's Mother Clucker Sandwich
When isn't it a bad time for fried chicken? This big, deliciously messy chicken sandwich from Nicole Gomes' fried chicken hotspot, Cluck N Cleaver is the perfect handheld hangover cure to pick up and eat on your way to your next Stampede stop.
The creamy slaw and pickle balance out the hot sauce on top of the golden crusted chicken breast. Smaller appetites can opt for the Lil' Clucker, which takes after its mother, naturally, but is more humble in size.
Galaxie Diner's hashbrowns
Admittedly, most things on the menu at Galaxie Diner could be filed under "hangover cures", but it's those slightly browned, just-greasy-enough hashbrowns that piled onto each plate that make this place a truly reputable greasy spoon. The gigantic Calgary Sandwich (its take on a Denver) or the equally sizeable breakfast burritos are just what the doctor ordered if you've got a big appetite in the morning.
Galaxie dishes out all-day breakfast too, so even if missed your a.m. wake-up call, at least you can still eat like it's the morning.
Hawthorn Dining Room and Bar's O.D.B. Michelada and all-day breakfast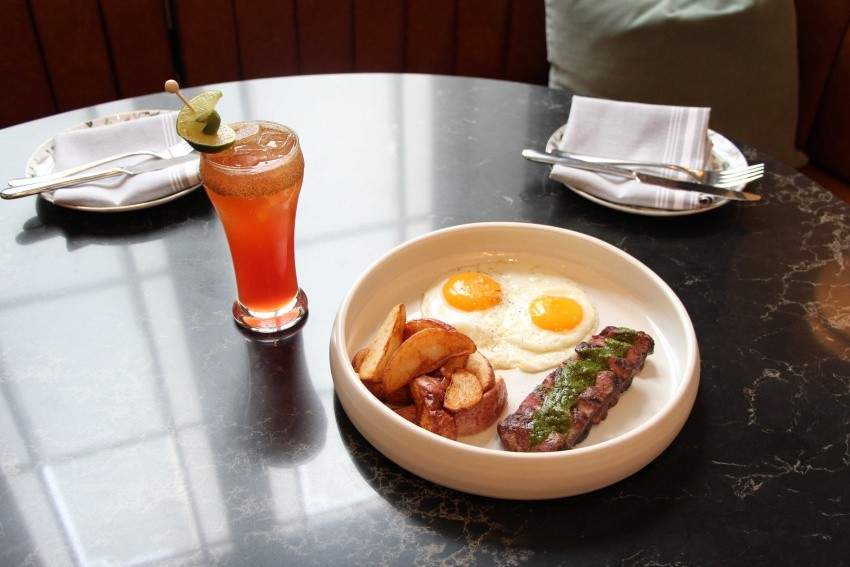 Cure that hangover in style at the Fairmont Palliser's recently debuted dining concept, Hawthorn. The interior might be extra swanky, but the service staff here offer no pretention, should you choose to tip that cowboy hat over your eyes and--politely--decline interaction. Fork into some sunny-side up eggs and bacon and sip slowly on its local version of a Michelada using their custom O.D.B. brew, which is made with day-old bread by Last Best Brewing and Distilling just a few blocks away.
Sure, you are in the land of the Caesar, but there's something a little more refreshing about a Michelada in the summer.
Rosso Coffee Roasters' pulled pork breakfast sandwich
Rosso has multiple locations around town, but if you're headed back to the Stampede grounds, you can slip into its 17th Avenue and 2nd Street S.E location. It's given its signature biscuit breakfast sandwich a bit of a Stampede remix, adding braised pork and a tangy homemade barbecue sauce to the cheese biscuit and fried egg. If you're vegan, Rosso is also serving up a vegetarian version using jackfruit.
Tubby Dog's A-Bomb
Skip the subpar hotdogs on the midway and head straight down 17th Avenue to Tubby Dog to cure what ails you. There are plenty of local favourites on Tubby's menu (that have remained unchanged since it opened almost 14 year ago), but if you're really, really hurting on a Saturday morning, then the A-Bomb has your name written all over it.
Mayo, mustard, ketchup, nacho cheese, bacon, crushed potato chips on top--what else could you possibly want to bring you back to life?
Hayden Block's eggs and smoked meat
The benefit of swinging by Hayden Block for weekend brunch during the Calgary Stampede is two-fold. Firstly, it offers a bit of an escape from the chaos that is the downtown core (i.e. a lot less rowdy folks and noise). Secondly, a generous platter of its delicious brisket along with a couple of fried eggs, crispy potatoes and toast is the perfect way to start your day off on the right foot.
If you fancy yourself a real cowboy, order a stiff whisky and coffee to go along with your meal.