The rodeo, the chuckwagon races, the music and the dancing are all iconic elements of the Calgary Stampede, but there's a more shameful experience that accompanies the Stampede: the midway foods. In past years, there's been deep-fried kool-aid, deep-fried butter, deep-fried everything really, waffle hot dogs, chocolate-covered cookie dough….the list could go on-and-on and yesterday's announcement has no shortage of ridiculousness involved.
Yesterday, the Calgary Stampede announced new midway foods for 2015 and we were both excited and terrified. We wanted to see what the experts think of some of the more outrageous new options and managed to wrangle in (see what we did there?) four chefs to get their first impressions of some of the dishes.
Kyle Groves, culinary instructor for SAIT and former executive chef at Catch & the Oyster Bar for the Hyatt, says, "You've got to love the mini doughnut sand stuff like that for sure, but I have one corn dog a year and then I realise that's about enough for me."
"Well, generally it's so bad for you," says Mel Lafleur, native Calgarian and corporate chef for One Horn Group, which includes The Libertine, The Unicorn and Below Deck Tavern. "But you always give yourself an excuse to let yourself eat whatever you want during Stampede. That's what I love about it!"
Geoff Rogers, born and raised in Calgary, moved to greener pastures (a.k.a. Vancouver) and has been making a big splash in the West Coast food scene after taking over as executive chef of Blacktail. On how midway food works into the whole Stampede experience, he says, "I think it's really just part of the experience. You could be eating whatever, really. I still think the smell of mini doughnuts will be with me forever because of the Stampede. Those things are awesome!"
Known for delivering some of best fine dining experiences in the city and a champion of using local ingredients, chef Paul Rogalski of Rouge Restaurant, sees some hits and misses with the new options, but notes the foods all have some sort of nouveau shock value.
Mini donut popsicle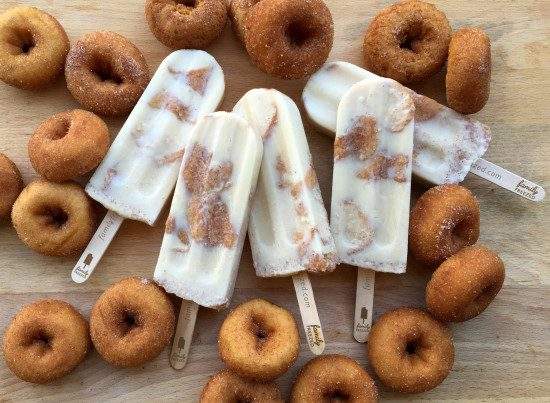 Kyle: Alright. Ha, ha. I think that actually sounds alright for a hot summer day, for sure.
Geoff: Ha, ha, ha. Oh wow. Yeah, it will be hot outside and I like doughnuts and popsicles. So, I'm in!
Mel: Huh. I would probably eat it. Yeah. If it's cold and creamy, we're good! I'd be down for it.
Dragon dog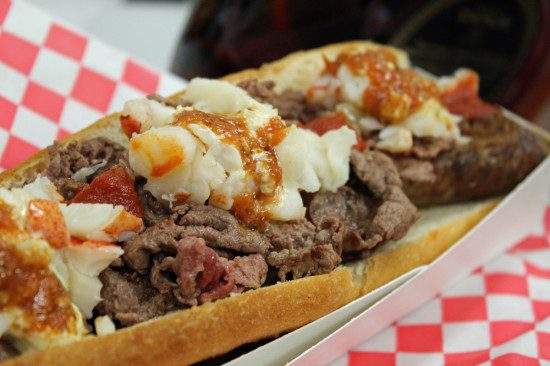 Kyle: No way, no how. Kobe beef? It's probably not really Kobe beef, and from being a Catch alumni, I'm pretty picky about my lobster, so I wouldn't have that.
G: Uh huh. If I wasn't paying for it, maybe. What's the point? You're spending that much money just to spend that much money. Just for the sake of it being expensive.
M:It's probably not worth $100, but they'd really to pull this off right. It's midway food, but it costs $100? I don't think they would pull it off on a midway. I would not pay that.
Crazy cone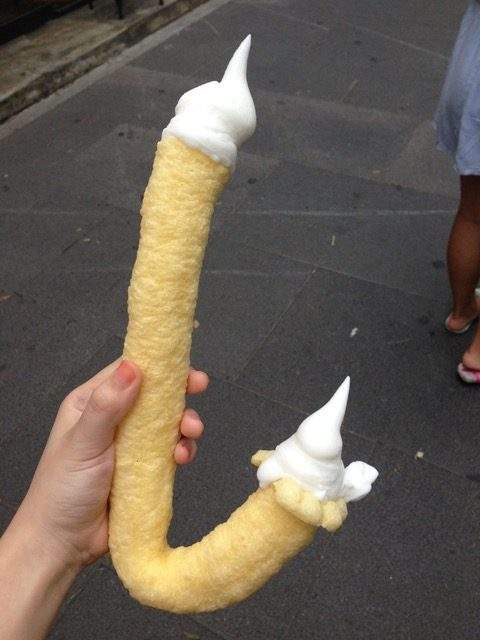 G: I'm not really hearing anything cool here. I wouldn't get it.
K: I think it's a little much. I don't like food like that. Too much sweet, so no to that one.
M: Um...if I saw the picture, I probably wouldn't want to put it anywhere near my mouth. Ha, ha, ha.
Paul: It's pretty kinky. I would definitely share it with somebody special.
Lobster corn dog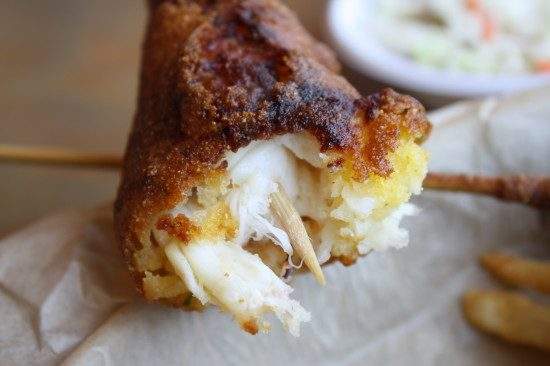 K: No, I'm pretty particular. I only have one corn dog per year and the batter is always so much and I think, "Why do I do that?" It's disgusting. I wouldnt't want to waste my one corn dog try on bastardizing lobster.
G: I'm in! I ate one in Times Square and it was fucking amazing. I'd eat one of those anywhere.
M: That's delicious! I've made those before, I would totally try that.
P: For sure, I would like to try this.
Red velvet chicken strips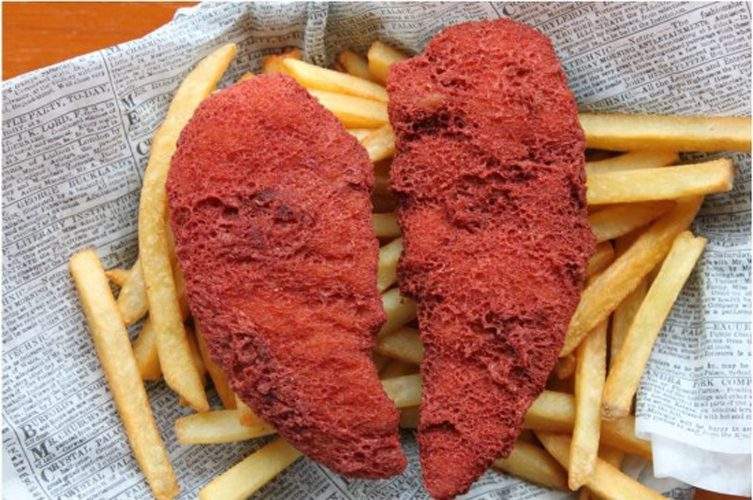 K: That's a little odd. That's not my cup of tea, definitely too much confectionary going on there.
G: Nope! That sounds like all kinds of wrong. Why would you do that? How exactly is that made? You're not going to be able to taste anything aside from deep-fried garbage. Nope.
M: WHAT?! I just don't understand why this has to do that. usually when you fry something that's red it will turn mostly brown anyway. Not worth it. Just do delicious chicken strips, maybe?
P: Sounds like a gimmick to me.
Donut grilled cheese
K: Gross. I didn't dig the doughnut burger and I don't think this will go over much better thna that.
G: Not for me. what is the fascination with doughnuts? Mini doughnuts are perfect. Nice fluffy, cinnamon. Like, get a flame grill you assholes and do something nice!
M: Absolutely! I had a doughnut burger in Portland and it was the best thing. Totally.
Red curry poutine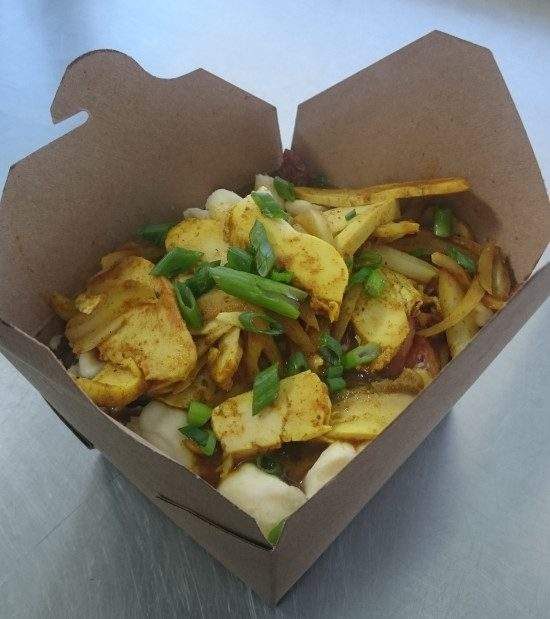 K: I could get behind that for sure. That sounds pretty good!
G: I'd probably eat that. I do like curry and out of the options so far, I'd definitely go this way.
M: Curry sauce with poutine is delicious, I would eat this.
Cactus burger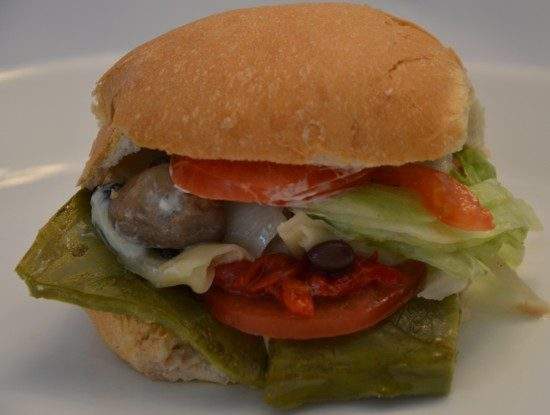 K: I'd try that, for sure. I've never eaten cactus before.
G: I think for vegetarians, sure. I wouldn't go out of my way to eat it, but wouldn't be upset if I did.
M: Interesting...I would try it, I think? I'm not going to the Stampede to eat healthy by any means, but maybe.
Fruit in the fruit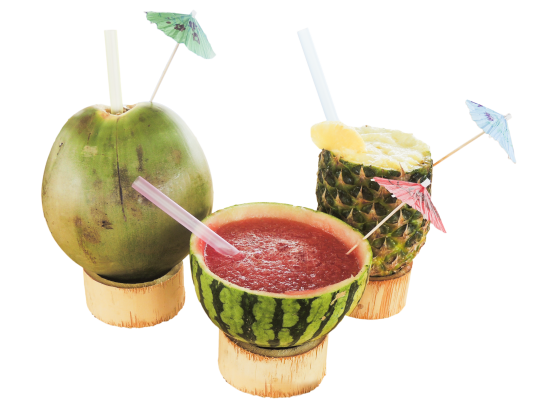 K: Almost like a smoothie sort of thing? It sounds pretty good, might be sort of weird to walk around in a cowboy hat with a pineapple, but sounds pretty good.
G: Why not, right? If I could cruise around the grounds with a giant pineapple, why not? This is the least offensive thing to me so far, for sure. Ha, ha, ha.
M: If I could bring a flask in, I would definitely hit this stand up!
Bacon Jalapeno Cheese on a stick
K: Yeah, I'd try that one. I wouldn't eat the whole thing, You can't go wrong with bacon and jalapeno, I don't think!
G: I feel like I could walk into the worst pub in Calgary and have something like this, so I'll pass.
M: Fried cheese. Check! Done and done!
Peanut butter kabob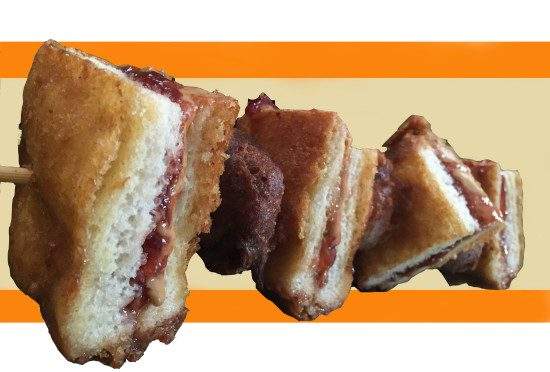 K: Sweet, merciful Christ. That sounds decadent and over the top. I would try it. Reese's peanut butter cups are my one weakness, so when you say that, you have my attention.
G: Again, this sounds terrible. I definitely wouldn't eat it. I don't know why there seems to be a fixation on peanut butter and jelly-flavoured foods this year. Although, I am kind of happy to see peanut butter coming back because it's been forced out of so many places due to allergies, but let's just try to do something interesting with it. You made it more awkward to eat.
M: That sounds delicious, along the same lines as a fried Mars bar and those are always so good. So, absolutely.
Fruit and herb infused drinks
K: Virgin mojitos? What's the point?
G: For sure. You think about the hot July sun, I'd for sure have one of those.
M: If I had a choice between these and the ones in the actual fruit, I would choose the ones that come in their own fruit.
Ogre cone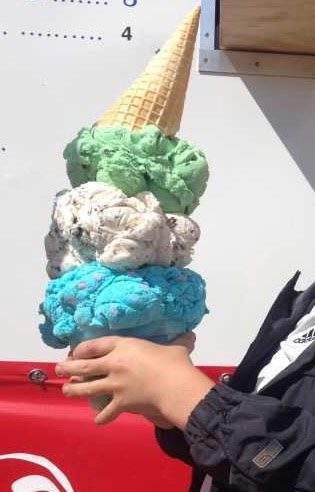 K: God, no. That is waaaay too much to handle.
G: Jamie Oliver would lose his shit. What are you going to do? Maybe if you had a big group, sure, but I wouldn't go get that for myself. It's wasteful if you don't finish it--and you couldn't--and it's gluttony at its worst.
M: So, you're walking around on the midway when it's 27 degrees out, eating melted, warm four litres of ice cream and stopping at the bathroom for the rest of your time there.
Jurassic Pork mac 'n' cheese
G: This one sounds like par for the course for Stampede. Again, I feel like I could have something like this at tons of places in Calgary already. I could go into the Pig and Duke and have this there and it would be the best one ever. So no, I wouldn't do it.
M: It will sell, for sure. If it's decently made, then it would taste good, but who knows. Pack your Imodium!
Deep-fried cheese pie
G: No. I would not eat that. I could just imagine my arteries clogging and my stomach sitting in a giant ball because of all of that fat and just the look of guilt I'd have on my face eating that too. Ha, ha, ha.
M: Anything cheese and fried, I would definitely eat.
Bourbon Street peppercorn steak poutine
G: I would do the red curry poutine first before this one, but if I was really craving poutine and couldn't find that one, then I'd eat this one.
M: Meh. I would way rather try the red curry one instead.
Biggest dog on a stick
G: Nope. I'm good on a corn dog after three bites when you realize that it's way more batter than actually dog.
M: Two feet? No way! You'd never catch me walking up and down the midway with a two-foot corn dog in my hands. I don't think that bigger is always better. Ha, ha, ha.
P: It's crazy-time phallic.
Cockroach pizza
G: I'm not into Fear Factor-style eating and this sounds like nothing I'm interested in. Leave that to the drunk dudes with their dares with their friends. That's what this pizza slice is for.
M: I get it. Eating bugs is a "thing", but nope. I'm out.
P: I bet they're crunchy, and don't have much flavour.