Today is certainly a dark day for the culinary community.
I had a brief opportunity to chat with the larger-than-life culinary media icon that was Anthony Bourdain in the most unorthodox of places: inside a garage in Wolfville, Nova Scotia. As unusual as it may sound, the social setting was one of warm hospitality following the opening gala of the 2014 edition of Devour! The Food Film Fest. Earlier that evening, and prior to the screening of one of his favourite culinary film, Eat Drink Man Woman, in the Acadia University theatre, Bourdain did a small media scrum in a room off to the side.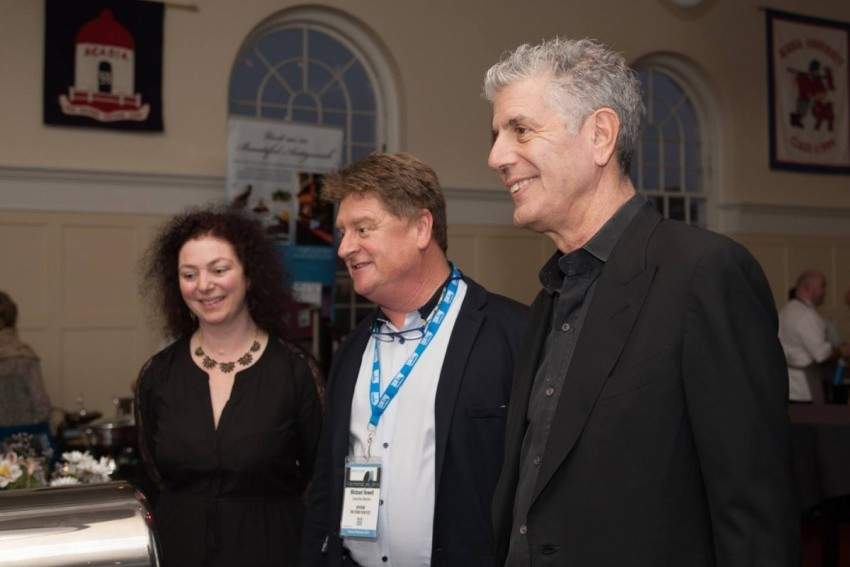 Many times, during media scrums, journalists or reporters will ask their specific questions and then drift back into conversation with a colleague or wait patiently for the question period to close. In other words, they can be boring. Well, when Anthony Bourdain is speaking in a room that holds only 30 people, I can assure you that when his deep, distinct voice rose to answer a question, every, single person in that room watched and listened as eagerly as young child talking to Santa Claus.
Bourdain was almost whimsical in nature: an individual you'd think you would never encounter in real life; and yet, here he was and in Wolfville, Nova Scotia of all places.
Back at the garage, at a private VIP party of true East Coast hospitality complete with donair (of course), Bourdain was guided through the small space, taking a few minutes to shake hands and chat with each person. I remember talking to him about his whirlwind trip to Nova Scotia (his schedule only allowed him to be here for a day or so) and going to a college in Halifax to talk with students in its culinary program. His interest in Canadian food was undeniable and watching him bite into a Halifax donair for the first time is a moment I won't soon forget.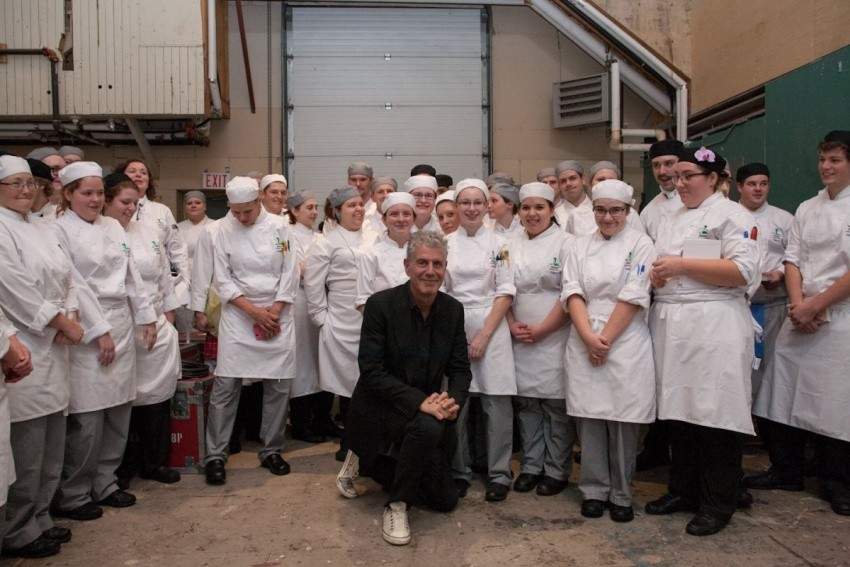 To myself and many others, Bourdain was the kind of culinary legend that I've followed closely for years and perhaps even idolized in some way or another. His all-out-on-the-table attitude into the culinary media world by way of Kitchen Confidential and then through exploratory television series like Parts Unknown made him a culinary celebrity unlike anything we had seen before. I mean, sure, the idea of a travelling food show with a captivating host was nothing groundbreaking, but Bourdain's approach certainly was. With millions of eyes on him as he travelled to unique locales like Lebanon, Saudi Arabia, New Zealand and more recently Newfoundland (lest we forget our own country can be as exotic to people on the other side of the world), Bourdain sought out to not only try the food of different countries, regions and cultures, but to try to understand it as well.
Scenes showing him delve into regional specialties (Bourdain digging into a pressure-cooked whole camel with his bare hands while in Saudi Arabia remains particularly prominent in my mind) might offer some sort of shock value to a viewer, but these situations were never, ever without purpose. To bring it all together, it was always his matter-of-fact tone to his voice, his intonation that made you believe him and want to know more. He was a worldly culinary authority like no other.
As bright, successful and exciting as certain people's lives may appear to be, you never know what battles they might be fighting on the inside. Today is a solemn reminder of that.
I am not the first, rather, just one, person in a long list of millions to say this, but rest in peace, Mr. Bourdain; and thank you for all that you have done for global food community. Whether we are cooks, chefs, restaurateurs, writers, regular food-obsessed fans or otherwise, we are all the better for it.