Back for its second year, Shake, Stir and Strainbow is a fun Pride-themed cocktail campaign that kicks off today in Calgary and involves 70 restaurants and bars across the city. From Aug. 12 - Sept. 2, establishments such as Alumni, Pigeonhole, Anju, Cannibale, Ten Foot Henry, Proof, Donna Mac, Raw Bar, The Derrick and many more will be featuring vibrant and Pride-inspired cocktails that will see $1 from each cocktail sold donated to Skipping Stone Foundation.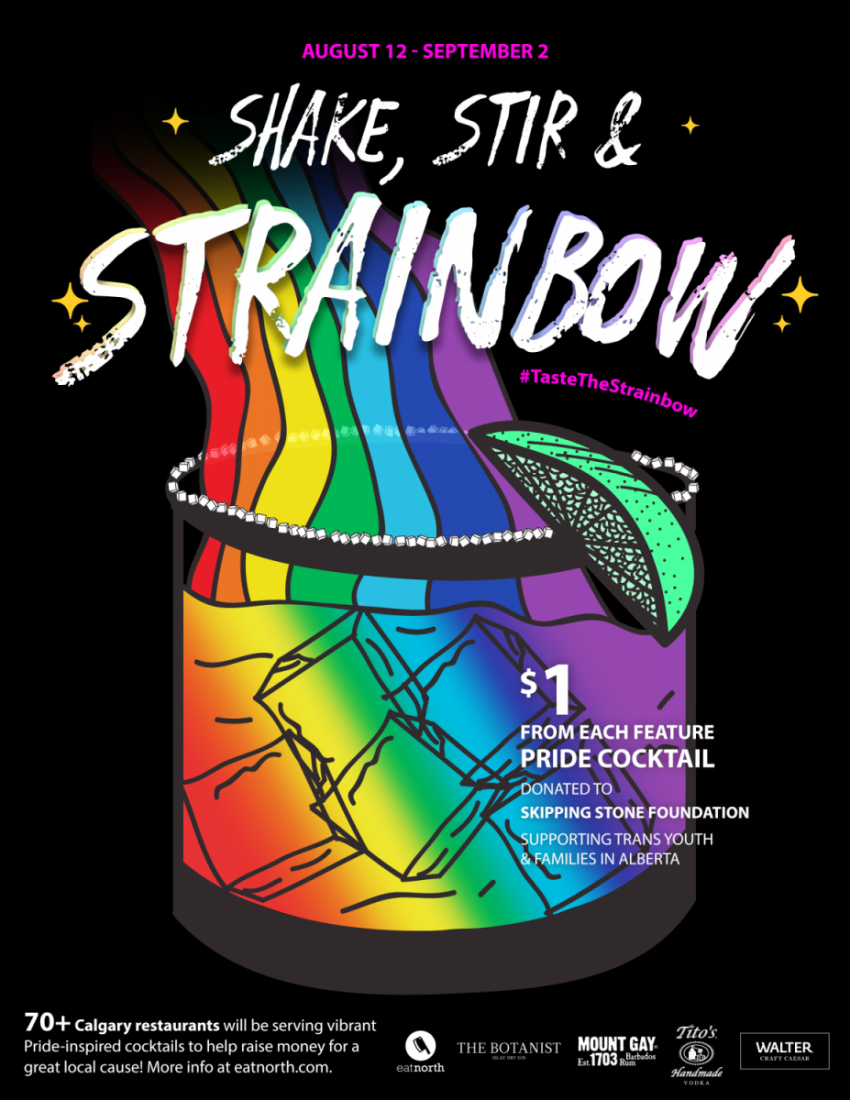 The Calgary-based foundation was launched in early 2018 by Lindsay Peace and is an organization that "focuses on supporting and empowering gender-diverse and trans youth and their families across Alberta". Outside of regular community-building events, Peace's charity also provides support to youth for mental health and medical transition-related service. With 70 participating business on board in the Calgary area for the 2019 campaign (which has also been extended to three weeks from two) the initiative has doubled in size and Peace says she's honoured to be the beneficiary for a second year in a row.
"We're thrilled and honoured to be back as the recipient charity for the 2nd annual 'Shake, Stir and Strainbow'. It is a really challenging time for trans youth right now. They're facing a lot of uncertainty and often adversarial experiences. This project sends a clear message to them that there's a huge army of supporters behind them who see them, value them and want to celebrate them," says Peace.
Clockwise from top left: Ten Foot Henry, Gorilla Whale, Cannibale, The Derrick and Donna Mac are just a few of the great local restaurants taking part in the 2019 Shake, Stir Strainbow! fundraiser campaign.
Participating restaurants and bars were tasked with using either Mount Gay rum, The Botanist gin, Tito's Handmade Vodka or Walter Craft Caesar mix to create their fun Pride-themed cocktails for the three week campaign that wraps on Sept. 2, the same day the Calgary Pride festival comes to a close.
The campaign will kick off officially this afternoon at Anju, and general public are invited to come down to the restaurant between 4:30 and 6 p.m. to order select participating cocktails that will be available on-site from Lulu Bar, Bridgette Bar, Pigeonhole, Model Milk and, of course, Anju.
"Concorde Group is thrilled to take part in the second annual Shake, Stir & Strainbow event," says the restaurant group's beverage director, Stephen Phipps. "Not only is it a chance to flex our creative flair, it also helps us support the LGBTQ+ community and help make Calgarians aware of the good things Skipping Stone Foundation is doing."
Tomorrow, we will share a comprehensive list of all participating 2019 Shake, Stir and Strainbow establishments. People are encouraged to use the social media hashtag #tastethestrainbow when sipping and celebrating Pride season with these festive cocktails in support of Skipping Stone between Aug. 12 and Sept. 2!