Last summer, I spent an afternoon and evening in my friend's mother's home, watching, learning and helping prepare a smattering of Persian dishes. The point was to get a look inside a traditional Persian home, hear their family stories and learn about delicious dishes like Fesenjoon, a stew made with pomegranate, walnut and chicken. A dish featuring pureed walnuts, pomegranate paste, turmeric was new to me, familiar to my friend and her family, but equally delicious to us both.
Vancouver's new In My Kitchen culinary experience company doesn't currently extend outside of its metro area, but if it was to expand to Calgary, the home of my friend's mother, Hengi Zarafshan, would certainly be an idyllic place to start!
Just launched this month by founder Paula Mohammed, In My Kitchen sees a variety of passionate home cooks from different cultural backgrounds offering up their homes for hands-on dinners for small groups of guests. You can learn the ins and outs of comforting Japanese cuisine in the Mount Pleasant one week, then skip over to The Drive another weekend to delve into homestyle Swiss cooking.
The immersive at-home workshops provide guests (the dinners max out at six diners) with recipe booklets, shopping lists and recommended markets to pick up specialty items, so they can recreate the meals in their own homes. The full experience lasts about four and a half hours at an all-in cost of $125.
"My parents came from very different backgrounds, so I grew up with a rich diversity of cultural influences from India, Japan and New Zealand," says Mohammed.
"In our family kitchen, the different traditions, recipes, and stories mingled together to create meals that were fun, inspiring, and memorable. I started In My Kitchen so people could share their stories, traditions, and recipes. I wanted to bring people together to explore new flavours, new dishes, new cultures and create lasting memories together."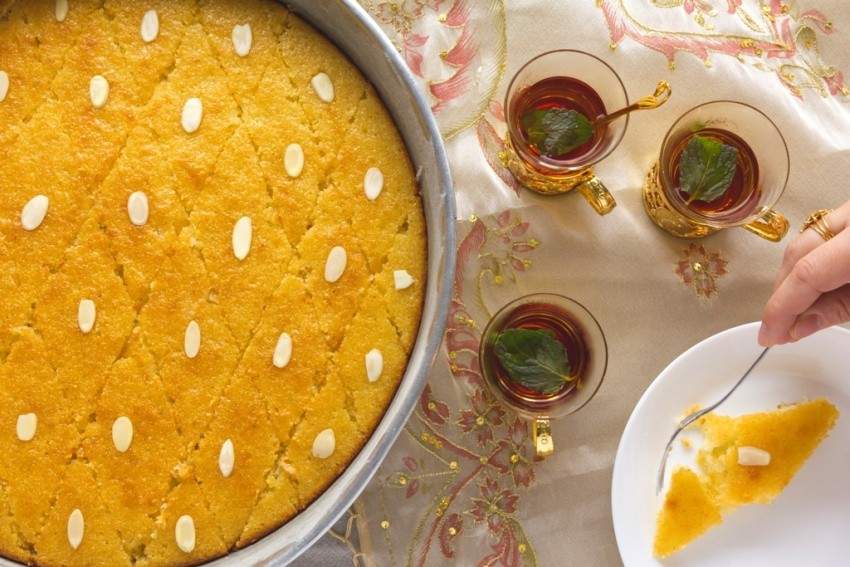 Harissa cake with almonds is one of the many comforting Arabic dishes people can learn about in Suha's home.
One of Mohammed's hosts, Suha is set to offer her first in-home hands-on dining experience on April 21st and seems especially excited to immerse guests in the ways of Arabic cooking.
"In the Middle East, it is very common to have large groups of friends over to share in a meal. [This] has allowed me and my family to open our home to groups of people that we may not normally meet through our normal social circles," says Suha. "Sharing our traditional recipes, and preparing and eating an Arabic meal together has allowed both my family and our In My Kitchen guests to intimately experience [our culture] in a totally unique way."
The company's debut roster features four home cooks peppered around Greater Vancouver, but already has ambitions to expand if you are or know of a talented home cooks who would be willing to welcome hungry Vancouverites into their homes.