Just over four years ago for an April Fool's Day joke, I partnered with a local Calgary restaurant, The Coup, to write an article announcing that they were launching a vegan charcuterie storefront. Once the story was released, an unexpectedly amount of local interest arose, immediately followed by anger (I am still sorry, vegan readers). All's fair in love and war and April Fool's jokes, I say.
New #vegan fare in #yyc? Check out @themeetshop a meat free charcuterie shop: http://t.co/ZIQGLMKvs3 @AvenueMagazine pic.twitter.com/h2YejpJCgO

— Tourism Calgary (@TourismCalgary) April 1, 2014
Fast forward to 2018 and meat-free meat shops are no laughing matter--quite the thriving opposite, actually. Victoria's The Very Good Butchers is a popular purveyor of vegan "meat" products, as is Toronto's plant-based butcher shop, YamChops ,and Vancouver's Blue Heron is the country's first plant-based cheese shop. Now, in Halifax, local chefs Lauren Marshall and Brandon Levesque have just launched Real Fake Meats, the first plant-based protein company of its kind on the East Coast.
If Marshall's name rings a bell, it's likely because the chef helped to open the popular vegan eatery, enVie (in Halifax), as well as appeared on Top Chef Canada Season 4.
A long-time vegan chef, Marshall was cooking dinner with Levesque one night for her partner and their friends. They were playing around with a plant-based fish 'n' chips recipe and after some rave reviews, they felt like they had really tapped into something special, she explains.
"We had been cooking in the kitchen together for months, always playing around with different recipes. Since Halifax was really missing a plant-based butcher, we would be doing the city an injustice if we didn't start something up right away," says Marshall happily.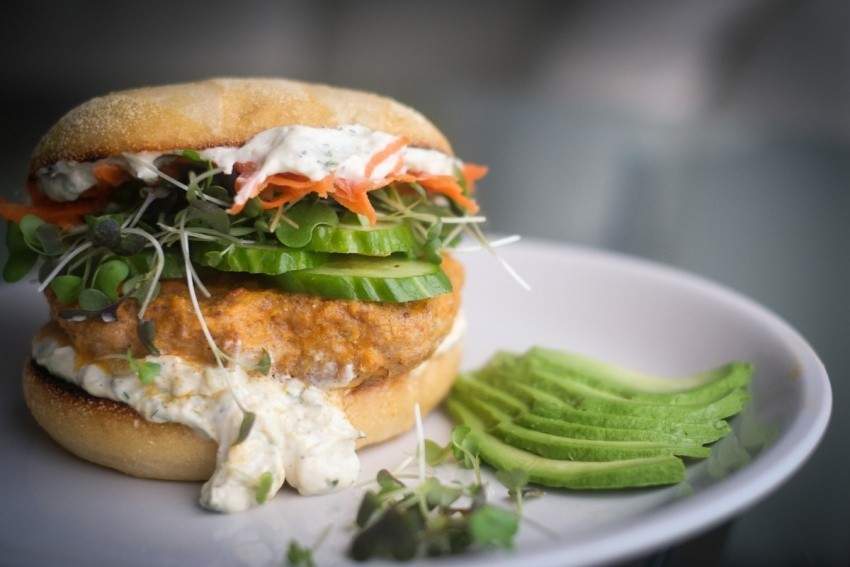 Their company currently operates with a butcher box system, where interested individuals can purchase either its standard or gluten-free box and pick it up at different locations in and around Halifax. Boxes include chefs' creations like "dontair" (donair made with seitan), "bakon" (Montreal steak spiced seitan strips), tofu and ground chickpea fritters (think meat-free chicken nuggets) veggie burgers, cashew-based cheeses and even a vegan variation of the city's most beloved condiment: donair sauce.
The first batch of boxes is already sold out (they did so in less than two days), but a second wave is currently available for pick-up on May 26. Marshall says they are going to perfect their model locally and get into a good groove before beginning to ship Real Fake Meats products country-wide, as well as offering a monthly subscription service to Canadians, and hopefully open a storefront somewhere in the Halifax area by the fall.
"Fake meat is no longer a funny joke; its our future," says Marshall adamantly.