Less than a year after its launch, Halifax-based vegan food box company, Real Fake Meats now has a real storefront, a real lunch counter, and even a very cool "real fake" telephone. With their soft opening only hours away, everything at Halifax's first plant-based butcher shop is nearly ready to go, with one small glitch: not one person (including me) is paying attention to the "closed" sign on the door.
"It's hard to get anything done," says owner, chef Lauren Marshall, cheerfully. "I probably should have put paper on the windows."
I have the chance to ask Marshall only one question ("Do you call yourself a vegan butcher?" Answer: "I do now!"), before the door opens. It's her landlord, making some last minute checks. Two minutes later, another visitor arrives—Gary Crandall, a food box customer, here to collect some artichoke dip topped with fakon (bacon-like seitan) bits.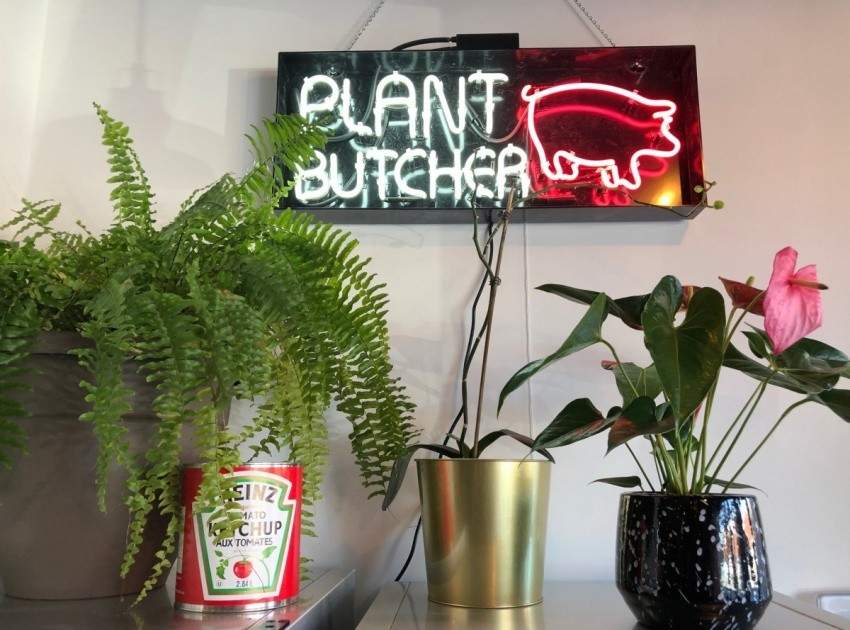 Real Fake Meats has the energy of a party that is ready to start. Inside, a contractor pastes a huge poster of the somehow already-iconic orange Real Fake Meats Logo, designed by a friend of Marshall's. Although everything looks modern and fresh (RFM is one of the first retail tenants in a brand new building), the small shop has the warm atmosphere of a country kitchen.
"You couldn't even get tofu here 20 years ago," says Crandall, whose family recently transitioned from vegetarianism to veganism, and was part of the generous crowdfunding effort that helped Real Fake Meats come to life.
"I get a lot of pleading emails from people," says Marshall, "saying, 'I just transitioned, I don't know what to do, and I need you!' because people are used to the old Nova Scotian way to eat, the same as I grew up: meat and potatoes."
Despite a loyal and passionate following of plant-based food lovers in Halifax, Marshall says that there are some plant-based enthusiasts who aren't keen on fake meats and cheese, but she accepts that everyone has different tastes. "You don't need fake meat to survive as a vegan," she admits, "but it's fun."
I sample some cranberry dill cream cheese, along with roasted garlic boursin, slices of turkey, fakeon, and some wildly authentic, sophisticated blue cheese. The cream cheese is cashew-based, made using rejuvelac, a starter made from fermented quinoa seeds. It's a far cry from boring old spreadable tofu, and has a texture and tang that is exactly like real cream cheese.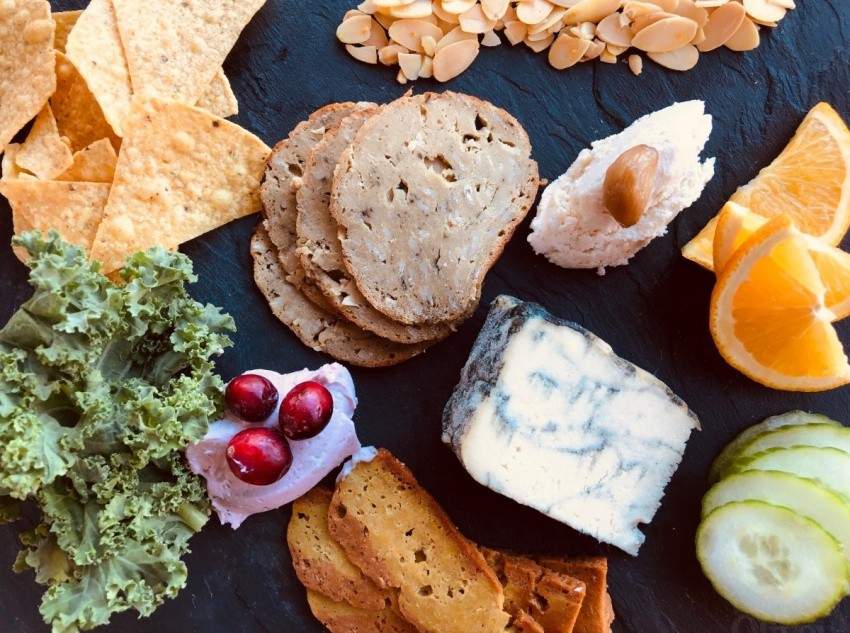 As well as the food box program, Real Fake Meats will sell to-go lunch items such as grilled cheese and tomato soup, and chicken salad sandwich and donairs. There will be a four-seat counter overlooking Gottingen Street for those who want to stay a while, and a small cappuccino machine, serving local Java Blend roast coffee.
"There are extra things I want to do," adds Marshall, "like doing a vegan supper club once a month, or once every two months." The format, she thinks, might be similar to the popular Balance and Brunch pop-ups at the Tare Shop (Halifax's zero waste café).
The next "Hello" at the door is from Lara Cusson, who recently opened the Café Lara on nearby Agricola Street. Cusson has plans to use RFM cheeses for her grilled cheese sandwiches, started as early as next week. She has dropped by to see how everything is going for Marshall, in advance of the opening.
As Cusson and Marshall chat, another couple taps on the glass next to the "closed" sign. They have a very cute baby in tow, and they're all wearing Real Fake Meat branded toques. "Oh, that looks like my brother and sister!" says Lauren, rushing to the door again.
Marshall says her biggest fear on opening on Friday is that she won't have enough food, "We'll just sell out and I'll have to close for two days and re-stock."
Judging by the popularity of the place so far, it's a realistic concern, but, as they say, not a bad problem to have.
Real Fake Meats opens (for real) on Friday January 4th, at 2278 Gottingen Street, Halifax