Since competing together on the fourth season of Top Chef Canada, acclaimed chefs Lauren Marshall and Dawn Doucette have both continued to innovate and inspire Canada's culinary landscape.
After helming the kitchen at EnVie for two years, Marshall--a trained chef from the Culinary Institute of Canada--founded Real Fake Meats in December 2018, providing a variety of plant-based meats, cheeses, soups, salads and sandwiches to Halifax's vegan community.
Doucette has spent the majority of her cooking career serving as a culinary development chef for the likes of Caffe Artigiano, Saltlik, TownHall, and Earls Restaurants. More recently, she opened the highly anticipated Douce Diner in North Vancouver, which specializes in breakfast sandwiches, benedicts, and classic breakfast plates.
On January 25, the two chefs will reunite in the kitchen for the first time since 2014 for an evening of East Coast vegan cuisine at Doucette's Douce Diner.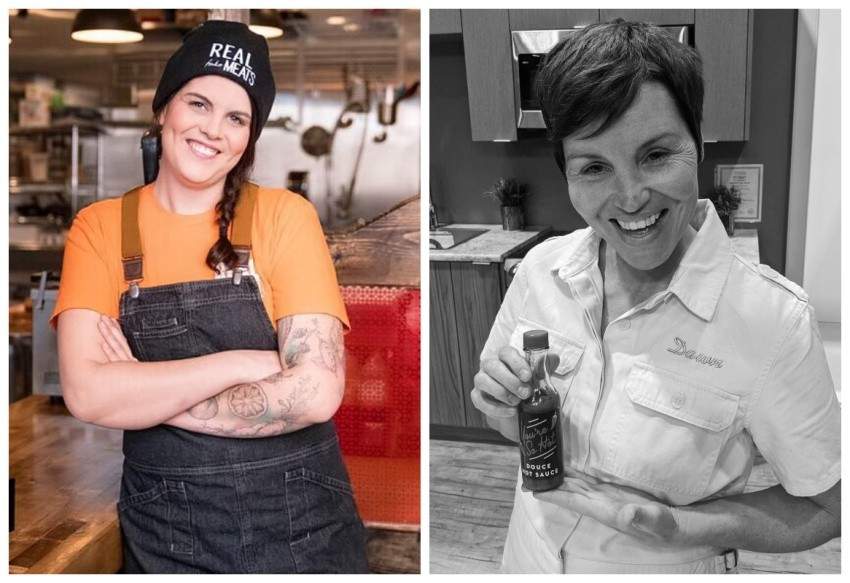 "With Real Fake Meats, I wanted to always be able to show people how fun being a vegetarian or vegan can be. Since our space is small and not quite a restaurant, I like to take RFM on the road. My sous chef Gwen Forrestal has now been with me for a year and I wanted to take her on a food adventure," chef Marshall says. "Dawn was the first person I thought of as I sneakily knew her diner wasn't open in the evenings. I immediately reached out to her and she was 100 per cent game. I can't wait to get back into the kitchen with Dawn and make some magic with her and my sous chef!"
Guests will be treated to a handcrafted five-course vegan culinary experience, conceptualized by Marshall and brought to life with the help of Doucette and Real Fake Meats sous chef Gwen Forestall.
"I love bringing people together, especially when it involves great food," Doucette adds. "I am super curious about vegan foods and cannot think of a better chef to collaborate with. Lauren brings so much to the table with her passion and knowledge."
The Real Fake Meats dinner will have two seperate seatings on January 25 at North Vancouver's Douce Diner. Tickets are priced at $65 per person. Menu details will be revealed on the event's Facebook page in the near future.