This week, rising Calgary-based singer-songwriter, Ellen Doty announced a collaboration with the award-winning Monogram Coffee in support of the Calgary Drop-In and Rehab Centre. Beginning on December 8th, $5 from every bag of Monogram Coffee's Favourite Sweater limited edition roast will be donated to the city's drop-in centre. Doty was very much hands-on in the roasting and packaging process with the Monogram Coffee team and soaking up every minute of it.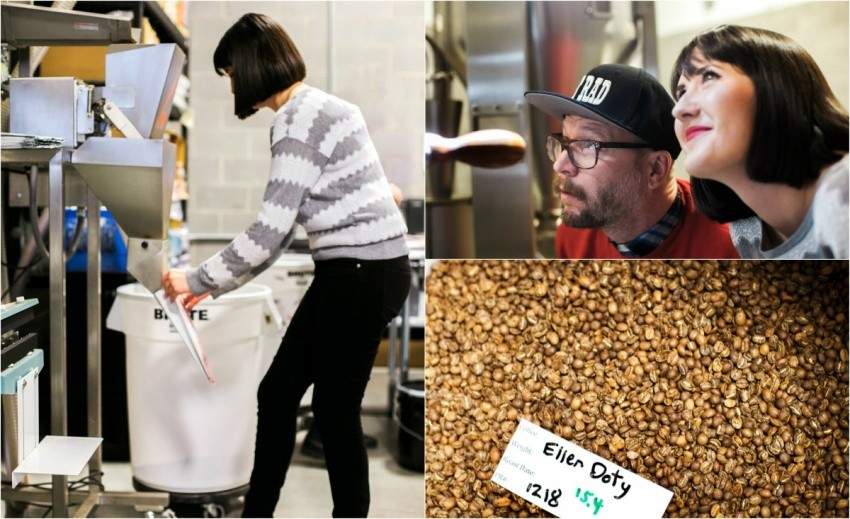 To further encourage the cause, with every bag, people will receive a free early bird download of Doty's heartwarming single "Favourite Sweater", a duet with Danny Vacon of The Dudes (pictured above with Doty). An acoustic version of the song was initially released in December, 2016 and saw its sales proceeds also went to the drop-in centre. Both the collaboration and cause are both very near and dear to Doty's heart, as the singer is just as passionate about building and supporting the community in Calgary as she is about its food and drink scene.
"As a hustling musician, I spend a lot of time working in coffee shops and from the benches of Monogram, I answer emails, book shows, write song lyrics, and dream about the future," says Doty, happily. "In the last two years, a lot in my career has changed, but the location hasn't. I still love spending long days at Monogram...The staff and owners have been some of my biggest cheerleaders: coming to my shows, playing my music over the speakers, and welcoming me through the doors every time I come in."
Earlier this fall, Doty signed with Alma Records, a Toronto-based label for her forthcoming album, Come Fall, which will be distributed by Universal Music Canada and has a tentative release date of March 2 , 2018.