With autumn and, more importantly, Oktoberfest, just around the corner, the Fraserhood neighbourhood spot Bells and Whistles has decided to go all out in a German-theme to celebrate both its first birthday and the European holiday.
The contemporary sports bar will unveil its temporary Wunberbar look, menu and beer list on Friday, September 21st. Owners James Iranzad, Josh Pape, Nick Mille and executive chef Alessandro Vianello say they have had fun reworking things at Bells for the pop-up, which will run for two and a half weeks, ending on Sunday, October 7. German-style beers like dunkel and hefeweizen from both local brewers and international brewers will be available on tap and will include Alberta's Fahr Brewing Hefeweizen, Vancouver's Strange Fellows Pilsner, as well as Munich's Paulaner and Hacker-Pschorr.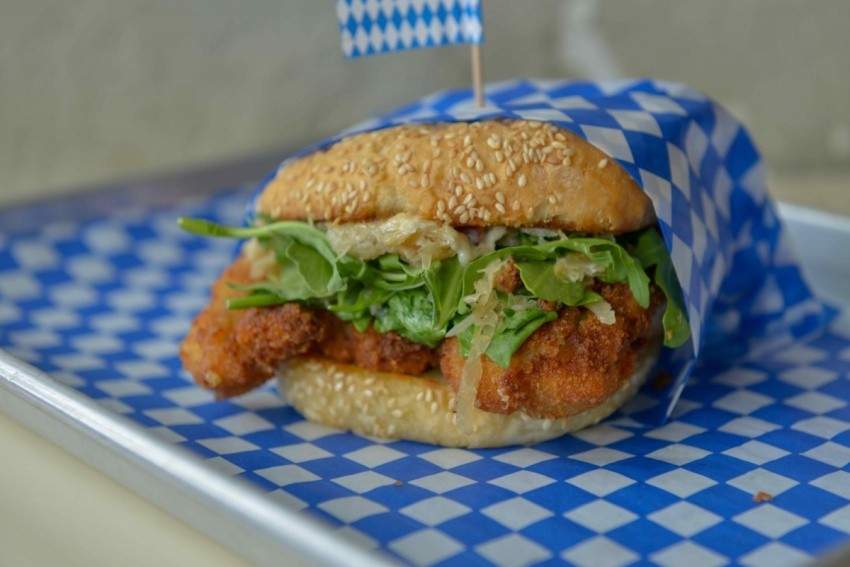 "Oktoberfest is the perfect occasion to tap into some unique beer styles and have a little fun with some homespun German-inspired food specials," says Iranzad. "This is the exact type of celebration that really captures the casual dining and beer hall atmosphere we had in mind when we first envisioned this restaurant."
Vianello's has fine-tuned recipes for his dishes like house-made pretzels with honey mustard, currywurst (made by Two Rivers Meats) with fries and curry ketchup, a crispy pork schnitzel sandwich and a big, meaty Oktoberfest platter that comes with braised sauerkraut, German potato salad and more. Instead of a traditional German strudel, the chef has opted for an apple strudel soft serve, so let's all cross our fingers for some sunny Vancouver weather so it can fully be enjoyed.
It doesn't matter where in Canada you live, a good schnitzel is hard to find. So, hopefully we can at least find the former at Bells and Whistles sometime between September 21 and October 7.
Prost!