Now who says a fried chicken joint can't put a little effort into what they're pouring behind the bar? Definitely not Vancouver's Juke Fried Chicken, where its new bar manager, Cass Darmanovic, has just spent time revamping its libation line-up.
Before coming on to manage the bar program at the popular Chinatown eatery, Darmanovic spent time working at Hello Goodbye Bar and Mamie Taylor's, both notable cocktail bars in the city's cocktail scene. The talented barkeep seems very excited to showcase her creativity through the new offerings here in what is her first bar management position.
"It's been a highlight for me to join the Juke family and an even bigger thrill to be able to put my own personal stamp on this cocktail menu," says Darmanovic.
Her expansion of the bar program start with a base of fresh juices and housemade syrups, all of which are used in her nine new creations, like the Murder She Wrote (tequila, sherry, Italian vermouth, Cynar and aromatic bitters) and the Guilt Trip (pictured below), comprised of bourbon, Amaro, Punt e Mes, lemon juice and shaken with egg white. In addition to these new made-to-order cocktails, Juke is adding two on-tap cocktails: a classic Negroni and its subtle spin on an Old Fashioned using Wild Turkey bourbon accented by Darmanovic's house-made bitters.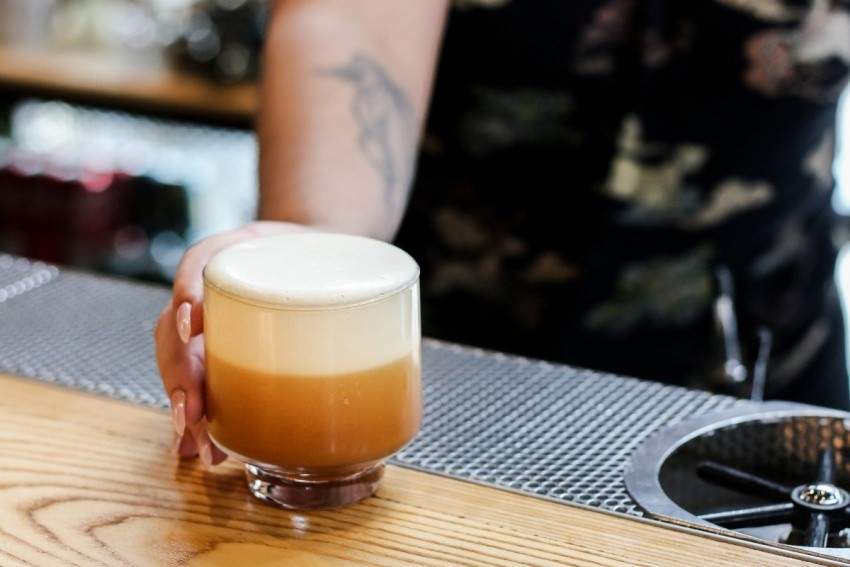 Juke has been slowly, but surely, expanding its offerings as of late. Just the other month, the restaurant introduced a weekend brunch menu after seeing major interest in its fried chicken-centric New Year's Day brunch events two years in a row.