With five partners involved, Winnipeg's first new restaurant to open in 2018 has been a collective labour of love. Owned by Ike Hedenstierna and Caiden Bircham (The Roost), Will Bergmann (Bergmann Farms), Luke Joyal and Sean Brenard, Oxbow is located in the former (but not missed) Begonia Gardens space on Osborne Street with an initial focus of a prix fixe menu. The name is a reference to a natural bend in a river, thus implying that chef Sean Brenard's menu pays homage to dramatic seasonal changes in the province, as well as Manitoba landscapes that surround the city. Expect to see different game meats on the menu as well as plenty of produce from co-owner Bergmann's CSA Garden.
The 50-seat interior boasts plenty of exposed brick and thick wooden beams, a small bar and lounge area warmed by orb pendants and a cozy banquet, and the remaining walls that conceal any brick are painted in a deep water blue.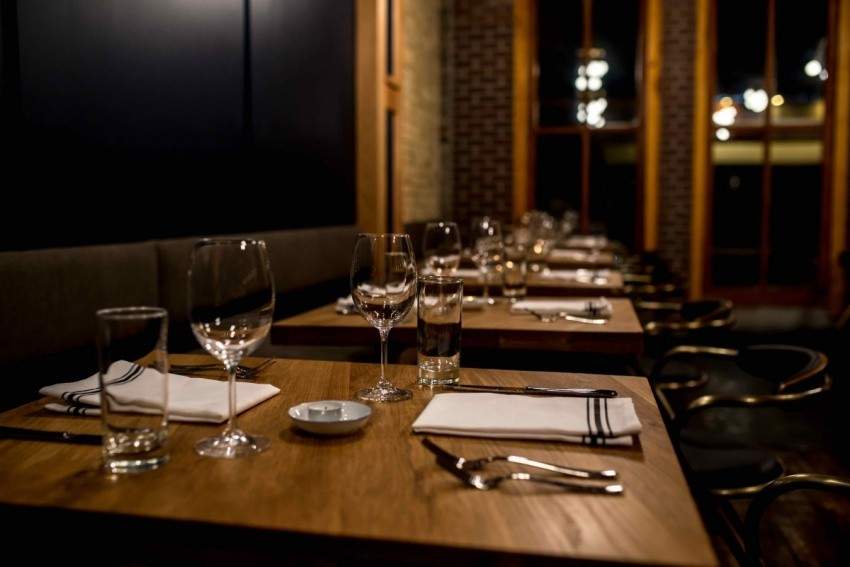 Spending $46 for the prix fixe menu here will get you four courses, one from each of the four different categories, which include dishes like elk dumpling with beet, rye and blackcurrant; savoy cabbage with bone marrow and walnut; braised rabbit fettucine; and desserts like preserved pumpkin tart with cocoa nib and milk jam. This approach seems to be temporary. Once Oxbow gets its initial footing, patrons can expect a la carte options to become available, likely in the next couple of weeks.
To go along with the food is a concise selection of natural wines, including a couple of orange wine options, which are uncommon in Winnipeg. And, seeing as two of the owners, Hedenstierna and Bircham, run the popular cocktail spot on Corydon Avenue, it's only natural to assume that Oxbow will become a go-to place for drinks as well.