Blankets bearing the colours of the Hudson's Bay stripes have been coveted by Canadians for decades, but it's only in the past ten years or so that we've really seen those signature stripes of green, red, yellow and blue hit their stride. Coffee cups, aprons, socks, ties, serving utensils...stroll around this striped section at your local Bay, and the world is your striped oyster, truly.
In the past two years, we've even seen notable brands like the Canadian-owned Herschel Supply Co. and Levi's release Hudson's Bay collaborations. It seems like doesn't matter whether you're cooking in the kitchen or getting dressed for a night out, these days, those iconic stripes are in!
Over the years, these stripes have become synonymous with being Canadian in, perhaps, a more subtle way than the red and white that proud patriots typically don around Canada Day.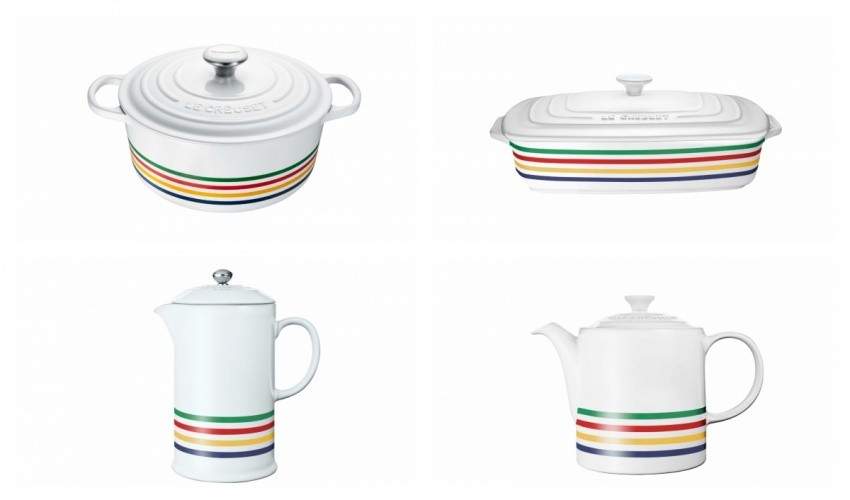 The "Stripes collection" is a new collaborative series between global cookware maker Le Creuset and the Hudson's Bay. It's comprised of four limited edition products: a 5.3L round French oven ($500), stoneware rectangular casserole (with lid) ($150), French press ($85) and teapot ($65). All of these slick-looking items feature the company's colourful stripes on bright white enamel.
A communications representative for Le Creuset Canada confirmed with us that collaborations between the brand and other entities—such as Disney, with its mouse ear ramekins; and Raymond Loewy, the late design mind behind industrial brands such as Greyhound and Shell—do happen on occasion, but are rare.
This is the company's first collaboration in Canada.
The Le Creuset Stripes Collection will be available for purchase exclusively at Hudson's Bay locations across Canada and through their online store as of early March.