It's hard to believe that it's been ten years since Duchess Bake Shop came to life on 124th Street in Edmonton.
Still as busy today as it was when it made its debut (and perhaps even more so), Duchess has proven itself as a force to be reckoned within the Canadian food scene, putting Edmonton into the limelight by way of a long list of media coverage and awards over the last decade, a stint on a French reality culinary series and a namesake cookbook.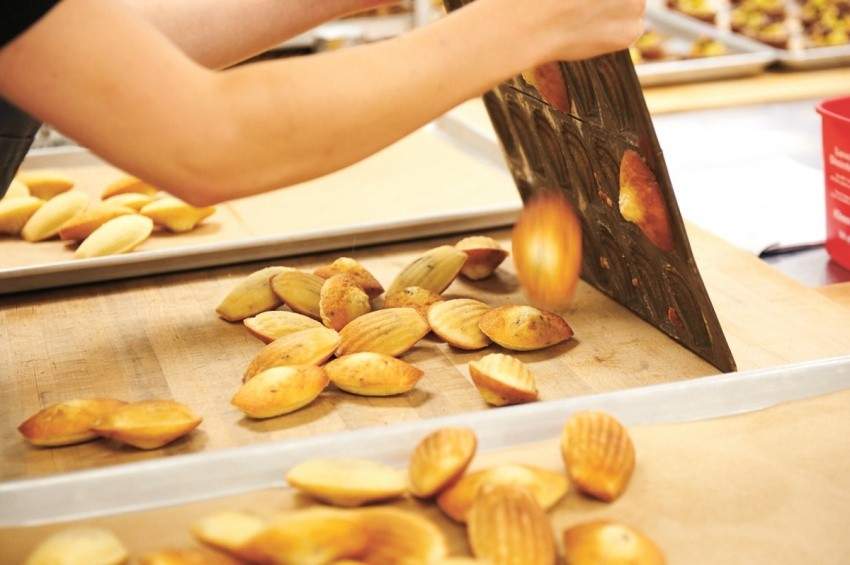 "It's emotional looking back on the past ten years. We've had some tough times. The sleep deprivation and not being able to meet public demand come to mind," says Duchess' co-owner and cookbook author, Giselle Courteau. "But the good far outweighs the bad. I've had so many amazing opportunities that I couldn't have dreamed up like meeting Pierre Hermé, writing two cookbooks and competing on a French reality TV show."
Initially self-published and released in 2014, Giselle's book was revamped and re-released by Appetite by Random House nationally in 2017. Now, riding high off the success of the Duchess Bake Shop book, Courteau just released a new, more home cook-friendly, cookbook: Duchess at Home. This time around, she's focusing more on approachable recipes that have been "quadruple-tested" and still reflect the attention to detail and robust flavours her bake shop is known for while remaining attainable for at-home bakers.
Cheese and herb pan bread and pain d'épices chaud (warm ginger cake, pictured below) are just a couple of the warming recipes one can expect to find in the pages of the new book.
"My expectations of what our little business would become were pretty simple: make enough money to stay open and make people smile with our pastries. I never, in a million years, expected the wild and crazy ride we've been on," says Courteau on the new book and their "mini" bake shop, Little Duchess, which is set to open in the upcoming Ritchie Market by the end of October.
With plenty of things on the go and the holiday season fast approaching, Courteau goes on to say that Duchess will be waiting until February to have an official 10th birthday bash.
"Stay tuned for some fun stuff," she says.
We shall!