It has certainly been a minute since Winnipeggers have been able to enjoy chef Adam Donnelly's food. When Segovia closed back in 2020, the chef took some time off from the kitchen, eventually started a sourdough bread company and now, he's back in action with Petit Socco.
Located in the former Close Co. space at 256 Stafford Street, the restaurant is co-owned by Donnelly's partner Courtney Molaro—who will handle front of house operations—and will be open Wednesdays to Sundays.
"Courtney and I are very excited to be opening the restaurant and getting back to what we love to do," says Donnelly.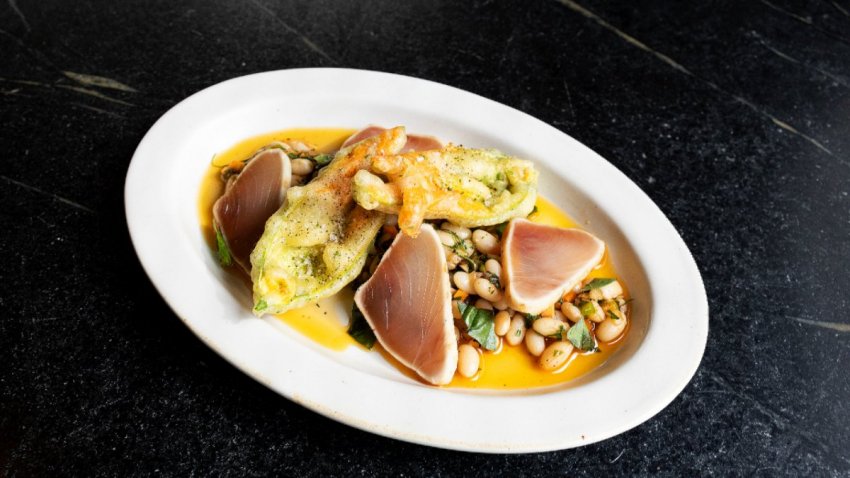 As the chef is known well for creating contemporary Spanish and Basque-style dishes with some subtle global influences, patrons here can expect much of the same at Petit Socco. Donnelly says the succinct menu will be changing quite often, but for the remainder of the summer folks can enjoy things like seared tuna with bean escabeche and fried zucchini (pictured above), saucisson with guindilla peppers and olives, peach and cherry cake and more.
The drink list is fairly concise and consists of cava, pet nat, a mix of white, rosé and red wines as well as three types of cocktails: Old Fashioneds, classic Martinis and sparkling Negronis.
Petit Socco is located at 256 Stafford St. and open from Wednesdays to Saturdays, 5 p.m. to 10 p.m. To reserve seats, you must call the restaurant directly at (204) 306-7522 between 3 p.m. and 6 p.m.