You know what they say: If you're brave enough to put a mention to a glory hole on your pizza box, you deserve my attention.
Oh my!
From the owners of The Cannibal Café, Park Drive, Alphabet City and The Five Point comes Vancouver's latest pizza purveyor, Anthem Pizza. Officially launching on Thursday, November 19, the take-out and delivery pizza maker has already made a bit of splash with its unique pizza box artwork. Anthem's lineup of box art that includes everything from a gloryhole (a reference to the B.C. government promoting the use of gloryholes as a COVID-19-friendly sexual act) and anti-Trump sentiments, to an homage to the late Mr. Chi Pig (lead singer of punk band SNFU) and much in-between.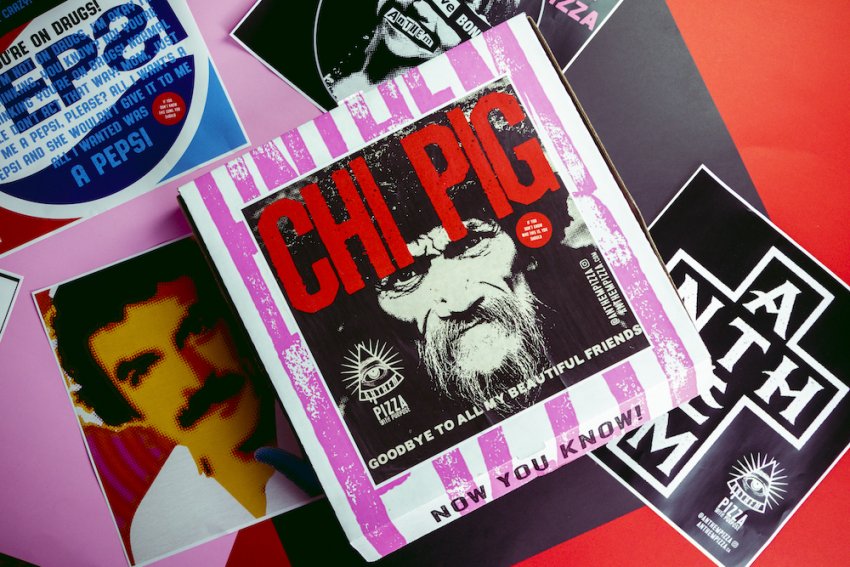 The 14" pizzas here all draw inspiration from famous, anti-establishment musical acts such as The Beastie Boys ("Sabotage": chorizo sausage, pepperoni, roasted chicken, prosciutto, mozzarella), Iggy Pop ("Blah Blah Blah": Alfredo sauce, mozzarella, fior di latte, grana padano, provolone, olive oil) and The Who ("Teenage Wasteland": pepperoni, tomato sauce, mozzarella, olive oil). To celebrate its opening, Anthem is also offering up margherita pizzas for just $10 (one specially priced pizza per customer per day).
There are salads and chicken wings up for the ordering here too, but let's be honest, we're mostly here for the works of art on the pizza boxes. If you find yourself really fancying said artwork, prints and graphic t-shirts are also available via their online shop.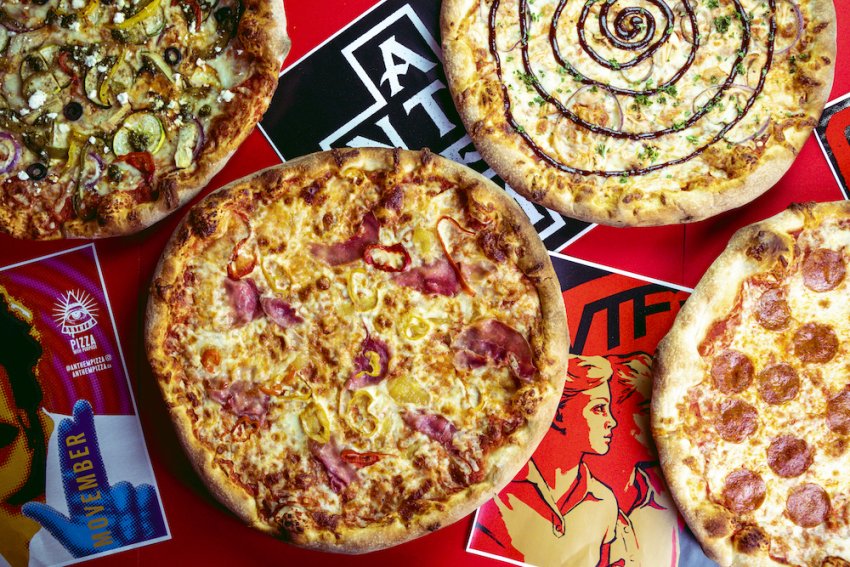 Keeping community front-of-mind, the company says it plays to donate partial proceeds from the sale of all pizzas to different charities each quarter. Currently, partial sales will be directed to the BC Children's Hospital Foundation and the Unison Benevolent Fund. As well, 10 per cent of pizza sales for the remainder of November will be donated to Movember.
"The inspiration behind the creation of Anthem was not only to respond proactively to the COVID-19 pandemic by pivoting to a takeout-only model but also to do something good for local people and projects that need the love now more than ever. This is our Anthem — sung loud, hardcore and rebellious," says owner Matt Thompson.
Anthem Pizza is available for delivery or pick-up (at either The Five Point or Park Drive) from 3 p.m. to 10 p.m. seven days a week.