As my home base of Calgary is feeling dryer by the minute as the snow continues to fall and the temperature drops, I find solace in the fact that the Top Chef Canada Season X Final 4 are staying warm in the balmy Cayman Islands.
It's been ten years since TCC has shot on location outside of Ontario—the Season 3 finale was filmed in Calgary—and going abroad is a first. It looks like Chris Irving, Deseree Lo, Tre Sanderson and Camilo Lapointe- actually do get a day or two of downtime in the tropical locale to recharge before being thrust into the final stages of competition.
Quickfire Challenge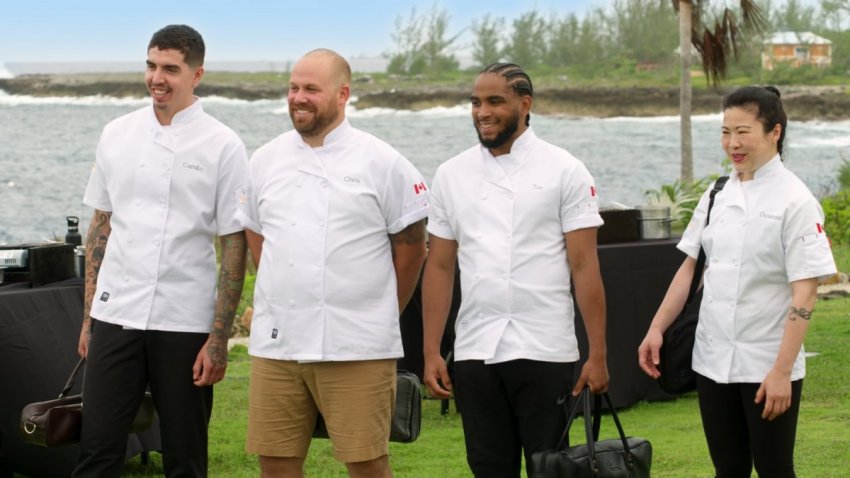 That gorgeous ocean backdrop though!
Eden is looking equal parts peppy and summery as she greets the chefs and regales them that conch fritters and rum punch are two iconic food items tourists can enjoy while visiting this part of the Caribbean.
Firemasters host Dylan Benoit is by her side and will serve as a guest judge for this portion of the episode. Apparently, he lives in the Cayman Islands and owns restaurants there (had no idea), but I'm still left wishing for a guest judge that has stronger local roots.
After each chef gets to enjoy some fritters and sips of the boozy punch, they're sent to task to create a fried snack...as well as a "Top Chef Canada quality" rum-based cocktail. If you're watching Drink Masters on Netflix as I currently am, I'm sure you'll agree that the mixology component of this challenge was (charmingly) a hot mess.
Chefs aren't there to make cocktails.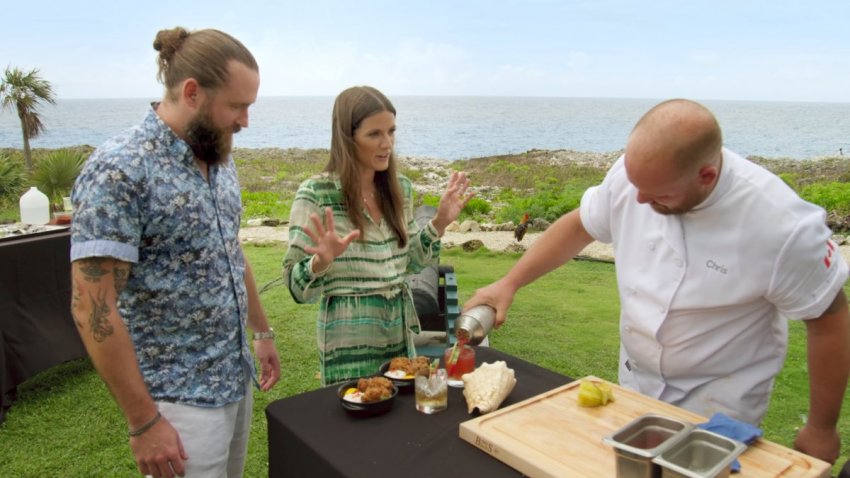 Dez is frying up some lovely-looking dumplings filled with chopped scallops, local greens and spices. Chris is taking direct inspiration and making his own conch fritters.
Camilo and Tre are both working with prawns and, truthfully, every final dish in this Quickfire looks real tasty.
Before Eden and Dylan stroll around to try the snacks and cocktails, Chris remarks that he has yet to win a challenge this season, aside as part of a team via Restaurant Wars, so he's hoping his conch will see him to victory.
And wouldn't ya know it, he's right! Eden and Dylan seem very pleased with his light and airy fritters as well as his potent watermelon rum punch.
Unfortunately, there is no actual prize or advantage attached to this win. Chris appears happy and soldiers on, albeit empty-handed.
Elimination Challenge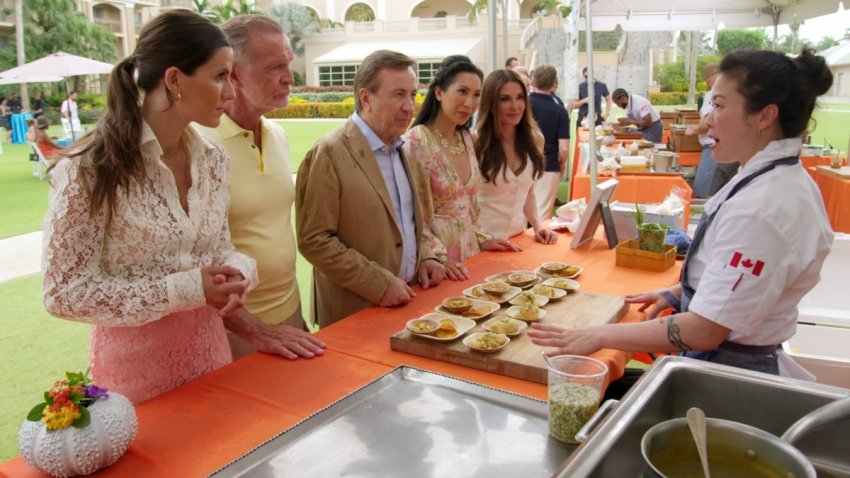 It's time for some fusion, folks!
Eden explains that this Elimination Challenge requires the four chefs to merge Caribbean flavours with their Canadian region and/or (this part was't entirely clear?) their personal approach to cooking.
They'll be serving their creations at food stations during an outdoor party at the Ritz Carlton Cayman Islands where the entire judging panel will be in attendance in addition to the one and only Daniel Boulud. No stranger to TCC, chefs always get real excited when they find out he's a guest judge, so we'll see who impresses him and who does not.
Dez is drawing inspiration from time spent with her mother at Vancouver's most famous fish and chips spot on the Granville Island Pier. She is tapping into her Asian roots by making a Thai green curry sauce for the fish and chips, accented by scotch bonnets.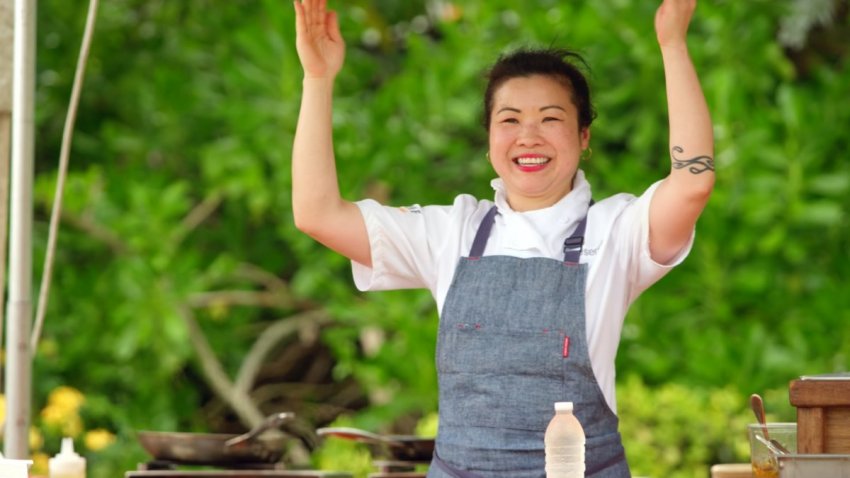 This sounds somewhat unique, so this will come down to proper execution.
Tre is embracing the national dish of Jamaica, ackee and salt fish and transforming it into a crudo of sorts with red snapper. He has been very consistent with his contemporary Caribbean approach throughout the entire season, so I am looking forward to seeing this finished dish, as always!
Chris, who has been scolded for having too many elements in his dishes, has not heeded any advice and once again explains a multitude of elements that will grace his tuna escabeche.
Foreshadowing?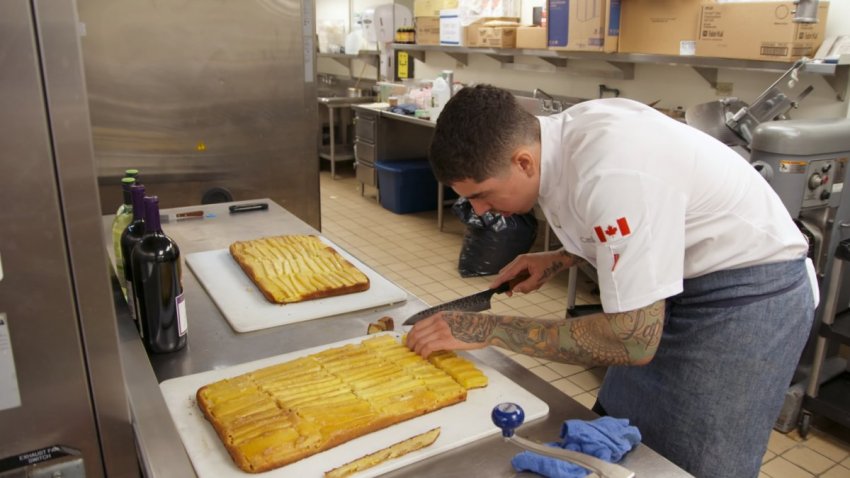 Camilo leans into a multi-generational family recipe for pineapple upside-down cake, infusing some Caribbean flavours by way of mango and warming spices. The edit is quick to show us Camilo worrying that his cake is, perhaps, too simple for this challenge.
Seeing as he's made some really striking desserts this season, watching him work with a sheet cake seems not quite up to Camilo par for us viewers as well. We shall see!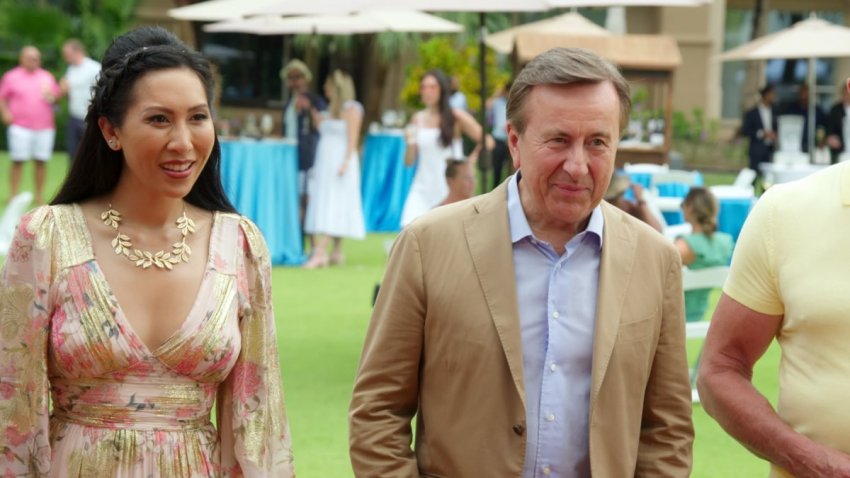 Dez hits a home run with her beautiful take on fish and chips using mahi mahi along with sweet potato chips, pico de gallo with mango and vibrant Thai green curry sauce. Tre's take of ackee and salt fish receives similar high praise as well.
I think we've now met the top two for the episode, but I feel like Dez will be awarded top dish of the day since she worked past her fryer issues by pan-frying her fish to alleged perfection. Bravo!
Camlio's cake is desribed as "cloyingly sweet" by Mijune Pak and Daniel Boulud looks less than impressed. Chris' tuna escabeche seems to offer better flavour, but apparently too much flavour because of (yup, you guessed it) too many components on the plate including some herb-infused hydra salt...and about 10 other things.
Judges' Table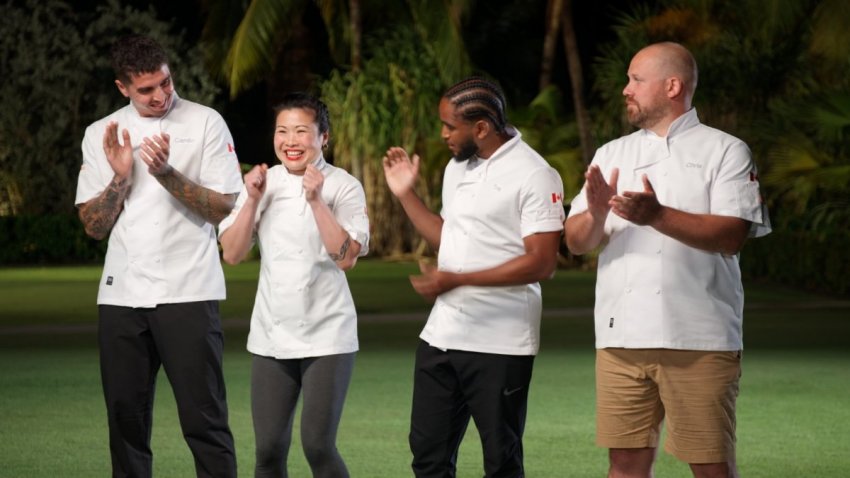 Dez and Tre are the clear standouts this week. Both are moving swiftly to the finale and Dez secured her second Elimination Challenge win in a row.
A character as always, Dez is especially exuberant with the news and can't stop grinning from ear to ear. She's really kicked things into high gear these past couple of episodes, showing her skill set and versatility.
I love to see it!
Watching Chris and Camilo interact with the judges at this point is... interesting. They both clearly have the skills to perform well in the finale, but haven't had the strongest week.
Camilo is adamant that he deserves to stay in the competition and being able to cook in the finale will be the perfect opportunity to wow the judges once and for all.
I don't doubt that he would. Both of these chefs have been very consistent in showing a high level of technique throughout the season, though a lack of "x factor" may be missing.
Chris seems to really struggle with acknowledging the judges' continued feedback of "less is more". I'm not sure if an apology at this point may have swung the pendulum in his favour, but it may have?
Instead he says: "I'd rather go home knowing I did too much then too little."
So, I suppose he is sent home knowing that he did too much!
Kitchen Scraps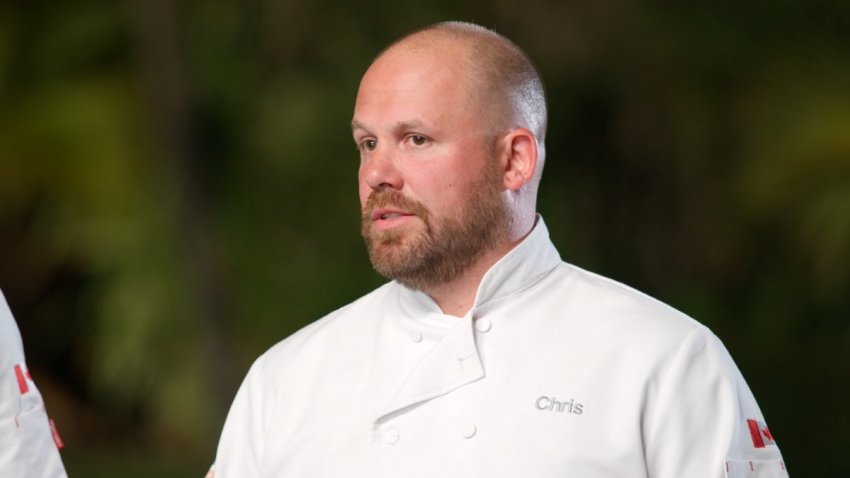 I'm surprised no one snapped back at Chris for his non-apology at Judges' Table. Perhaps it was just the edit, but it felt like an awkward moment.
We're down to three chefs and, as per usual with the finale format, one will be sent home after a High Stakes Quickfire.
My gut instinct is that we'll see Dez and Tre as the Final Two, but it's anyone's guess who will capture the title of Canada's Top Chef for 2022.
Top Chef Canada Season X airs Mondays at 10 p.m. ET/PT on Food Network Canada.